Spring 2022 CPS Dean's List Names Announced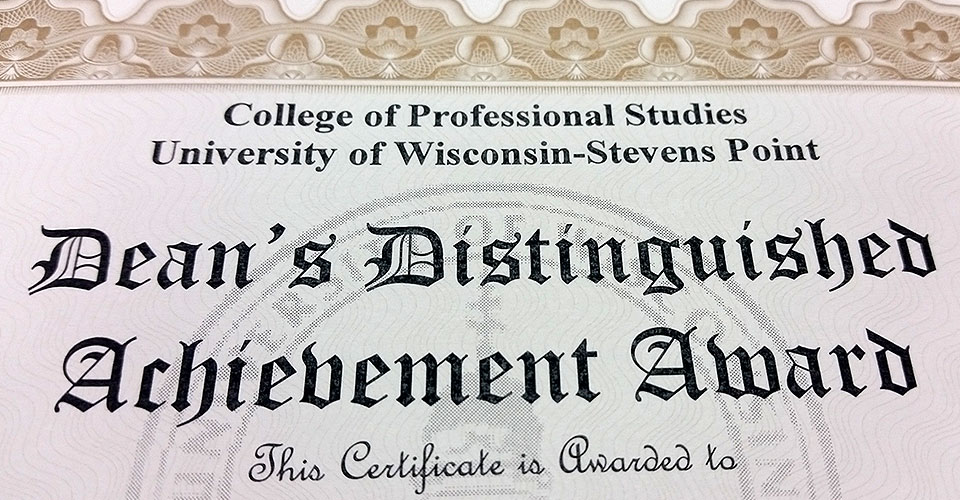 A total of 543 undergraduate students had a GPA over 3.75–including 268 with a perfect 4.0–to earn dean's list honors for the 2022 spring semester in the College of Professional Studies at the University of Wisconsin-Stevens Point. Congratulations to all!
CPS Dean's List by major (number of 4.0):
Accounting: 35 (17)
Business Administration: 44 (18)
Business Economics: 6 (2)
Clinical Lab Science: 22 (12)
Communication Sciences and Disorders: 51 (33)
Data Analytics: 17 (4)
Dietetics: 7 (3)
Early Childhood Education: 44 (23)
Elementary Education: 154 (81)
Family and Consumer Sciences: 22 (9)
Finance: 30 (11)
Health and Wellness Management: 2 (2)
Health Information Management and Technology: 2 (2)
Health Promotion and Wellness: 15 (7)
Health Science: 38 (18)
Health Sciences (AAS): 2 (0)
Leadership and Project Management (AAS): 3 (3)
Management: 19 (8)
Marketing: 20 (8)
Nursing/Pre-Nursing: 21 (7)
Physical Education: 24 (14)
Special Education: 62 (31)
Sustainable Food and Nutrition: 4 (1)


CPS Dean's List (* indicates 4.0):
Students must maintain full-time status and have GPA over 3.75 to earn honors.
Elizabeth Affolter
Sydney Ahern
Brooke Allemann*
Paige Allemann
Makenzie Amundson*
Jared Anderson*
Sierra Anderson
Mariah Angove
Brooke Arneson*
Nicholas Aromatario
Lynzie Ashley*
Amber Babcock*
Taylor Baehman
Elizabeth Bahler*
Jessica Bahr*
Isaiah Baierl
Molly Baker*
Rachel Baker
Delaney Barbeau
Joey Bartolone*
Alyssa Baselt*
Bella Bautista
Joy Becker*
Lexi Behling*
Vada Beimel
Ellie Belsha
Brayden Berberich
McKenna Berdal
Brooke Bernier
Caden Berry*
Cameron Berry
Ally Bertrand
Ally Beyer*
Tyler Beyer*
Kadie Biese*
Hayley Bird*
Chris Blackmon
Brooke Blader-Lucht*
Kobe Blake*
McKayla Blaser
Sam Bliese
Jennifer Bolanos
Abby Bond*
Leah Borchardt*
Rachael Bouwer
Ruth Bouwer
Breanna Bowe*
Lauren Bozich
Alec Braatz
Adrienne Brady*
Austin Breitbach
Skylar Bricco*
Carly Brickley
Gerrit Brinkman*
Joseph Brognano
Joshua Brown*
Alayna Bruneau*
Jewel Brunner*
Jake Buchanan*
Lauren Buchinger*
Amanda Buechel
Kristin Burdeau*
Katelyn Buth*
Corah Buth
Tiana Cachuela
Angela Cairns*
Sydney Calhoun*
Courtney Calmes
Maddie Candre
Garrett Carlson
Ryan Carmichael
Dakota Carriveau*
Lindsey Casper*
Nolan Castellion*
Kaitlin Celius
Erin Charles*
Kaitlyn Chowaniec
Hanna Christensen*
Taylor Chynoweth
Taylor Ciesielski*
Riley Cisewski
Baylee Clark*
Catie Clement*
Zoe Clough*
Julia Comerford
Ian Connell
Mikenzie Conrad
Josh Cornelius
Berkley Corvino
Ava Crary
Ava Critelli
Megan Crooks*
Bailey Crowell*
Ava Dahlke*
Libby Dammen*
Michael Damrau
Delilah Daraskevich*
Lindsey Dashner
Chelsea Dax*
Hannah De La Pena
Valerie DeHaven*
Salome Deroyer*
Griffin Dietrich
Emma Dix*
Jayde Doell
Kaylee Doll*
Bree Downie*
Sarah Downs
Teanna Draeger*
Mati Duin*
Trina Dunbar
Jasmin Duranceau
Khloe Dutra
Paige Edwards*
Lisa Eggebrecht*
Morgan Elliott*
Natalie Englebert*
Wyatt Erb
Andrew Erdman
Laney Erickson
Kyler Ernst*
Brody Erola*
Wyatt Esker*
Jordan Fader*
Mikaila Falash
Jacob Falkosky
Grace Faller
Danielle Fay
Jonah Field*
Emma Fisher*
Maddy Flach
Katie Flathom
Charlotte Fohner
Sydney Frandsen*
Paige Franz
Kaitlyn Frierdich*
Alyssa Froh*
Megan Froh*
Olivia Gagas*
Catie Gage*
Gretchen Gagnon*
Jacylyn Gajewski
Paige Ganzel
Caelyn Garrison*
Gabby Gawlitta*
Karli Gay*
Morgan Geiger*
Remi Geiger*
Hannah Gethers
James Geurts
Cameron Gibson*
Kaitlin Gilbert*
Erin Gillen*
Crystal Golke*
Rebecca Goska*
Daniel Gottbeheut
Sam Gregor*
Nathan Grimes
Allie Gripentrog
Kenzie Gruna
Emma Guenther*
Mara Gustafson
Bonita Hanley*
Ashley Hansen*
Zach Hanson
Hailey Hanson
Kalin Hassler
Avery Haugen*
Lauren Hayes
Jack Hayward*
Alyssa Hedtke
Ambria Hegna*
Danielle Heitsman*
Kianna Heller*
Mackena Hendrikse*
Kylie Hengstenberg
Isabelle Hilber
Emily Hodkiewicz*
Noah Hofmeister
Madison Hohn*
Jacob Hoier
Logan Homolka
Abby Hopfensperger
Hannah Hornung
Reese Houston
Kaylee Huberty
Mitchel Hudrick
Molly Hulke
Brett Humberstone*
Kari Hybben*
Madelyn Ickert
Natasja Iversen
Sam Ivey
Lexi Iwanski
Abby Jackson*
Kirsten Jacob
Cailin Jacobs
Kylie Jacobson*
Erin Jagodinski
Austen Jahnke*
Caleb James*
Madelyn Jamroz*
Trent Janowski*
Chase Jasinski*
Nicole Jensen*
Dylan Jensen
Brandon Jilek
Cami Johansen
Janna Johnson*
Ali Johnsrud
Anna Johnston
Joshua Jumbeck
Madeline Juneau
Rachel Kaminski*
Caitlyn Kaminski
Julia Kanters
Madeline Kasper
Bridget Kauzlaric*
Brandon Kazda
Gracie Kelley*
Hannah Kelnhofer
Emmalea Kenevan*
Emma Kennedy
Olivia Key*
Katy Kiley
Raven Killian
Abby King*
Jael King
Austin Kirsch*
Carley Kisling*
Karlee Kita
Averee Kluck
Matthew Knick
Tristan Knoblock
Jenna Koepp
Christian Kohlman*
Adam Kolcon
Kristopher Konkol*
Abby Koopman
Chad Koss
Charlie Kostomiris
Hadley Koula*
Casey Kowalski*
Paige Kraus*
Katie Krayecki*
Hailey Kraynik
Taylor Krogwold
Nathan Krommenakker
Hannah Kroupa
Hailey Krueger*
Courtney Krueger
Keegan Krug
Chase Krug
Baily Kruzan
Michael Kubicki*
Haley Kueffer
Natalie Kuhaupt
Sarah Kuhn
Chris Kuhnert*
Taylor LaClair-Grow*
Carson Landowski
Lindsey Landvatter
Jessica Lange*
McKenzie Lange*
Claire Lange
Langdon Langhoff
Kayla Laridaen
Alexander Larsen*
Nevan Larson*
Teryn Lau*
Tyler Lauber*
Emily Laue
Toluwalope Lawal*
Maddie Lawson
Sophia Lee*
Taylor Leffel
Ryan Lehman*
Chloe Leithold*
Faith Leithold*
Kayleigh Lent
Anna Lewandowski*
Jack Lila*
Kaarin Lind*
Samuel Liske*
Brandon Lobermeier*
Devin Loomans
Amanda Loppnow
Kylee Lund
Jasmine Madden
Sita Magar
Brooke Magnus
Isabelle Magnuson*
Teeghan Mahoney
Andrew Makinen*
Abigail Maliszewski
Caleb Manser
Alexandra Markuson
Colton Martell*
Mckayla Martens*
Aaron Marth
Criztal Martinez
Lyndsey Marvin*
Kailey Mazzuca*
Becky McEachen*
Tyler McEachern
Kelly Mcintyre
Connor McKee*
Adam Mennenga
Clarissa Messina*
Hope Meyer*
Wesley Meyer*
Brooklyn Miller*
Cliff Miller
ElliAnna Milz
Dylan Minch
Madelynn Miramontes
Alex Mischka
Mariah Moehn*
Eden Mokler
Abigail Molstad
Grace Molter*
MaCayla Moore
Bekah Mootz*
Jacob Morgan
Madisyn Moskiewicz
John Motacek
Kabao Moua*
Lauren Mueller*
Maycie Navis*
Mara Nehring
Makayla Nelson
Kayleigh Nesbitt*
Cassandra Netols
Nicole Neuberger*
Abby Neutz*
Carli Newberry-Cricks
Zach Newcomb
Max Ngalamulume
Michele Nickels*
Henry Niedbalski
Josie Nies*
Kenzie Niespodzany
Calista Nikolai
Wilson Northey*
Hannah Nygaard*
Grace O'Brien*
Cassidy O'Shasky
Conor OKeefe*
Brianna Oliphant
Katelin Olson
Izaak Ortiz
Lexi Ossmann*
Rachel Ostrowski*
Megan Overfelt*
McKenna Overland*
Amber Ozolins*
Emily Paffel*
Emma Pagel*
Karisa Parker
Hailey Pascavis
Brandon Peckham*
Aubrey Peters*
Sydney Petersen
Cooper Peterson
Taylor Peterson
Kristin Petkovsek*
Elyse Pett
Jordan Ploman*
Melissa Pohle*
Madelyn Polich*
Kevin Polsean
Caden Prahl
Jonathan Prahl
Allison Prochnow
McKenna Przybyl*
Anna Pulvermacher*
Jessica Pyle*
Mackenzie Raab
Kate Radtke
Breana Ramczyk*
Abbey Rebhan
Weston Reedy
Anna Reese*
Lexi Reeves*
Esme Reinders
Lauren Reinke*
Hannah Retzleff*
Victoria Reuter*
Baylee Rezac*
Emmie Richardson
Ben Richmond
Anastasia Riggs
Matt Rinehart*
Makayla Ripple*
Veronica Roberts*
Emily Robles
Ethan Roehm
Angela Rogers*
Jacob Rogers-Schmirler
Delaney Romanowich*
Maddie Romatoski
Jesse Rombalski
Jacob Rosin*
Abby Ruedinger*
Tyler Rufenacht
Bryn Ruffalo
Harlan Rupp
Craig Rusch
Gracie Rybarczyk
Anna Ryder
Margaret Sager*
Alyssa Salzwedel*
Gail Sanchez*
Katie Sand
Elizabeth Sapp*
Cade Sauer
Deanta Saunders*
Madison Scharenbroch
Tanner Schelvan*
Tristan Schelvan*
Karen Scheuer
Cole Schilling
Tia Schlagenhaft*
Macie Schmeiser*
Sawyer Schmutzler
Breanna Schnell*
Brenna Schoenebeck
Autumn Schrauth
Megan Schroder*
Chloe Schroeder*
Hailey Schroth*
Travis Schubring
Makayla Schueller
Amanda Schulz
Hailey Schwobe*
Brooklyn Seefeldt
Mackenzie Seemann*
John Seidler
Alex Selepa
Veronica Senalik
Payton Sevals*
Dalene Sherburn*
Megan Shields*
Sara Siegel
Aaron Simmons*
Grace Skaletski
Kendal Skrzeczkoski*
Zach Skubal*
Kailee Slinkman*
Jessica Slowik*
Shane Smith*
Wyatt Smrz
Chloie Spitzer*
Gabby Sroda*
Emma St. Maurice*
Noah Stary*
Megan Steffens*
Paige Steinbrecher*
Olivia Steinman*
Nicole Steinmetz*
Michael Stephenson
Cacey Stini
Reanna Stowe
Haillie Stremkowski
Olivia Stroik
Kelsey Strong
Ted Struebing*
Aimee Swedlund*
Ava Swoboda
Yulong Tang*
Brianna Tate
Nathaniel Taylor
Paige Tello
Ethan Tellock*
Jaidyn Teschner*
Holly Thidemann*
Alex Thoong
Roy Thorson*
Brooke Thurber*
Jordan Thurber
Erin Timler*
Kate Tischendorf*
Maddi Triplett*
Bailey Tueting
Kim Turner*
Haley Turzinski*
Madison Van Allen
Abby Van Beek
Grace Van Handel*
Madilyn VandenBush
Madi VandenHouten
Nicole Vandervest
Chayeng Vang*
Michael Vang
Kally VanLaanen
Stephie Vaughan*
Maya Veenstra*
Angellia Verdone*
Kyra Verkuilen
Mallorie Vissers*
Carmela Vital-Maulson
Rachel Vogel
Sofiah Von Drasek
Mason Vosters
Ethan Walker
Nicholas Walker
Bryce Walkowski*
Meghan Wall
Jacob Wasmundt
Gina Wasniewski*
Sarah Weber*
Kaylee Wehrman*
Gabe Weiks
Cooper Weinfurter*
Emma Wendt
Mak Werner*
Payton Wester*
Jill Weyers*
Cameron Woolworth
Abby White
Lauren Wicker
Allie Wiegand
Laura Wiegel*
Jacinta Wilson*
Luke Winecki*
Nicole Winecki
Emily Wintrone
Madeline Wojchik*
Allison Wolf
Elija Worley*
Emily Worring*
Katelyn Wrycza
Elizabeth Wyngaard*
Sufei Xia
Teng Xiong
Ryn Zdroik
Chyara Zeinert
Lucas Zepeda*
Alycia Zickert*
Cassidy Ziegahn*
Kendra Zieher
Maike Zipp
Hannah Zoesch*

Students may major in multiple programs. Missing from this list? Contact cps@uwsp.edu.