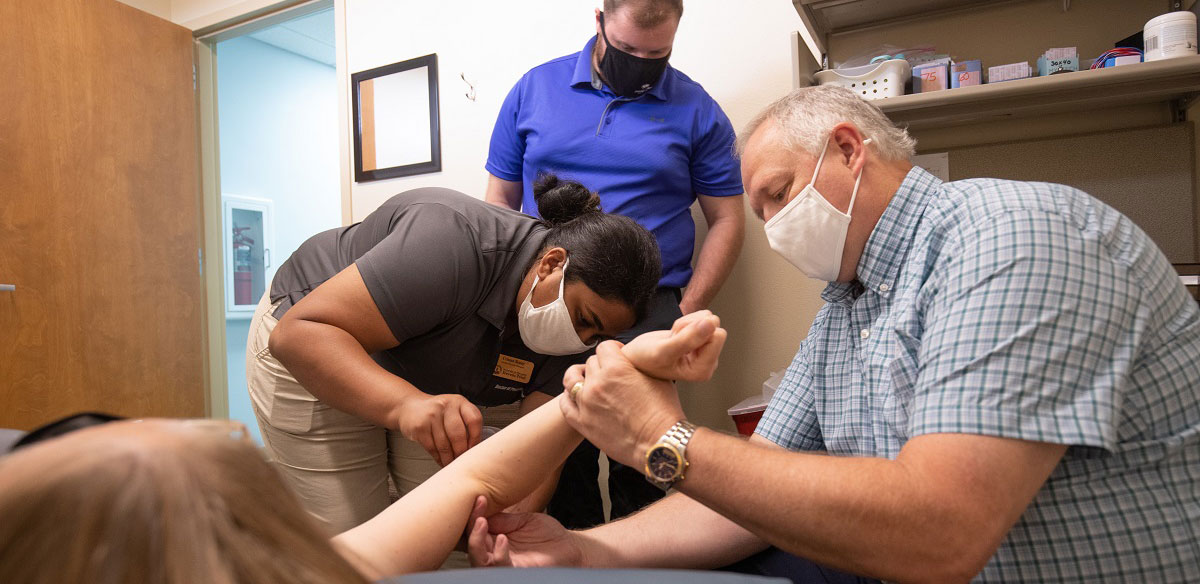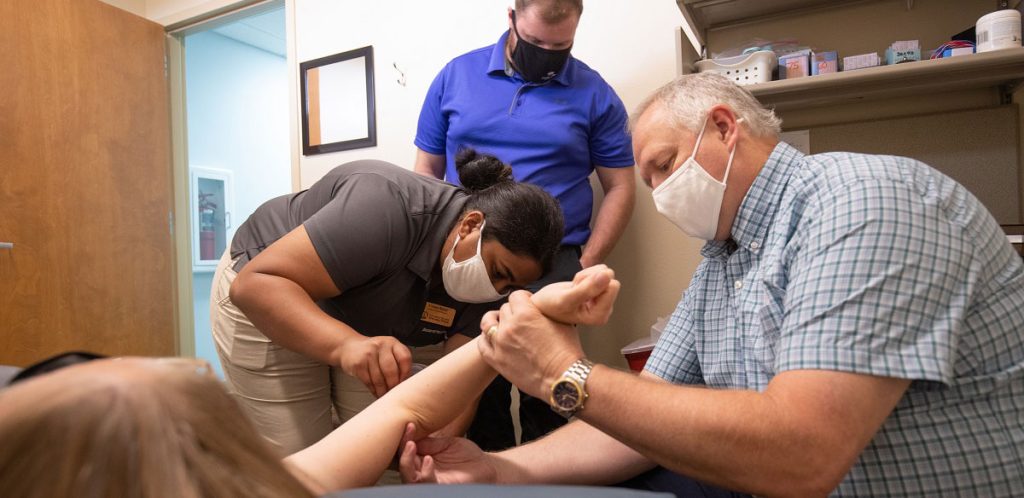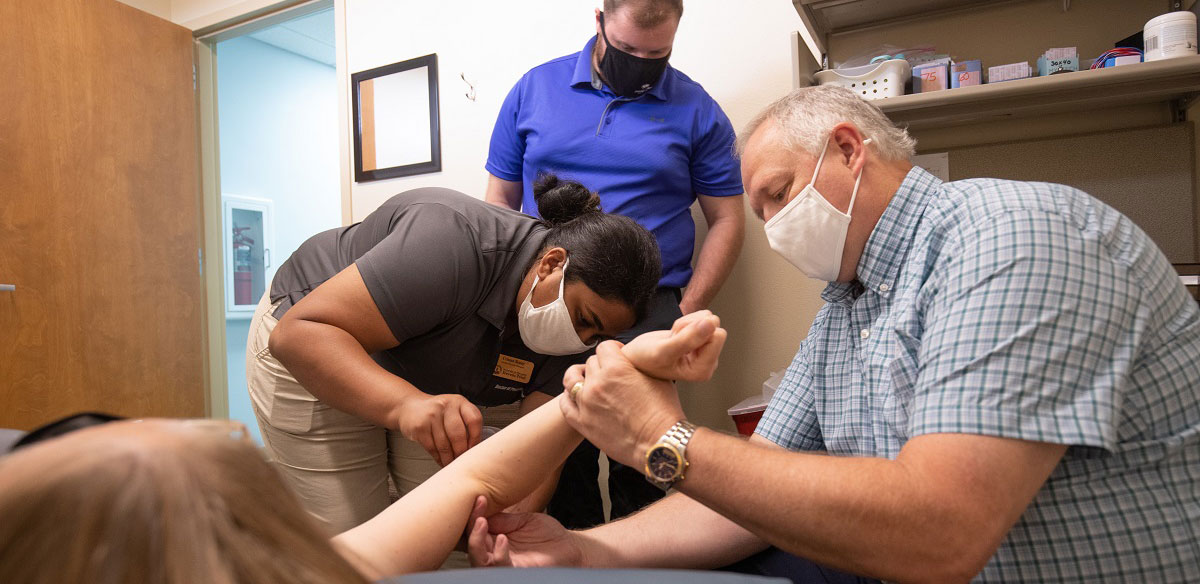 Personal experiences often propel people to certain career paths. That is true for several students in the inaugural doctor of physical therapy program at the University of Wisconsin-Stevens Point.
The mothers of both Abby Scaffidi and Eric Bromeisl had physical therapy as part of their health care. After observing the mix of encouragement, personal will and physical effort that physical therapists guided, Scaffidi knew she wanted to be a one.
Bromeisl, who came to UW-Stevens Point for his bachelor's degree in health science — and to play football – was drawn to helping people get better following an injury. He likes using physical exercise to enhance recovery.
For Crisma Benny, it was a close friend in India who was injured playing soccer. His family could not afford to pay for physical therapy. "A group of our friends collected money to pay for his treatment and get him therapy. This event gave me an insight on how hard it is to get treatment, and that PT is considered a privilege to many communities around the world. I moved to America and decided that this was the career I wanted to pursue."
The three students are among 34 students in the first cohort of this new program, the only physical therapy doctorate in the northern two-thirds of the state. It is designed to address regional and rural needs in northcentral Wisconsin by recruiting, supporting and preparing students interested in serving rural communities as highly qualified primary care providers.
Working in a rural setting appeals to Scaffidi, who eventually hopes to serve pediatric patients.
Originally from Amherst, Scaffidi has been eager for this new program to launch. "I wanted to get into PT school for a long time." She has worked as an exercise assistant at Marshfield Clinic, which provided good experience in a variety of settings, from cardiology, orthopedics, oncology and a stroke care unit.
Classes began in June, and students are already doing clinical practice, as they will throughout the 2.5-year program. Scaffidi likes working with actual patients with real issues. "We're seeing real patients, not someone pretending to have a broken leg."
Getting the real-life experience in a physical therapy setting from the first semester on will prepare students for careers, Benny said. "This will make the transition to the profession much smoother, and we will be more confident in a clinical setting."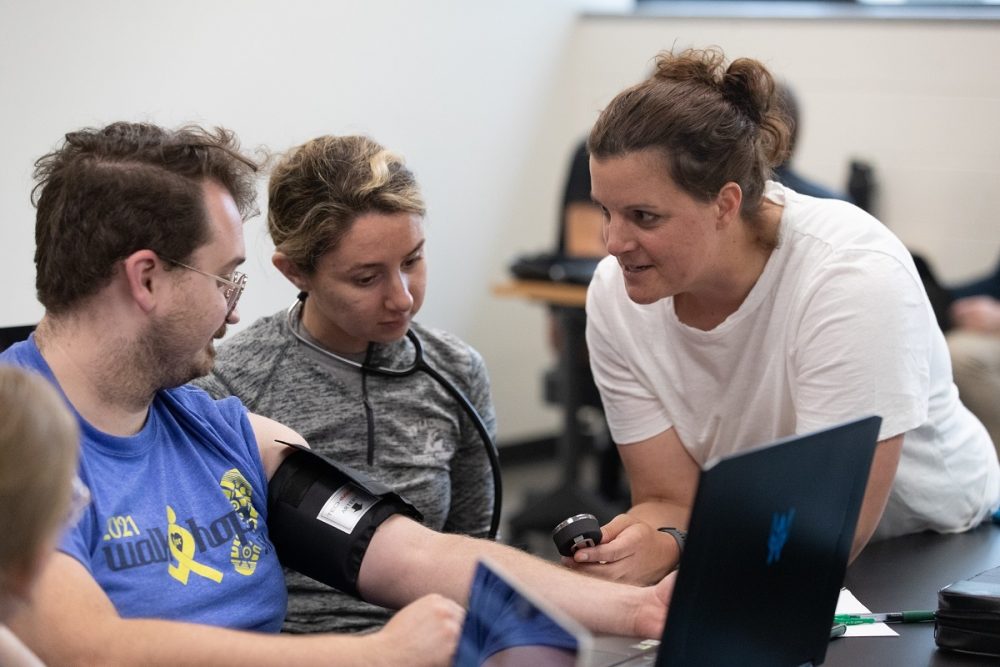 The physical therapy program was developed in partnership with local health care providers, said Kathryn Zalewski, P.T., doctor of physical therapy program director. An advisory board of local and regional employers, educators and practitioners informs the curricula.
"The community asked for our program to focus on the development of primary care physical therapists with strengths in communication and problem solving. We are excited to deliver on this need," Zalewski said.
In addition to weekly hours with a campus clinical practice in each semester, the program culminates with two 15-week applied learning experiences in local, regional and national clinics. These learning venues include private practice, home health, hospital-based clinics, school systems, community centers and long-term rehabilitation agencies.
Scaffidi enjoys her classmates and faculty, who are supportive and helpful. "All of my teachers are super-approachable." The program requires an intense amount of learning, she said, and instructors are encouraging even as they push students to succeed.
"It is a profession that requires commitment and hard work to succeed, Benny said. "The professors and the peers I have met make a hard program manageable and achievable."
Bromeisl, who grew up in Chippewa Falls, likes being in the first cohort. "We get to set the bar and leave our thumbprint on a new program."
He was also the first Posny Intern, participating in a six-month internship at the American Physical Therapy Association (APTA) headquarters in Virginia earlier this year. Bromeisl worked with professionals at the state and national level and helped advocate for policies to advance physical therapy practice. He learned that physical therapy involves more than the 1:1 relationship between therapist and client. The Alexa Posny Internship introduces a future PT professional to the organization and advocacy work done on behalf of the profession and patients in rural Wisconsin with representatives on Capitol Hill.
"It was an awesome experience, not only for advocating for physical therapy but making contacts with others in the profession," Bromeisl said. It will propel his career, which he hopes will either specialize in sports medicine, orthopedics or be in a regional health care setting.
Benny, who was born in New York and grew up in India, is interested in cardiopulmonary physical therapy. She also wants to practice in a general setting for a few years, traveling around the world to countries that do not have access to physical therapy.
These students are already close and support each other. "We all concluded that this DPT program is one of the best things that we ever did," Scaffidi said.
Students may apply for the next cohort, beginning June 2023 through an application process on the DPT website. Virtual roundtable discussions are offered regularly to help students plan and prepare for a career in physical therapy. To learn more, attend an information session by registering on the website.
Related: DPT Program Launches | Orientation Photos | Week 1 Photos