Strategic Doing author featured at Business and Society Lecture Series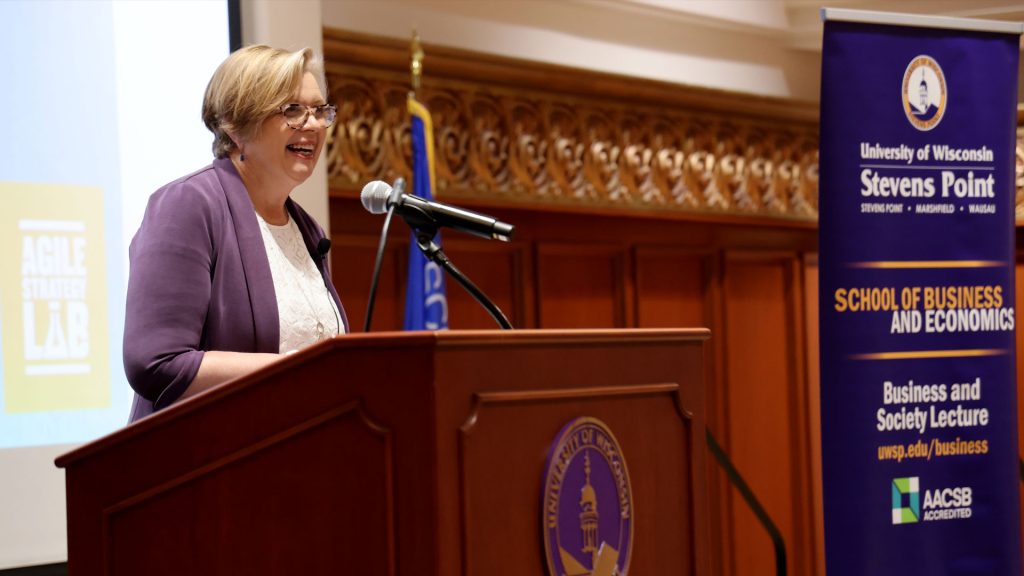 Author Liz Nilsen spoke to more than 100 community members and students during the Business and Society Lecture Series, hosted by the UW-Stevens Point School of Business and Economics on Friday, Oct. 28. [View Photos]
Nilsen is associate director of the Agile Strategy Lab at the University of North Alabama, director of operations of the Strategic Doing Institute and co-author of the award-winning 2019 book, Strategic Doing: Ten Skills for Agile Leadership. Strategic Doing is a framework designed to facilitate collaboration amongst the loose networks common in business today.
She addressed how in today's global economy, focused collaboration and innovation are key for success. These networks could be composed of different businesses and community partners with a common goal or different units within a single organization. The Strategic Doing framework is ideal for tackling complex, interconnected problems.
The Business and Society Lecture is part of the School of Business and Economics Smiley Professional Events series in which students attend a variety of career-related presentations and workshops throughout the school year.
Nilsen also was the keynote speaker at the Women Trailblazers and Entrepreneurs Conference, hosted by UW-Stevens Point at Wausau, and presented to students on the main UWSP campus on Thursday, Oct. 27. Her two-day visit was made possible thanks to the Tommy G. Thompson Center on Public Leadership, Portage County Business Council, CREATE Portage County and the UWSP School of Business and Economics.