CPS Dean's List Released for Fall 2022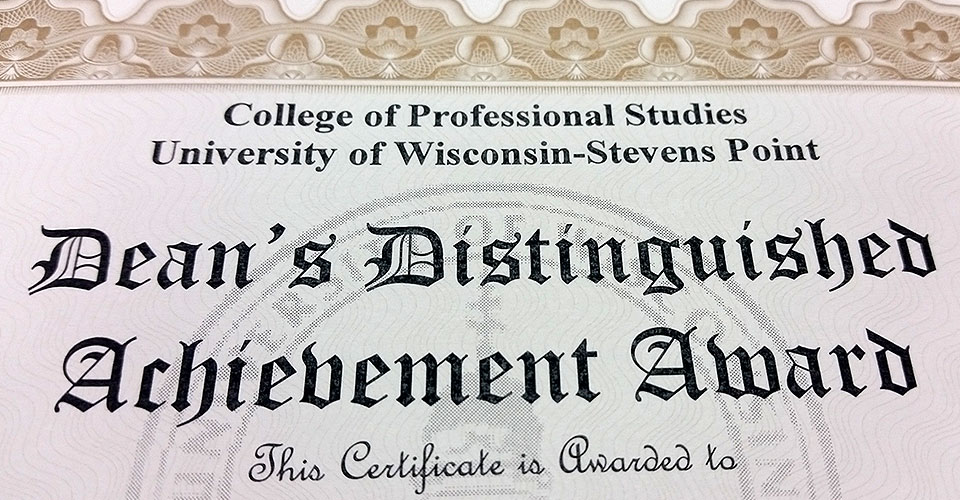 A total of 564 undergraduate students had a GPA over 3.75–including 246 with a perfect 4.0–to earn dean's list honors for the 2022 fall semester in the College of Professional Studies at the University of Wisconsin-Stevens Point. Congratulations to all!
CPS Dean's List by major (number of 4.0):
Accounting: 33 (16)
Business Administration: 49 (19)
Business Economics: 4 (1)
Clinical Lab Science: 18 (11)
Communication Sciences and Disorders: 51 (28)
Data Analytics: 13 (4)
Dietetics: 15 (6)
Early Childhood Education: 51 (17)
Elementary Education: 186 (79)
Family and Consumer Sciences: 24 (8)
Finance: 25 (10)
Health and Wellness Management: 3 (3)
Health Information Management and Technology: 2 (2)
Health Promotion and Wellness: 13 (5)
Health Science: 41 (18)
Health Sciences (AAS): 1 (1)
Leadership and Project Management (AAS): 4 (3)
Management: 17 (9)
Marketing: 16 (8)
Nursing/Pre-Nursing: 19 (11)
Physical Education: 28 (10)
Special Education: 85 (37)
CPS Dean's List (* indicates 4.0):
Students must maintain full-time status and have GPA over 3.75 to earn honors.
Ella Adams
Elizabeth Affolter*
Sydney Ahern*
Owen Ahrens
Brooke Allemann
Eve Andersen*
Faith Anderson
Jared Anderson
Sierra Anderson
Natalie Andreasen
Maddie Andrle
Mariah Angove
Nicholas Aromatario*
Amber Babcock*
Taylor Baehman
Morgan Baier*
Isaiah Baierl*
Molly Baker*
Jacob Barth
Parker Beadles
Joy Becker*
Aspen Begert
Lexi Behling*
Kendal Behnke*
Kelsie Belfiori
Stephanie Bemmann
Steven Benoy
McKenna Berdal
Sarah Bergerson
Caden Berry
Helena Besler
Lydia Beyer
Tyler Beyer*
Allison Bickford
Sofia Billmann*
Charlie Bisch
Megan Bittner*
Brooke Blader-Lucht*
Jack Blair
Kobe Blake*
Ellie Bloch
Jennifer Bolanos
Abby Bond*
Megan Bonikowske*
Erica Borchardt*
Leah Borchardt*
Rachael Bouwer
Breanna Bowe*
Jacey Bowker
Will Boyer*
Molly Braden
Adrienne Brady*
Kailin Brath
Mike Brierton*
Gerrit Brinkman*
Joshua Brown*
Alayna Bruneau*
Jake Buchanan
Amanda Buechel
Logan Burress
Alex Burrill
Katelyn Buth*
Megan Bye
Angela Cairns*
Lydia Carlson
Dakota Carriveau*
Kaitlin Celius*
Mathew Chapman
Macey Check*
Kaitlyn Chowaniec
Rachel Christian*
Taylor Chynoweth
Riley Cisewski
Baylee Clark*
Kelcey Clark*
Zoe Clough
Myles Coleman
Ian Connell*
Mikenzie Conrad
Josh Cornelius
Isaiah Cox
Ava Critelli
Bailey Crowell*
Emma Cullen
Ava Dahlke*
Kloey Daliege
Olivia Danley
Delilah Daraskevich*
Jeff David*
Katie Davis*
Chelsea Dax
Hannah De La Pena*
Trevor DeBruin
Caleb DeJong
Mckenzee Deleeuw
Haley Densow
Brooklyn DeRosa
Kayley Devenney
Griffin Dietrich*
Madison Dille*
Logan Doering
Kaylee Doll*
Ben Donovan
Clara Douglas
Teanna Draeger
Kennedy Dransfeldt
Mati Duin*
Paige Edwards*
Morgan Elliott*
Kylie Ellis*
Jared Endvick
Andrew Erdman
Laney Erickson*
Kyler Ernst
Jacob Falkosky
Jayden Falteisek
Brian Fay
Danielle Fay*
Gwen Ferkey
Elise Fischer
Emma Fisher
Katie Flathom
Grace Flynn*
Ally Foote*
Seth Forbes
Sam Forsling
Gus Foster*
Sydney Frandsen
Paige Franz
Kaitlyn Frierdich*
Emmalina Froehlich*
Alyssa Froh*
Megan Froh
Catie Gage
Gretchen Gagnon*
Jacylyn Gajewski*
Maddy Gamez
Jaydalin Ganas
Paige Ganzel
Kayla Gaulke
Gabby Gawlitta*
Karli Gay
Abby Gehring
Remi Geiger*
Emily George
Lauren Gerads*
Emma Germain
Hannah Gethers*
Rebekah Gethers*
Cameron Gibson
Lauren Gierl
Erin Gillen
Marki Gillette
Melissa Gleason
Alliyah Golden
Nicholas Gonrowski
Cole Graff*
Shayna Grais
Chevy Gretzinger*
Nathan Grimes
Allie Gripentrog
Kenzie Gruna*
Faith Grzanna*
Hannah Gunderson
Mara Gustafson
Allison Hackbarth
Tori Hahner*
Anita Haldes
Mj Hallman*
Troy Hammen
Bonita Hanley
Ashley Hansen*
Makayla Hansen
Torin Hanson
Zach Hanson
Savannah Harshman*
Maria Hartley*
Victoria Hasenohrl
Kalin Hassler
Cheryl Hayes
Lauren Hayes
Jack Hayward*
Christina Hein
Molly Heiser
Kianna Heller*
Mackena Hendrikse*
Chai Her*
Kasy Herrera
Grace Heuss
Quinton Hill*
Samantha Hoch*
Olivia Hoerl
Madison Hohn*
Jacob Hoier*
Emily Holzem*
Logan Homolka
Abby Hopfensperger
Alex Horn
Aaliyah House-Webster
Reese Houston
Brett Humberstone
Kari Hybben*
Jenny Irwin*
Natasja Iversen
Sam Ivey*
Kirsten Jacob
Sydney Jahnke
Katherine Jankowski
Chase Jasinski*
Jada Jaworski
Dylan Jensen*
Joe Jensen
Nicole Jensen
Emmalee Jicinsky
Brandon Jilek
Kallie Johanson*
Janna Johnson*
Natalie Johnson
Anna Johnston*
Raelyn Jome
Lindsey Jossie
Joshua Jumbeck*
Madeline Juneau
Julia Kanters*
Gracie Kelley
Hannah Kelnhofer
Emmalea Kenevan*
Grace Ketterhagen*
Rylee Kettleson*
Katy Kiley*
Abby King*
Carley Kisling
Karlee Kita
Adam Klawitter*
Marissa Klein*
Jaden Koch
Madeline Kocian*
Ally Koehnke
Jenna Koepp*
Mackenzie Kohler*
Christian Kohlman*
Adam Kolcon*
Megan Konkol
Abby Koopman*
Lauren Koopman*
Ashley Kopp
Mitch Kopplin
Chad Koss
Savannah Kostichka*
Charlie Kostomiris
Mattea Kowalski*
Matthew Knick*
Katie Kratz
Zachary Kriegel
Catherine Krieger*
Courtney Krueger
Hailey Krueger*
Kally Krueger
Keegan Krug*
Kailey Krzoska
Michael Kubicki
Chris Kuhnert*
Delaney Kunkel*
Maya Kunze*
Jenna Kutschenreuter
Taylor LaClair-Grow*
Lindsey Landvatter
McKenzie Lange*
Kayla Laridaen
Evan Laska
Morgan Lass
Paige Lathrop
Tyler Lauber
Molly Lawlis
Chloe Leithold*
Faith Leithold
Daniell Lepak
Anna Lewandowski*
Avery Liddicoat*
Jack Lila
Jacque Linzmeier*
Samuel Liske
Brandon Lobermeier
Amanda Loppnow*
Molly Loy
Elizabeth Lucas
Jasmine Madden*
Olivia Mader
Brooke Magnus
Isabelle Magnuson*
Gabi Magolski
Caleb Manser*
Abby Marks
Ally Markuson*
Ashton Marshall
Colton Martell*
Mckayla Martens*
Aaron Marth*
Lindsey Martin
Joshua Martineau*
Criztal Martinez
Gabby Masarik
Logan Matson
Morgan Mattern
Kailey Mazzuca*
Molly Mcconnaha
Beckett McGraw
Kelly Mcintyre
Judith Meister
Riley Mell
Clarissa Messina*
Lauren Messman
Ahna Meyer*
Grace Meyer
Hope Meyer*
Brooklyn Miller*
Devin Miller*
Kylie Miller
Alex Mischka*
Mariah Moehn*
Connor Moehr*
Eden Mokler
Abigail Molstad*
Edwin Moore
Tanner Mrotek*
Lauren Mueller
Emilie Mutsch
Maycie Navis*
Mara Nehring*
Emily Nelson
Hayden Nelson
Karli Nelson
Makayla Nelson
Emily Nemitz
Kayleigh Nesbitt*
Orin Neta
Cassandra Netols*
Kyrsten Neuhaus*
Carli Newberry-Cricks*
Max Ngalamulume
Henry Niedbalski
Miranda Nieman
Josie Nies*
Mackenzie Niespodzany
Lynzie Nightengale
Trevor Nockerts
Grace O'Brien
Cassidy O'Shasky
Conor OKeefe
Jack Orlando
Izaak Ortiz*
Lexi Ossmann
Rachel Ostrowski*
Faith Overbeck
McKenna Overland*
Isabella Page
Emma Pagel*
McKenzie Parnewicz
Grant Patterson
Emma Paulsen
Lexi Penovich
Aubrey Peters*
Hannah Petersen
Sydney Petersen
Brooke Peterson
Cooper Peterson
Cassidy Pigeon*
Emma Pinciak*
Ariel Plaski*
Christina Pliska*
Ashley Pochowski
Melissa Pohle*
Madelyn Polich*
Emma Politoski
Kevin Polsean*
Carolyn Powell
Caden Prahl*
Jonathan Prahl
Elliot Preston
Allison Prochnow
McKenna Przybyl*
Anna Pulvermacher*
Leila Quass
Mackenzie Raab*
Gabby Raczek*
Marissa Rakovec*
Michael Rank
Alyssa Rankin
Jordan Reilly*
Alyssa Reinke
Haylen Retzlaff
Hannah Retzleff
Victoria Reuter*
Baylee Rezac
Amanda Rick*
Meg Ries*
Matthew Rinehart
Madison Ripley
Makayla Ripple*
Connor Robinson
Emily Robles*
Gabriel Rodriguez
Tia Rodriguez
Ethan Roehm*
Angela Rogers*
Delaney Romanowich*
Maddie Romatoski
Matthew Roth
Abby Rouleau
Lexi Rozinski
Abby Ruedinger*
Madison Ruklic
Briana Saari
Maria Sajdak
Summer Salettel*
Gabrielle Sanchez*
Katie Sand
Kylie Sand
Nathan Sankey*
Cade Sauer
Bailey Savin*
Libby Saylor
Morgan Schabo
Madison Scharenbroch*
Reese Scheibe
Tristan Schelvan*
Christina Schiele*
Tia Schlagenhaft*
Macie Schmeiser*
Joe Schneider*
Breanna Schnell*
Brenna Schoenebeck*
Megan Schroder
Chloe Schroeder
Addison Schubert
Travis Schubring
Makayla Schueller
Elly Schultz
Amanda Schulz*
Madison Schulz
Maggie Schut
Lauren Schwarz*
Becca Schwigel*
Hailey Schwobe*
Brooklyn Seefeldt*
Madison Senso
Nate Senso
Payton Sevals*
Morgen Severt
Megan Shields*
Megan Siebert
Kendal Skrzeczkoski*
Zach Skubal
Kailee Slinkman
Emily Smith
Kelsey Smith*
Ariel Smits*
Morgan Smits*
Chloe Sonnentag
Allie Spaltholz*
Nichole Specht*
Chloie Spitzer*
Evan Stanislawski
Megan Steffens*
Paige Steinbrecher
Olivia Steinman
Nicole Steinmetz
Harrison Stewart*
Natalie Stewart
Reanna Stowe
Aidan Strizel*
Kelsey Strobel
Kelsey Strong*
Lily Stuart
Kyle Svachula
Aimee Swedlund
Ava Swoboda*
Yulong Tang*
Brianna Tate*
Aurora Tedesco
Paige Tello
Ethan Tellock*
Claire Tesch
Jake Theis*
Holly Thidemann*
Mackenzie Thistle
Lydia Thomas
Lucas Thompson*
Megan Thompson
Roy Thorson*
Andrea Tietz
Erin Timler*
Kate Tischendorf*
Nikita Tisland
Ryan Tucker*
Kim Turner*
Lindsey Tyrolt*
Cooper Uelmen
Abby Van Beek*
Grace Van Handel*
Alison Vanden Wyngaard
Madilyn VandenBush
Peyton VandenBush
Madi VandenHouten
Chayeng Vang
Kally VanLaanen
Angellia Verdone*
Kyra Verkuilen*
Mallorie Vissers*
Rachel Vogel
Molly Voigt
Sofiah Von Drasek
Elizabeth VonDrak
Evelyn Wagner
Bryce Walkowski*
Becca Walter
Shona Wasniak*
Gina Wasniewski*
Sarah Weber*
Alyssa Webster*
Mason Weckler
Amelia Wehner*
Caleb Weichart
Kiera Weiler
Cooper Weinfurter
Erica Wendler
Emma Wendt
Taylor Wentland*
Brady Wentz
Tracey Weyer
Tessa Wheat*
Abby White
Allie Wiegand*
Laura Wiegel*
Morgan Wigman
Elisha Wilson*
Emma Winter
Emily Wintrone*
Bree Wisotzke
Madeline Wojchik*
Kayla Wojcik
Allison Wolf*
Katelin Wolfe*
Katelyn Wolfgram
Logan Wood
Emily Worring*
Jenna Wuensch*
Courtney Wuthrich
Elizabeth Wyngaard*
Ryan Yakesh
Kelly Yeakey
Grant Yuma
Emily Zanotti*
Taylor Zastrow
Ariel Zdun
Jaime Zee*
Emily Zellner
Cassidy Ziegahn*
Brooke Zietlow
Maike Zipp
Hannah Zoesch*
Hayley Zoesch
Ashley Zuege
Students may major in multiple programs. Missing from this list? Contact cps@uwsp.edu.