"The Weight of Being Seen"
This is an MBA Impact Fellowship project sponsored by the UW-Stevens Point Sentry School of Business and Economics. As part of my MBA journey, I selected and interviewed six different women in leadership. What I found is that leadership comes in different forms.
The Weight of Being Seen, my first art show, explores the vulnerability and courage it takes to be seen by another … or even yourself.
Take your time looking through and allow questions to arise.
– Ann Ilagan, MBA '23
Meet the leaders:
We invite you to listen to each interview on YouTube or Spotify.
Lori Thedens – Holistic Leader
Lori is a business owner, mother of seven, and clinical massage therapist based in Stevens Point, Wis. With no business background but full of a desire to serve others through massage, she opened Pure Therapeutic Mind and Body. Over the past 18 years she has served over 1,800 clients and also provided a safe space for eight massage therapists to launch their own careers.
Lori leads from a holistic approach involving care of the whole body and mind. She won't tell you she is a leader, but her actions and words speak loudly. Lori is future oriented and leans on curiosity, resourcefulness, and a spirit of generosity. Her desire to nurture growth extends not only into her family, but also her clients, business and other therapists she mentors.
As a mother, Lori is very aware of the seven sets of eyes on her that see her every move. She desires to be an inspiration and an example of perseverance to her children. Her long-term goal is to share her experience of the last 18 years in an educational setting to help future massage therapists.
Listen to the full conversation here:
Artist's Reflection:

What inspires me about Lori's leadership is the subtlety with which she leads. She doesn't demand to be seen and could often be overlooked. When I began this project, like Lori, I did not see myself as a leader. This portrait was created in her favorite room in her spa where she massages her clients.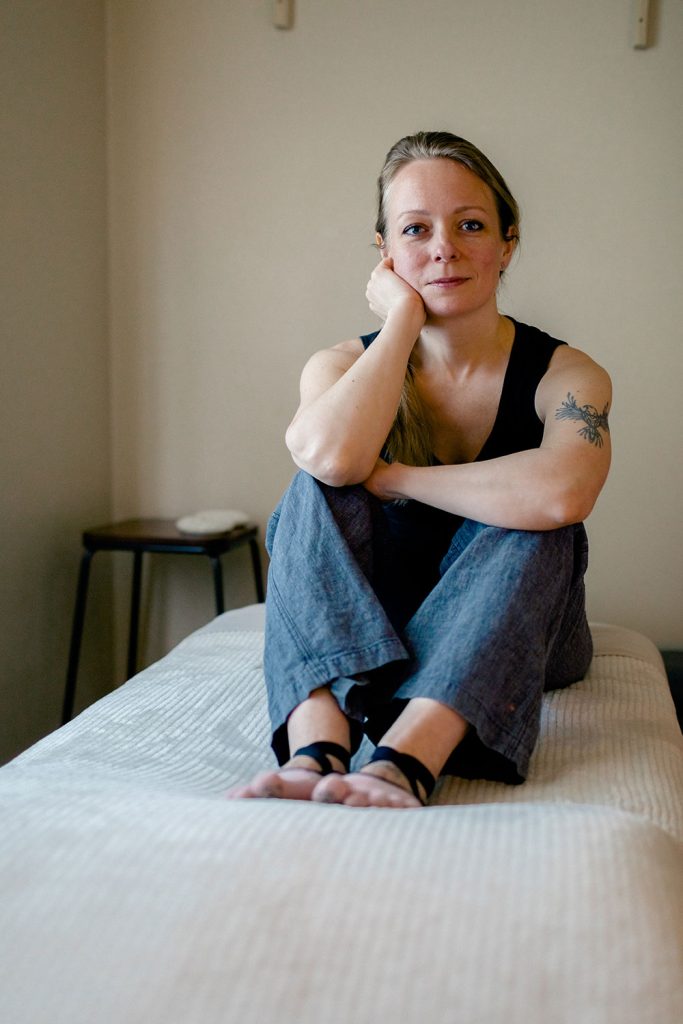 Quyen Hom – Entrepreneurial Leader
Quyen has been a dental hygienist, photographer, the owner of a clothing boutique, and is currently a sales and marketing manager at Ruby Coffee Roasters. Along the way she learned the value of networking and marketing. She highly values the local community of Stevens Point and finds ways to contribute using her skills.
"Let's try and see what happens," was a repeated phrase Quyen used in her interview. She is a master experimenter. Some facets of her leadership style include high self-motivation, initiative-taking, resourcefulness and creativity. Throughout her journey, she has learned to take the encouragement of others to propel her to greater heights. Importantly, she sensed internally when it was the end of a season and bravely took steps to close her boutique and to make room for something new.
Quyen allowed her personal story and beliefs to be seen as she created an endowed scholarship at UWSP. This project was a part of her UWSP MBA Impact Fellowship and resulted in raising just over $63,000. "Be All the Things" created in the memory of her mother helps non-traditional and BIPOC students.
Listen to the full conversation here:
Artist's Reflection:

Like Quyen, I'm also an experimenter and creator. I'm intrigued by the directness of her words and actions which shout this is what I think is important. Her boldness challenges me.

We created her portrait in her home office where I see her enjoying strategizing for her next creative endeavor.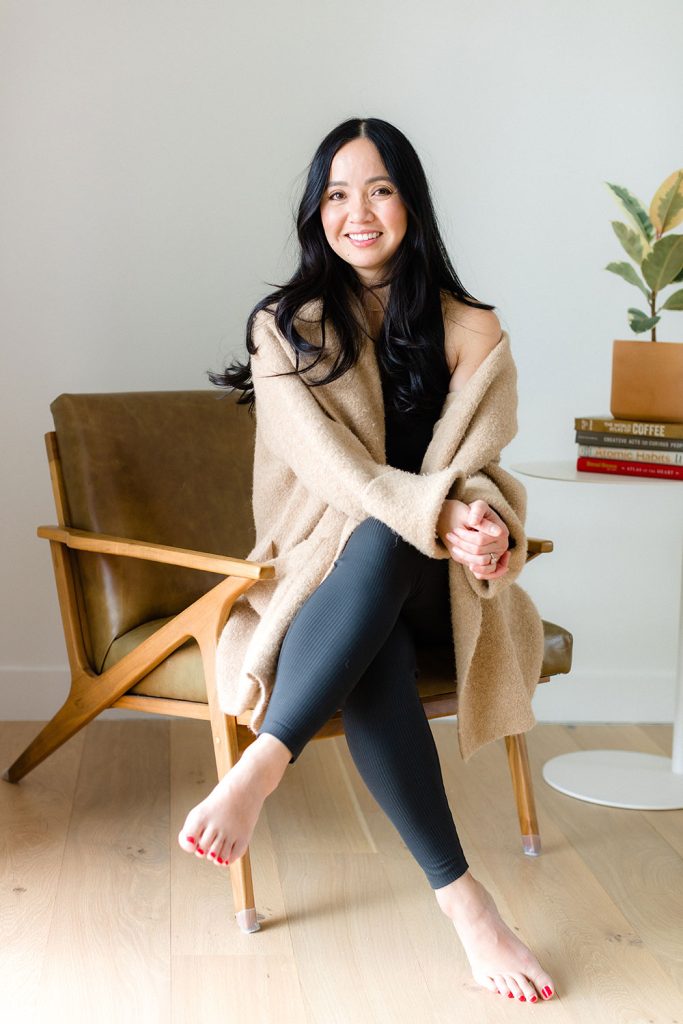 Pratima Gandhi – Business Affairs Leader
Pratima is an experienced business leader whose first job was in cost accounting. She has worked in private, non-profit, and educational sectors of the economy. She moved to Stevens Point in 2020 to serve as vice chancellor for business affairs, the chief financial officer, and the chief business officer at University of Wisconsin-Stevens Point.
Open-mindedness, eagerness to learn, and applied thinking are hallmarks of Pratima's leadership style. With a "what else can I do" outlook, she took every opportunity to learn how accounting went beyond just keeping track of numbers. Through her positions, she has been able to see that she doesn't have to know it all and believes in leaning on her team and their expertise. As a leader, she looks at her staff and allows them to expand their emerging leadership skills.
As an emerging leader, she did not hide her desire to grow and her varied interests. Pratima has been a confident steward and spokesperson of a multi-million-dollar budget that has touched every part of the university. Through her office she helps create academic programs, buildings, and positions.
Listen to the full conversation here:
Artist's Reflection:

Pratima's inclination to look beyond the accounting role and see how it can change an organization or person's life is compelling to me. The colorful art in Pratima's portrait can be found in her UWSP office today and is a gift from a former coworker.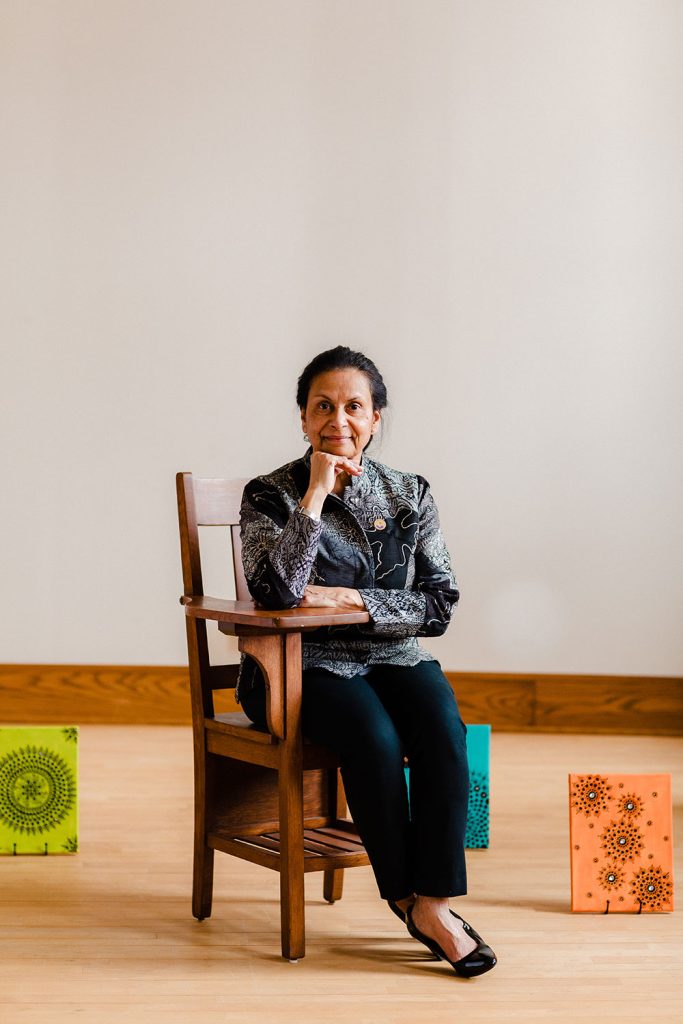 Lada Xiong – Community Weaver and Leader
Lada is a designer at heart. She has worked in the residential design space prior to her transition to commercial design. She is also passionate about community. She found a way to bridge the two interests in her current role as business development manager at Samuels Group in Wausau, Wis.
Confidence, curiosity and openness are just a few of Lada's leadership traits. Her group minded lens in decision making is a natural outworking of her Hmong heritage. She doesn't focus on problems but rather solutions. She refers to herself as a community weaver, reflecting the strong connection to her family's community-focused culture.
Lada is one of the founders of Central Wisconsin Hmong Professionals. This organization draws attention to the tensions of working in the corporate world while embracing Hmong identity and family values. Lada leads by example in showing it is possible for a person to be comfortable in their own skin while working in the corporate world.
Listen to the full conversation here:
Artist's Reflection:

While speaking with Lada, I was drawn to her passion and patience to pursue a design career without sacrificing family values. Lada's portrait was created on the roof of the Samuels Group offices in Wausau. The chair above her head is a sample she's used in a design project; her expression reminds me of the triumph in bridging her passions for design and community.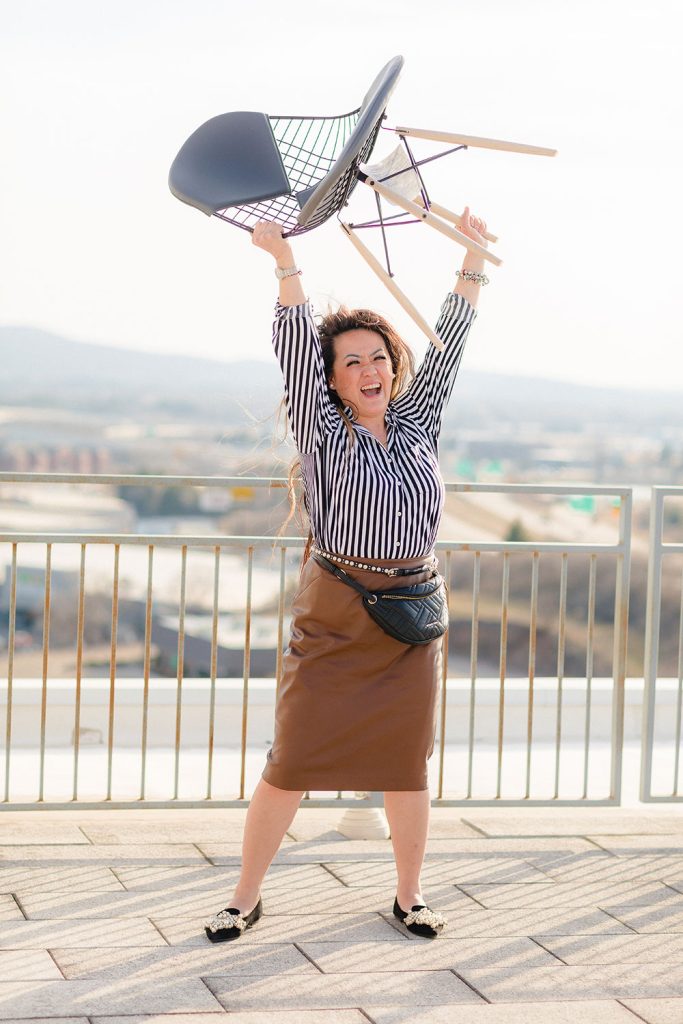 Suzanne Rathe – Higher Education Leader
For more than 25 years, Suzanne has made her career in higher education at Mid-State Technical College. Her passion for students and the technical college experience has shaped her education and her role as teacher and later administrator. She is currently the executive dean of academics.
Suzanne's energy and drive, and motto of "let's make it happen," have been key ingredients that she infuses into whatever she does. She was the first instructor to teach many of the social sciences courses the college offers today, created a global education program, and forged pathways into the UW System and other four-year universities. She has been a change agent.
In order to become a change agent at a macro level, she had to leave the classroom to take a more visible leadership role in administration. The titles were not a driving factor but rather a vehicle to effect change. Leadership demands being seen.
Listen to the full conversation here:
Artist's Reflection:

As one of Suzanne's former students, I experienced her leadership style first-hand in the classroom. Her vivacity for life-long learning has been an inspiration over the years. I was a beneficiary of her trailblazing as I moved from Mid-State to UWSP. We created Suzanne's portrait at her family's stables – the horses signify the strength that I see in her.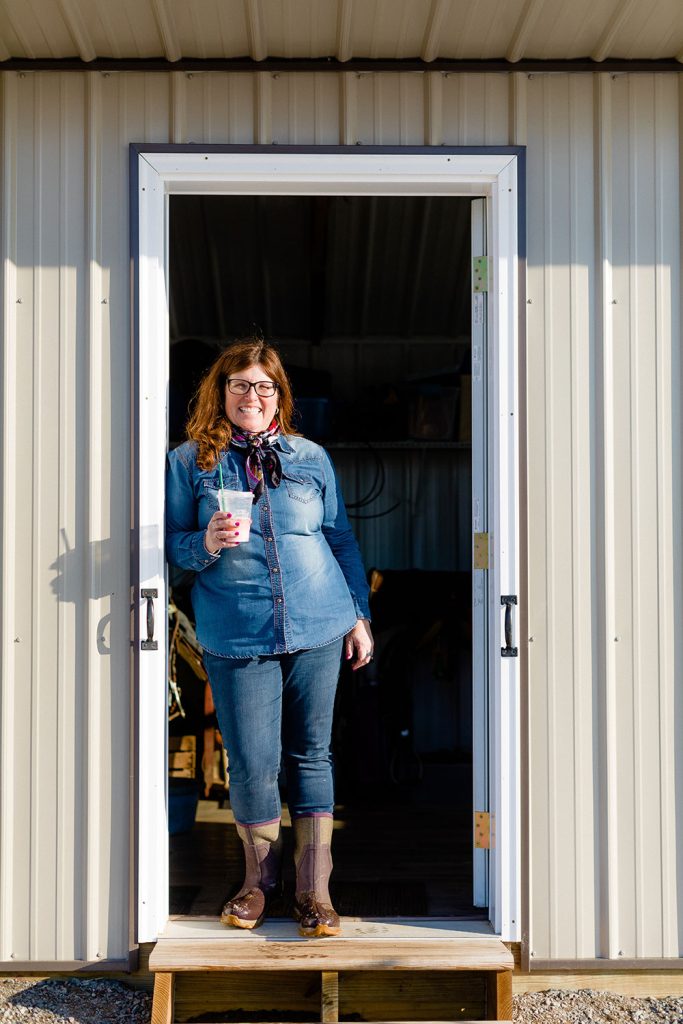 Lyna Matesi – Transformational Leader
Lyna has led thousands of people through change and transformation in the corporate and higher education sectors. She was instrumental in launching the MBA program at University of Wisconsin-Stevens Point. She is presently an associate professor at UWSP, a consultant and on-call facilitator for the Center of Creative Leadership, and has her own coaching practice called Next You Unleashed. As of June 2023, she became the academic director for graduate and professional programs in the Sentry School of Business and Economics at UWSP.
She is a visionary leader, connector and a wicked problem solver. Above all, Lyna has been an instigator of change, with a passion of helping people, projects, and organizations transform. She is a listening leader willing to hold space for the messy middle as they catch on to a new vision and move forward.
With great panache, Lyna openly uses her self-guided personal and professional transformations as she coaches others. She is a beacon of light as she invites others to join her in the journey of becoming.
Listen to the full conversation here:
Artist's Reflection:

Lyna invited me to embrace the leader that was already in me. She has helped make my MBA journey the transformation I needed it to be. This portrait was created in the midst of renovation for the new MBA offices at UWSP. The hats in the foreground refer to the many hats she wears and the experiences she's had with people.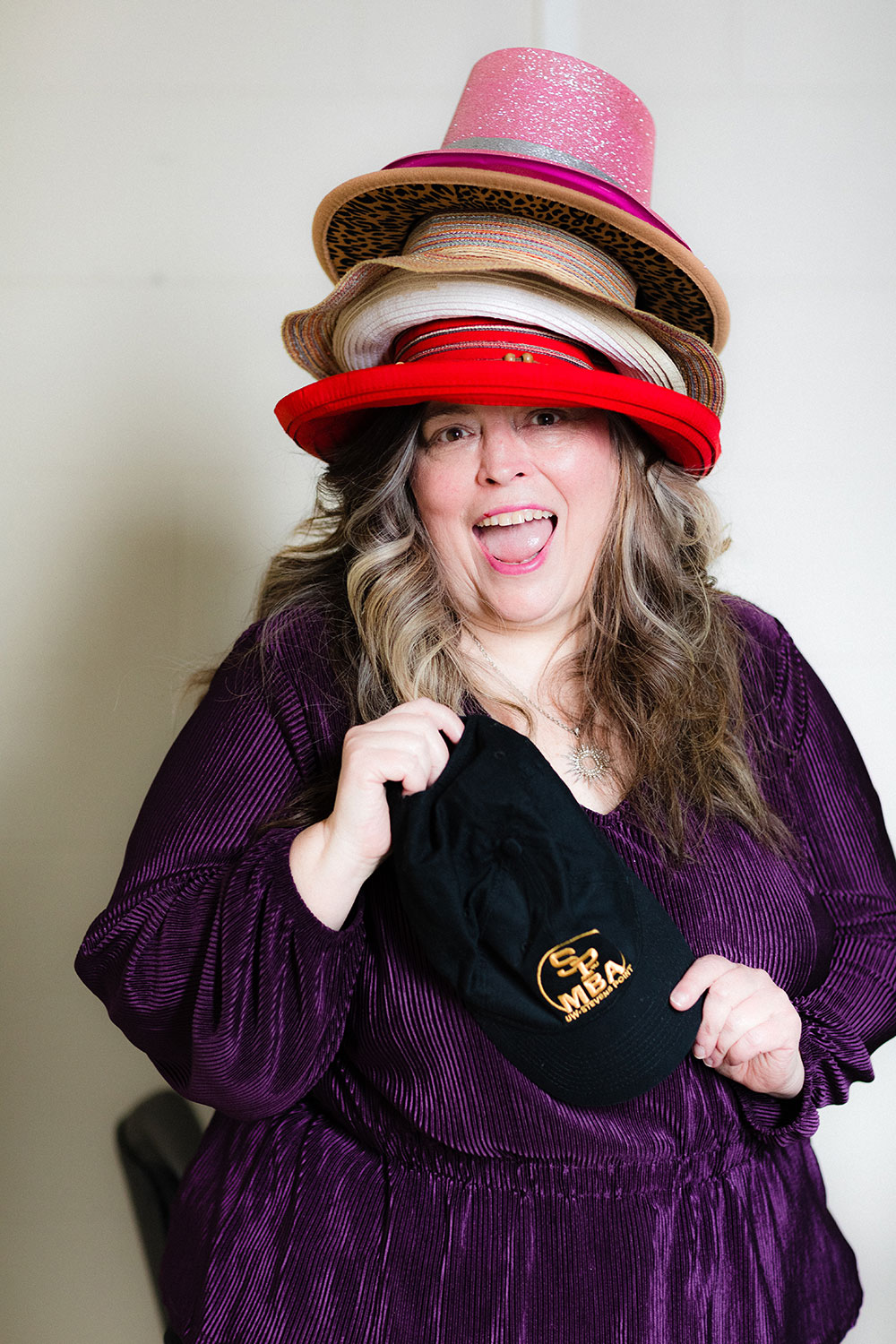 Ann Ilagan – Creative Leader
I am a small business owner who self-funded my photography business by working at Sentry Insurance for ten years. Over the last 20 years I have diversified my photo offerings to include weddings, portraits, branding, travel stories, and real estate photography. My current business is titled Ann + Lee Photography (weddings, families, and high-school seniors). My new line, With Gusto Creative, will serve businesses and nonprofits.
People fascinate me and their stories fascinate me. My inquisitive and observant nature and my willingness to meet people where they are at have been a driving force behind my business. I have titled myself a creative leader because I can find beauty in everything and help people see themselves in a different light through the story I tell with my camera.
The way that I am allowing myself to be seen is through my first show which explores connections between art and leadership.
Leader's Reflection:

The Weight of Being Seen is an outflow of my personal philosophy of life. My spirit of curiosity, vulnerability, authenticity and gusto I now see as components of my leadership. My camera is a tool that allows me to showcase the beauty in someone's story – in both high and low moments. The two portraits of me on the cover and opposite of this page reflect the movement of my leadership journey and understanding of my unique and necessary voice.
Conclusion
Seeing the impact you have on others just by being is a weighty idea. Listening to each of these leaders' stories allowed me to see and understand more about myself and my own leadership journey.
Here's the short of it: Your story matters.
Let yourself be seen.
With gusto,
Ann
Continue to follow Ann's journey …