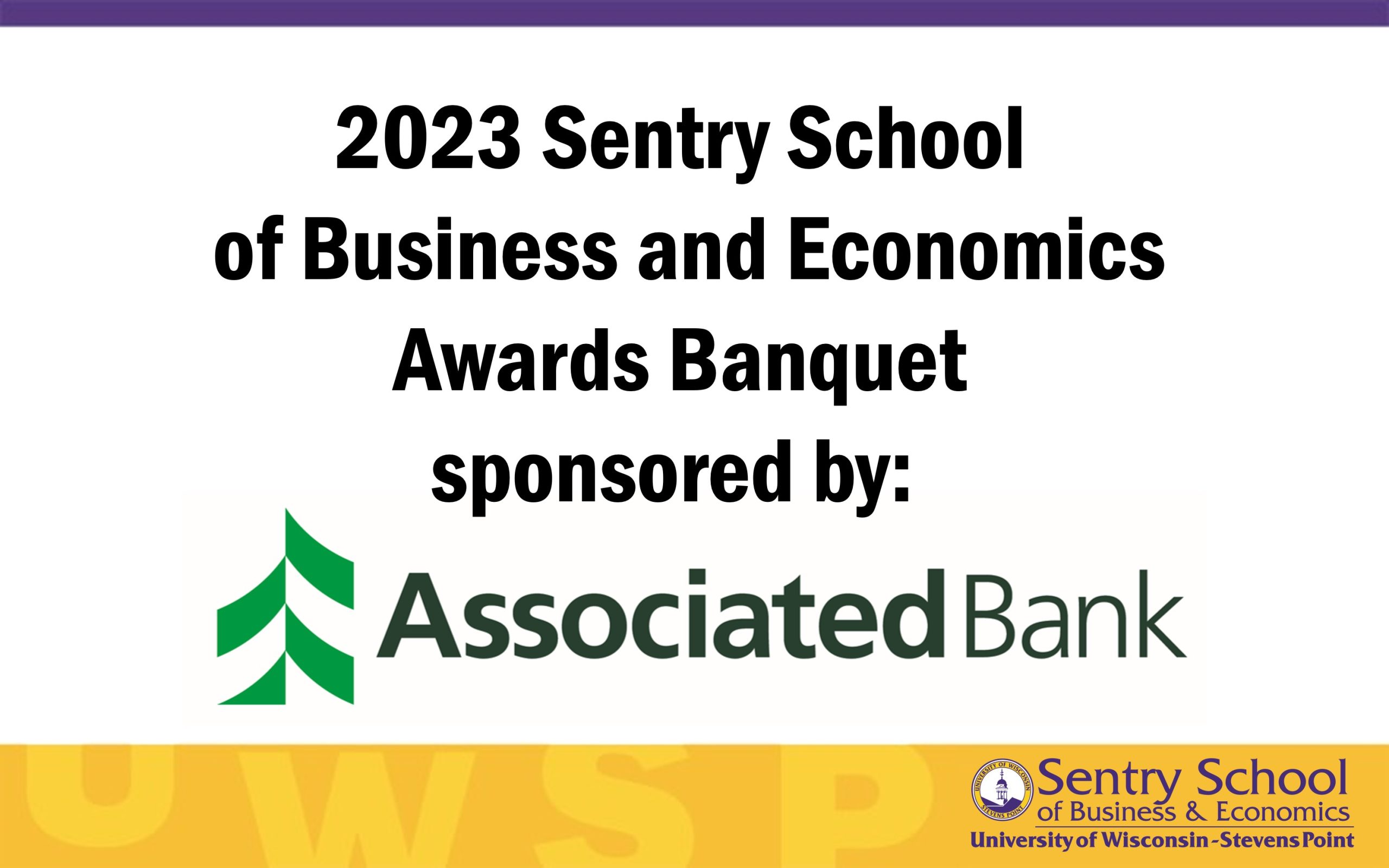 The Sentry School of Business and Economics hosted its annual Scholarship and Awards Banquet on Friday, April 28 in the UW-Stevens Point Dreyfus University Center, sponsored by Associated Bank. The school presented 78 scholarships and awards, totaling $93,700 to students. Congratulations to all the award winners and thank you to our donors for your continued support.
UWSP Sentry School of Business and Economics Banquet 2023
UWSP Sentry School of Business and Economics Banquet PPT
On behalf of the faculty and staff of the University of Wisconsin-Stevens Point Sentry School of Business and Economics, I welcome you to our 2023 Spring Awards Dinner. I am very excited to get together once again to celebrate and honor our outstanding students and faculty. I am also excited to thank our generous donors who made tonight's awards and this banquet possible. From their generosity we have been able to give away $93,700 to students tonight alone!
We are especially pleased to welcome members of the Business Advisory Council (BAC) and our Corporate Partners. The BAC guarantees the relevance of our programs by providing input from our business and community stakeholders while our Corporate Partners help our students connect with local businesses. We appreciate your help in all our efforts.
We would also like to extend an extra special welcome to our guests from Sentry, and thank them once again for their record-setting $10 million gift. As astute readers will have noticed, the school is now known as the Sentry School of Business and Economics in recognition of the gift. This naming is a proud recognition of the partnership that will elevate the profile of Sentry School, helping us attract more students to Central Wisconsin, benefiting all our business and community partners. The gift will also help renovate an existing building, Collins Classroom Center, to create a state-of-the-art facility to house Sentry School. When renovations are complete, it will be renamed Sentry Hall as a visible signal of the partnership between Sentry and UW-Stevens Point and the commitment to address the talent development needs of the region.
The mission of Sentry School is to provide applied learning experiences to develop career-ready graduates. The Anderson Classroom to Career Center is a core piece of those efforts through the Mundt Internship and Career Readiness, Smiley Professional Events and Corporate Partner programs. At the graduate level, the MBA program is committed to the same goal, transforming both young and seasoned professionals.
Over the past year, Sentry School students:
It is experiences and programs like these that set Sentry School apart as a leader in applied learning and student engagement.
On behalf of Sentry School, I would like to extend a sincere thank you to all our donor, business and community partners that help make all this possible. I would also like to thank UW-Stevens Point administration for their support, and our wonderful faculty and staff for their creativity, hard work and dedication to our students. Thank you!
Kevin Neuman, Ph.D.
Head, Sentry School of Business and Economics