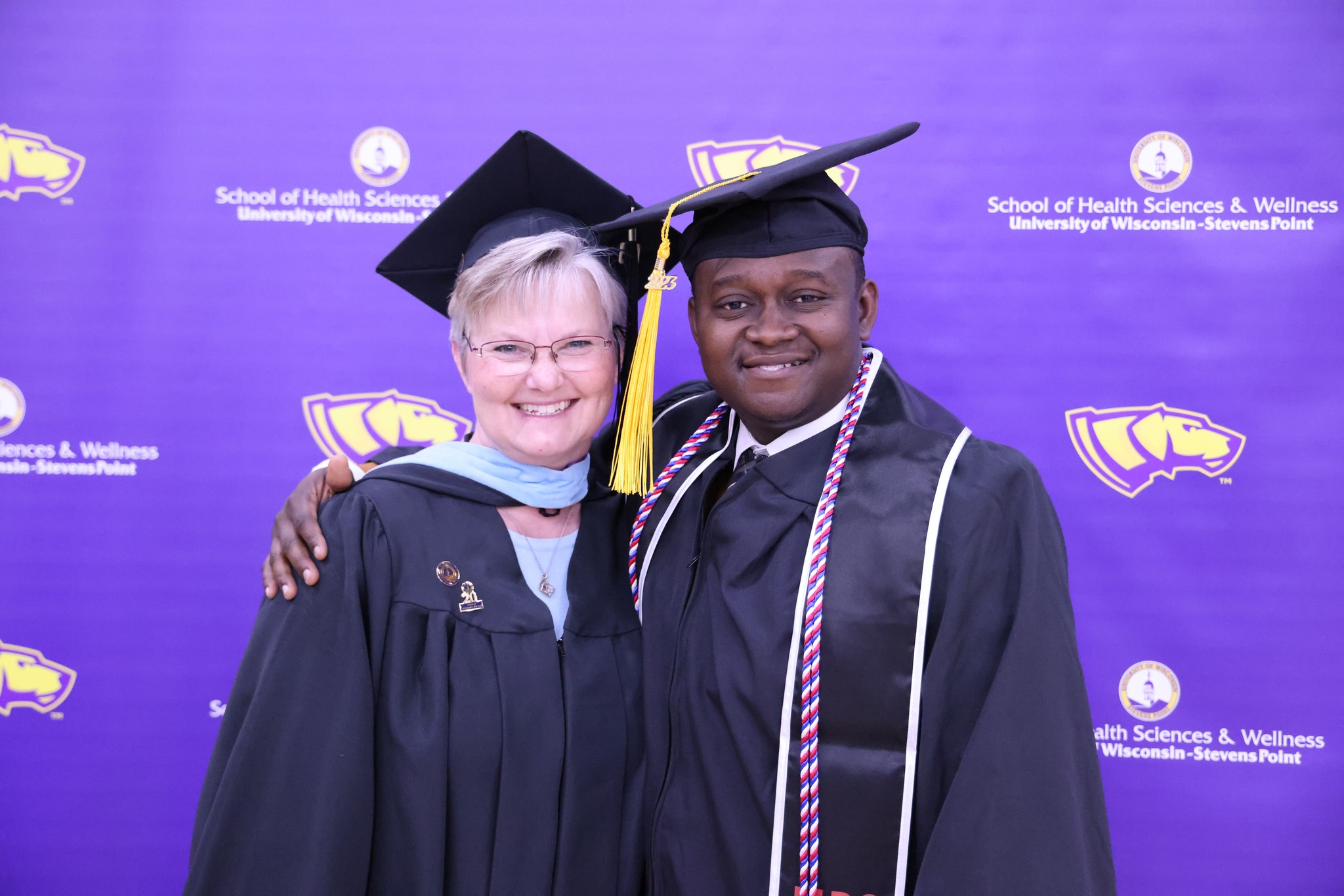 Victor Chukwuemeka, Stevens Point, met the right person at the right time during a visit to the University of Wisconsin-Stevens Point a few years ago.
He had been taking nursing classes, but that wasn't the right fit. He knew he wanted to help people and work in health care. With his brother George attending UW-Stevens Point and his stepfather, Assistant Professor Kele Anyanwu, teaching here, he came to campus looking to talk to someone about his options.
He found Michelle Shulfer, a senior lecturer in clinical laboratory science (CLS), and in doing so, he found a mentor and life-long friend as well as a career path.
"I remember the day we met," he said. "Michelle didn't know me, but she grabbed her coat and gave me a campus tour. She told me about the clinical laboratory major and as I learned, I became more interested."
"I walked him over to the Student Services Center to help him get the signatures he needed to transfer," said Shulfer. "He was so thankful for everything – that's rare. My heart went out to him. He was such a kind young man. I enjoyed his grateful attitude, and in all the years I've known him, that has never waned."
This May, Chukwuemeka graduated with a degree in CLS and a full-time job as a medical laboratory scientist at Aspirus Stevens Point Hospital, where he worked as a phlebotomist while attending classes. He hopes to go back to school to become a physician's assistant in the future.
Chukwuemeka has all the qualifications for a career in health care and the laboratory, Shulfer said. Lab workers are the unsung heroes in a hospital setting, she said, as 70 percent of diagnoses are generated in a laboratory.
"Victor cares about the patient and the quality of the work," she said. "That is vital. He is kind, caring and empathetic. He knows that every sample that comes through is a patient, not just a number. He has such a profound respect for people."
His life experiences make him someone who will flourish in the lab, she said. Chukwuemeka has watched a family member suffer from sickle cell anemia, which was the subject of his senior capstone project at UW-Stevens Point. It was also the inspiration for his career goal after he and his family moved to the United States from Nigeria when he was 18.
He attended Stevens Point Area High School for two years to help him with his English skills and general education credits, then attended technical college before transferring to UW-Stevens Point.
Chukwuemeka's decision to major in CLS was solidified as Shulfer was the instructor of his first class. Among his goals was completing a minor in military science as a commissioned officer, which added to his challenges. Shulfer worked with him when he struggled and helped him get a clinical practicum at Aspirus Hospital that fit his schedule.
"Michelle has been a godsend," he said. "She was a great mentor and adviser. She set me on my path."
Chukwuemeka enjoys CLS because it encourages critical thinking. "In the lab you can see what the patient is going through by looking at the lab results. You help the doctors discover the diagnosis. I like being a part of that patient care."
"It was a lot of work, but he was dedicated to his goals," said Shulfer. One of them was becoming a U.S. citizen. "He was so proud of that, he showed me photos from that day. I was proud of him too. He represents America well."
Chukwuemeka's brother, George, also graduated in May with a degree in chemical engineering. Their younger brother, Justice, attends UW-Stevens Point as well, majoring in computer science. It has been a great experience for the brothers.
"UWSP is family oriented," said Victor. "It has an environment where you can interact with your instructors and have a personal relationship with them."
Shulfer said that while she has a great relationship with all of her students, she felt an instant connection to Victor. "Our paths were meant to meet, and we were meant to help each other along the way.
"He's helped me to learn gratitude," she said. "He's someone who takes everything and finds hope and gratefulness. That's a rare ability. If you are grateful, you aren't thinking about yourself, you are thinking about others. That's Victor."