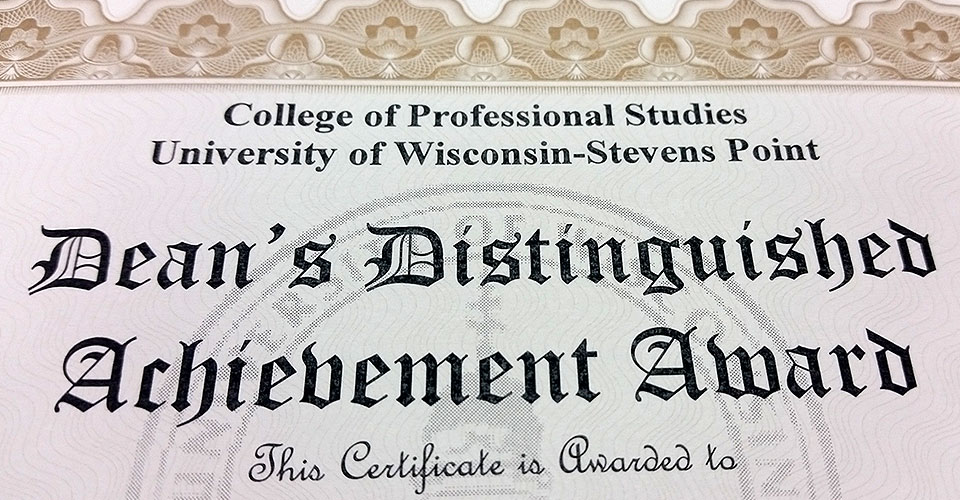 A total of 562 undergraduate students had a GPA over 3.75–including 252 with a perfect 4.0–to earn dean's list honors for the 2023 spring semester in the College of Professional Studies at the University of Wisconsin-Stevens Point. Congratulations to all!
CPS Dean's List by major (number of 4.0):
Accounting: 43 (21)
Business Administration: 55 (20)
Business Economics: 3 (1)
Clinical Lab Science: 27 (20)
Communication Sciences and Disorders: 47 (28)
Data Analytics: 11 (4)
Dietetics: 12 (8)
Early Childhood Education: 60 (32)
Elementary Education: 159 (74)
Family and Consumer Sciences: 19 (10)
Finance: 34 (18)
Health and Wellness Management: 2 (2)
Health Information Management and Technology: 1 (1)
Health Promotion and Wellness: 5 (3)
Health Science: 27 (10)
Health Science and Wellness: 28 (6)
Health Sciences (AAS): 3 (1)
Leadership and Project Management (AAS): 4 (3)
Management: 16 (9)
Marketing: 18 (4)
Nursing/Pre-Nursing: 18 (3)
Physical Education: 30 (6)
Special Education: 71 (38)
Sustainable Food and Nutrition: 2 (1)
CPS Dean's List (* indicates 4.0):
Students must maintain full-time status and have GPA over 3.75 to earn honors.
Natalie Ahern
Owen Ahrens
Kari Albrecht*
Brooke Allemann
Mikayla Amundson
Jared Anderson*
Faith Anderson
Miranda Anderson
Maddie Andrle*
Mariah Angove*
Kiana Ansel*
Nicholas Aromatario
Amber Babcock
Taylor Baehman
Morgan Baier*
Molly Baker*
Hayden Bauman
Matt Baumann
Parker Beadles
Joy Becker*
Sara Bedessem*
Ellie Belsha
Stephanie Bemmann
McKenna Berdal
Bella Berg
Sarah Bergerson
Joseph Bergquist
Brooke Bernier*
Tyler Beyer
Elizabeth Biolo
Sofia Billman
Megan Bittner
Brooke Blader-Lucht*
Kobe Blake
Evan Blanton*
Elizabeth Boehnlein
Ethan Bohlman
Olivia Bohm
Jennifer Bolanos
Abby Bond*
Megan Bonikowske*
Allie Booth
Ruth Bouwer
Rachael Bouwer
Breanna Bowe*
Haley Brabant
Molly Braden
Adrienne Brady
Kailin Brath*
Austin Breitbach
Carly Brickley
Madison Bricko*
Mike Brierton*
Gerrit Brinkman*
Hunter Brockman
Joshua Brown*
Michael Brown*
Jake Buchanan
Amanda Buechel*
Alex Burrill
Corah Buth*
Katelyn Buth*
Megan Bye
Tiana Cachuela
Rachel Callow
Lydia Carlson*
Ryan Carmichael*
Dakota Carriveau*
Nolan Castellion*
Kaitlin Celius*
Chris Charles*
Macey Check*
Kaitlyn Chowaniec
Victor Chukwuemeka
Emmie Cibrario
Tayyib Ciftci
Catie Clement*
Keltie Cloud
Myles Coleman
Isaiah Cox
Ava Crary*
Ava Critelli*
Bailey Crowell*
Becca Czajkowski*
Ava Dahlke*
Kloey Daliege
Delilah Daraskevich*
Lindsey Dashner
Jeff David
Chelsea Dax*
Hannah De La Pena
Ashley Dean*
Madison Deiter
Caleb DeJong
Mckenzee Deleeuw
Haley Densow
Brooklyn DeRosa
Kayley Devenney*
Lauren Dhuey*
Griffin Dietrich
Wyatt Dietsche
Kaitlyn Dobratz
Logan Doering
Kaylee Doll*
Trenton Dorn*
Kennedy Dransfeldt
Mati Duin*
Paige Edwards
Lisa Eggebrecht*
Kayla Ellenbecker
Morgan Elliott
Kylie Ellis*
Jared Endvick*
Lammesa Enke
Kyler Ernst*
Summer Espitia
Jacob Falkosky
Matthew Falls
Jayden Falteisek*
Gwen Ferkey
Elise Fischer
Ally Foote*
Seth Forbes
Hilary Forrest*
Natasha Forrest
Emma Forseth*
Sam Forsling*
Gus Foster
Sydney Frandsen*
Noelle Frank
Paige Franz
Madelaine Freeberg*
Emmalina Froehlich*
Alyssa Froh*
Megan Froh*
Molly Fryling
Catherine Gage
Gretchen Gagnon*
Maddy Gamez*
Jaydalin Ganas
Kayla Gaulke*
Gabby Gawlitta
Karli Gay*
Remi Geiger*
Brianna Geis
Noah Gengler
Lauren Gerads*
Emma Germain*
Rebekah Gethers*
Lauren Gierl
Morgan Giese
Marki Gillette*
Alliyah Golden*
Cassie Gosse
Daniel Gottbeheut
Cole Graff*
Paige Gregor
Allie Gripentrog
Abby Gronert*
Faith Grzanna*
Mara Gustafson
Summer Gutowski
Allison Hackbarth*
Kiana Haenel
Lily Hahn
Tori Hahner
Mj Hallman*
Mai Kao Hang
Makayla Hansen*
Hailey Hanson*
Torin Hanson
Ethan Hanutke
Brian Harms
Karly Hartjes
Maria Hartley
Victoria Hasenohrl*
Cheryl Hayes*
Jack Hayward
Christina Hein
Brenna Heiser*
Molly Heiser
Alyssa Helland
Kianna Heller*
Mackena Hendrikse*
Emily Her
Grace Heuss
David Hill
Quinton Hill
Lauren Hinderliter
Olivia Hoerl*
Abby Hofacker*
Logan Homolka*
Yunjung Hong
Abby Hopfensperger*
Hannah Hornung
Molly Hulke
Brett Humberstone
Logan Humphrey*
Kaia Huston
Wendy Hutton*
Kari Hybben*
Mya Jablonski*
Anna Jackson*
Kirsten Jacob*
Magdalene Jacoby
Erin Jagodinski
Miranda Janke*
Katherine Jankowski*
Chase Jasinski
Jimmy Jennings
McCartney Jens
Dylan Jensen
Max Jenson
Brandon Jilek*
Kallie Johanson*
Janna Johnson*
Mackenzie Johnson
Anna Johnston
Kiersten Jordan
Collin Jorgensen*
Joshua Jumbeck*
Madeline Juneau*
David Kaminski*
Caitlyn Kaminski
Julia Kanters
Madeline Kasper
Gracie Kelley*
Auston Kellnhauser
Reegan Kelly*
Hannah Kelnhofer*
Emmalea Kenevan*
Ray Kesler
Grace Ketterhagen*
Rylee Kettleson
Raven Killian*
Abby King
Chris Kirsch
Karlee Kita*
Kendell Klatt
Adam Klawitter*
Marissa Klein
Cassidy Klitzke
Shelby Klobucar
Tiffany Kloiber
Delaney Koehne
Ally Koehnke*
Jenna Koepp*
Mackenzie Kohler*
Christian Kohlman*
Megan Konkol
Justine Konopacki
Nolan Kopp
Mitch Kopplin*
Allie Kordus
Kaitlyn Kort
Chad Koss*
Savannah Kostichka*
Zoe Kramer*
Katie Kratz
Zachary Kriegel*
Catherine Krieger
Nathan Krommenakker
Courtney Krueger*
Kally Krueger
Madisyn Krueger
Hailey Krueger
Keegan Krug*
Brett Kruska*
Kailey Krzoska
Marion Kurszewski*
Jenna Kutschenreuter
Carson Kvernen
Cade Lamb
Sarah Lamere*
Carson Landowski*
Lindsey Landvatter
McKenzie Lange*
Langdon Langhoff*
Kayla Laridaen*
Alexander Larsen
Evan Laska
Morgan Lass*
Tyler Lauber
John Lee
Aubree Leitermann
Chloe Leithold*
Faith Leithold*
Hailee Lenzo
Anna Lewandowski*
Avery Liddicoat
Jack Lila
Jacob Linsmeyer
Jacque Linzmeier*
Samuel Liske
Mady Lorey
Genevieve Lotzer
Elizabeth Lucas*
Logan Lutz
Wilson Lyke*
Olivia Lyon*
Jasmine Madden*
Isabelle Magnuson*
Gabi Magolski
Erin Malek
Zalexis Mannigel
Colton Martell*
Mckayla Martens*
Criztal Martinez
Jose Martinez-Juarez
Gabby Masarik
Morgan Mattern*
Jordyn Maxwell
Molly Mcconnaha
Tyler McEachern
Autumn McGlynn
Libby Mcgrath
Beckett McGraw
Maverick McHugh
McKenzie McIntyre*
Alexis Means
Michael Mejia
Hope Meyer
Grace Meyer
Ahna Meyer
Allie Meyers
Myah Miller*
Madelynn Miramontes*
Randi Miranda
Mariah Moehn*
Connor Moehr
Marissa Mohr
Ryan Mokandu
Abigail Molstad*
Audrey Molter*
Deshana Moore
Edwin Moore
Diego Mosquera Herrero
Lauren Mueller
Emilie Mutsch
Cheyenne Nechuta*
Mara Nehring*
Madison Nelles
Bo Nelson
Hayden Nelson*
Makayla Nelson*
Kayleigh Nesbitt*
Cassandra Netols
Kyrsten Neuhaus*
Carli Newberry-Cricks*
Tessa Nieberle*
Henry Niedbalski
Lindsay Nielsen*
Josie Nies*
Jessica Nigbur
Makayla Niggemann
Lynzie Nightengale
Trevor Nockerts
Charlie Nordman
Stacia Nowaczyk
Grace O'Brien*
Lindsey O'Brien
Cassidy O'Shasky*
Sofia O'Brien
Emma Oelke
Marisa Oestreich*
Conor OKeefe
Caroline Olson
Jon Olson
Theo Olson*
Grace Oninski
Tyler Orre*
Wahida Osman
Lexi Ossmann
McKenna Overland
Amber Ozolins
Emily Paffel
Devyn Palmer
McKenzie Parnewicz
Greta Parsons*
Olivia Paukner
Emma Paulsen
Nick Paulsen
Katie Peltz
Lindsey Pence*
Hannah Petersen
Brooke Peterson*
Taylor Peterson*
Cooper Peterson
Ann Petri*
Jamie Pfeifer
Jadyn Pickett
Cassidy Pigeon*
Emma Politoski*
Alexander Ponshock
Nicole Premus
Nicole Pretat
Carter Prey
McKenna Przybyl*
Anna Pulvermacher*
Mackenzie Raab*
Gabby Raczek*
Marissa Rakovec
Jaiden Rakowska
Alyssa Rankin
Paige Ravet*
Anna Reese
Nicole Rehwinkel*
Haylen Retzlaff*
Hannah Retzleff*
Ben Richmond
Amanda Rick*
Courtney Riel
Meg Ries*
Abigail Roberts
Connor Robinson
Delaney Romanowich*
Maddie Romatoski
Matthew Roth
Johanna Rothenberger
Sydney Ruckdashel
Sarah Rudie*
Bryn Ruffalo
Margaret Sager*
Maria Sajdak*
Summer Salettel*
Spencer Salta*
Katie Sand*
Shelby Sanderfoot
Nathan Sankey*
Bailey Savin*
Madison Scharenbroch*
Alexis Scheel
Reese Scheibe*
Tristan Schelvan*
Christina Schiele*
Macie Schmeiser*
Thayne Schmitt
Georgi Schmutzer
Joe Schneider*
Mike Schneider
Veronica Schneider
Breanna Schnell*
Autumn Schrauth*
Hayden Schreier
Chloe Schroeder*
Addison Schubert
Travis Schubring*
Lance Schultz
Amanda Schulz*
Maggie Schut
Becca Schwigel
Hailey Schwobe*
Seth Seefeldt
John Seidler*
Nate Senso
Dustin Servais*
Payton Sevals
Megan Shields*
Alexa Shulfer*
Sara Siegel*
Shanna Simmons
Samantha Simonis
Kailee Slinkman*
Brooke Smeltzly*
Emily Smith
Kelsey Smith*
Ariel Smits
Cameron Smits
Morgan Smits*
Allie Spaltholz*
Nolan Spanbauer
Chloie Spitzer*
Kiarra Springstroh*
Evan Stanislawski*
Amelia Steen-Martin
Brooklynn Steier*
Olivia Steinman*
Jenna Sternitske
Natalie Stewart*
Harrison Stewart*
Abby Stingle*
Abigail Stoflet
Reanna Stowe*
Haillie Stremkowski
Ted Struebing*
Lily Stuart
Ethan Sund
Yulong Tang
Paige Tello*
Ethan Tellock*
Holly Thidemann*
Lydia Thiel
Mackenzie Thistle
Lucas Thompson
Megan Thompson*
Roy Thorson*
Erin Timler*
Kate Tischendorf*
Kim Turner*
Anna Tuuri
Kris Twerberg
Lindsey Tyrolt*
Cooper Uelmen
Abby Van Beek*
Quinn Van Schyndel
Kally VanLaanen
Madilyn VandenBush
Madi VandenHouten
Chayeng Vang*
Shoua Vang*
Angellia Verdone
Mallorie Vissers*
Rachel Vogel
Anetha Vogele
Molly Voigt
Sofiah Von Drasek*
Landon Vosters
Connor Vyskocil
Evelyn Wagner
Nicholas Walker*
Becca Walter
Bryce Walkowski*
Gina Wasniewski*
Alyssa Webster*
Tommy Webster*
Mason Weckler
Amelia Wehner*
Kaylee Wehrman
Caleb Weichart
Kiera Weiler*
Cooper Weinfurter*
Emma Wendt*
Chloe Weyers
Tessa Wheat*
Laura Wiegel*
Rylee Wiese
Grace Wilkins
Tiernan Wilson
Emma Winter
Emily Wintrone
Madeline Wojchik*
Allison Wolf*
Katelyn Wolfgram
Kassidy Wood
Carly Woodward
Alexis Wright
Jenna Wuensch*
Callie Wulk
Elizabeth Wyngaard
Jia Xiong
Ryan Yakesh
Kasia Yang
Kelly Yeakey*
Grant Yuma*
Danika Zablocki*
Emily Zanotti*
Jaime Zee*
Emily Zellner
Cassidy Ziegahn
Brooke Zietlow*
Hayley Zoesch
Ashley Zuege
Students may major in multiple programs. Missing from this list? Contact cps@uwsp.edu.