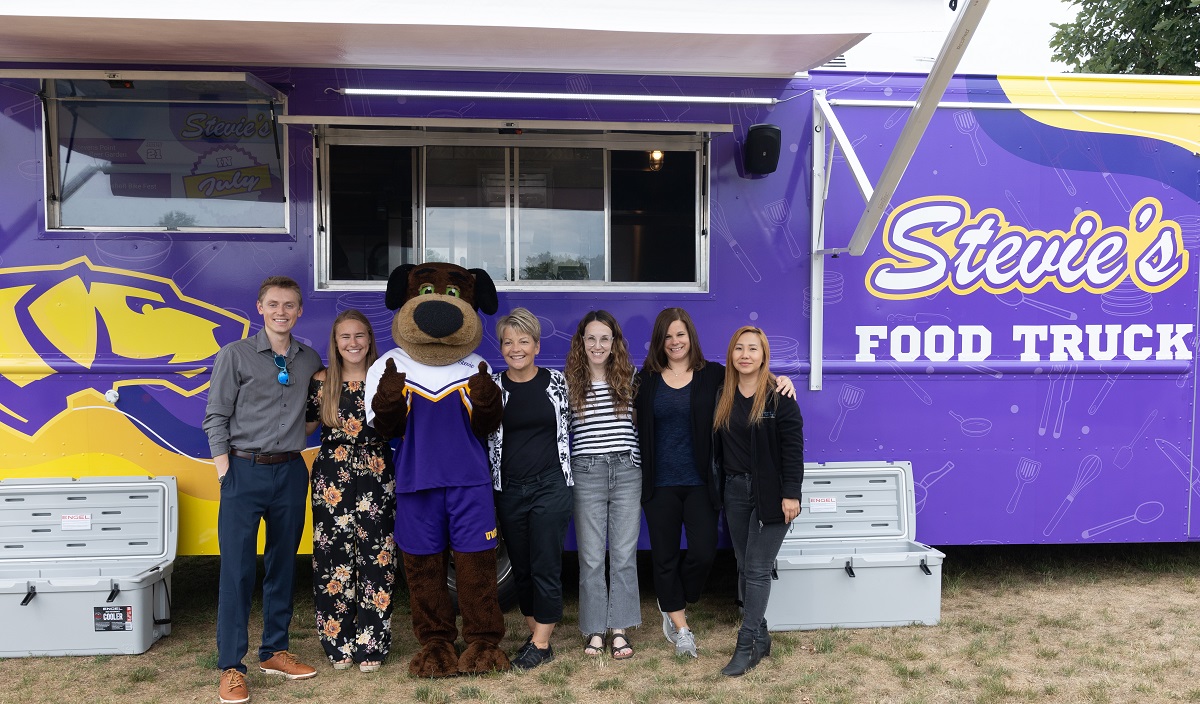 When Olivia Molle took on her University of Wisconsin-Stevens Point Master of Business Administration fellowship in fall of 2021, she had no idea where it would take her.
She just knew the assignment – to find an idea that would raise awareness of UW-Stevens Point's brand on campus and in the community, then develop that concept into a reality.
"It would become the toughest project I ever worked on," said Molle, a Plover resident who earned a bachelor's degree in marketing in 2021 while also beginning work on her master's degree through the 4+1 MBA option. "We didn't have a definitive answer, we just knew we would have to have a proposal ready for university leadership."
To begin the process, Molle worked with her fellowship mentor Lyna Matesi, an associate professor of management with the MBA program. She also worked with Brittany Kaminski, director of marketing and creative services in University Communications and Marketing, as well as Kim Carroll and Leah Rose in the MBA program.
The first step was to gather members of an advisory board that included recent UWSP alumni, members of local organizations and businesses and others who had campus and community ties.
"I wanted to collect a variety of ideas from a diverse group," she said. The board interviewed others in the community about their interactions with the university, and the feedback pointed to a need for UW-Stevens Point to have a more prominent place in community events.
The one idea that kept coming up with the advisory group was having a UW-Stevens Point food truck.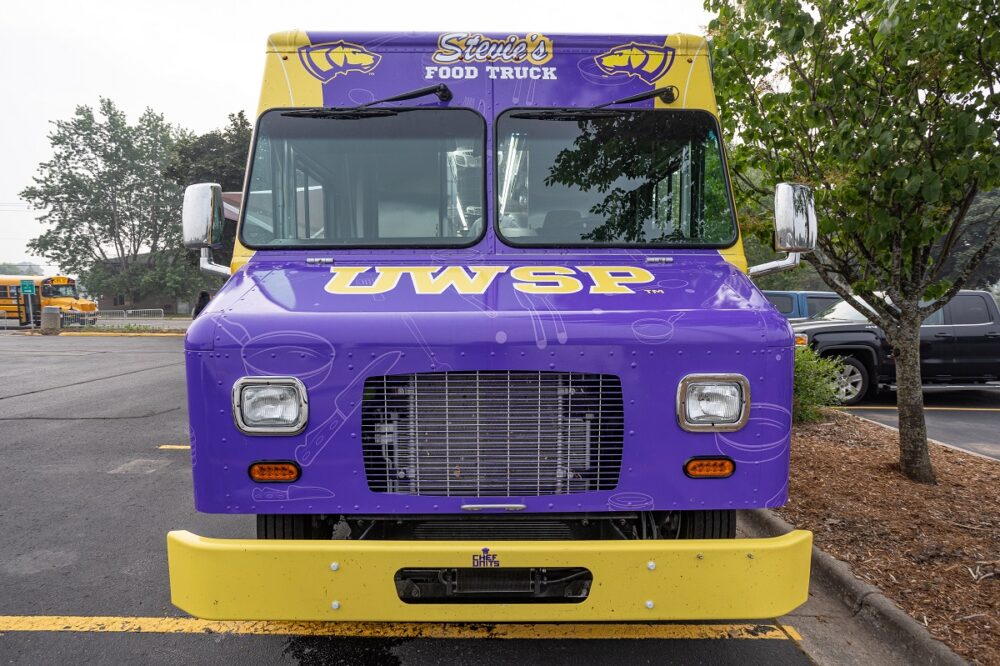 "It fit all of our goals," said Molle. "It could be used for recruitment, athletics events and especially for community events. It would be seen as the university being in the community."
Molle took the idea to University Dining and they loved it, as it had been something they had wanted to do in the past. She worked with Marty Kalepp, associate director of University Dining, to research the food truck industry and costs and create a business plan.
"I gave it everything I had, hours upon hours every week," Molle said. "When it came to proposing the project, I was hoping for a yes because I could see how well it would fit into the community."
After months of work, the proposal came in front of university senior leadership in March 2022. The concept won them over and was approved. Funds for the purchase were set aside by the university for this expansion opportunity that serves the campus community at large and increases future revenues. It also functions with low overhead costs as it only requires a few University Dining employees.
"Stevie's food truck means a great deal to me and the entire University Dining staff," said Kalepp. "It's an exciting opportunity for us to share our culinary talents with our friends and neighbors on campus and in the community. It's also a perfect example of how University Dining is focused on listening to our students' ideas and helping make these ideas a reality."
Stevie's food truck made its first appearance in a soft opening for guests parking at UW-Stevens Point for the U.S. Senior Open hosted by SentryWorld last month. It debuted off-campus at the Stevens Point Brewery Point Patio on Friday, July 21, and on Saturday, July 22, at the Rosholt Bike Fest in downtown Rosholt. Future locations and appearances are available at the food truck website and on social media.
"UW-Stevens Point is excited to share its excellent dining services with the community and bring the Pointer spirit to a variety of events," said Chancellor Thomas Gibson. "I'm looking forward to seeing Stevie's food truck at our campuses and our region's concerts, festivals and celebrations."
Stevie's will offer a robust menu rotation from snacks and beverages to full course meal options. It will make appearances at outdoor community events, Pointers Athletics events, Homecoming and other UW-Stevens Point activities. The food truck is also available to rent for private parties, such as future Pointer graduation celebrations, neighborhood gatherings, festivals, weddings and alumni events.
For Molle, the fellowship was truly a learning experience. "I learned how to deal with the unknown – figuring out the steps of approval, who to call next and where to go next. It has given me the confidence to lead big projects, now that I am in the workforce. I have a mindset of how to keep moving and how to switch gears. I learned that projects aren't always linear."
Molle earned her MBA in Applied Leadership and Decision-Making in December 2022, and now works as an underwriter for Sentry Insurance in Stevens Point. She looks back on her fellowship experience with pride.
"It was supported across campus and while it was hard work, it has been so rewarding to see it come to life," she said. "It brings a smile to my face knowing it will bring a lot of smiles to people in the community.
"Knowing I helped make this mark on campus makes me extra proud to be a Pointer."