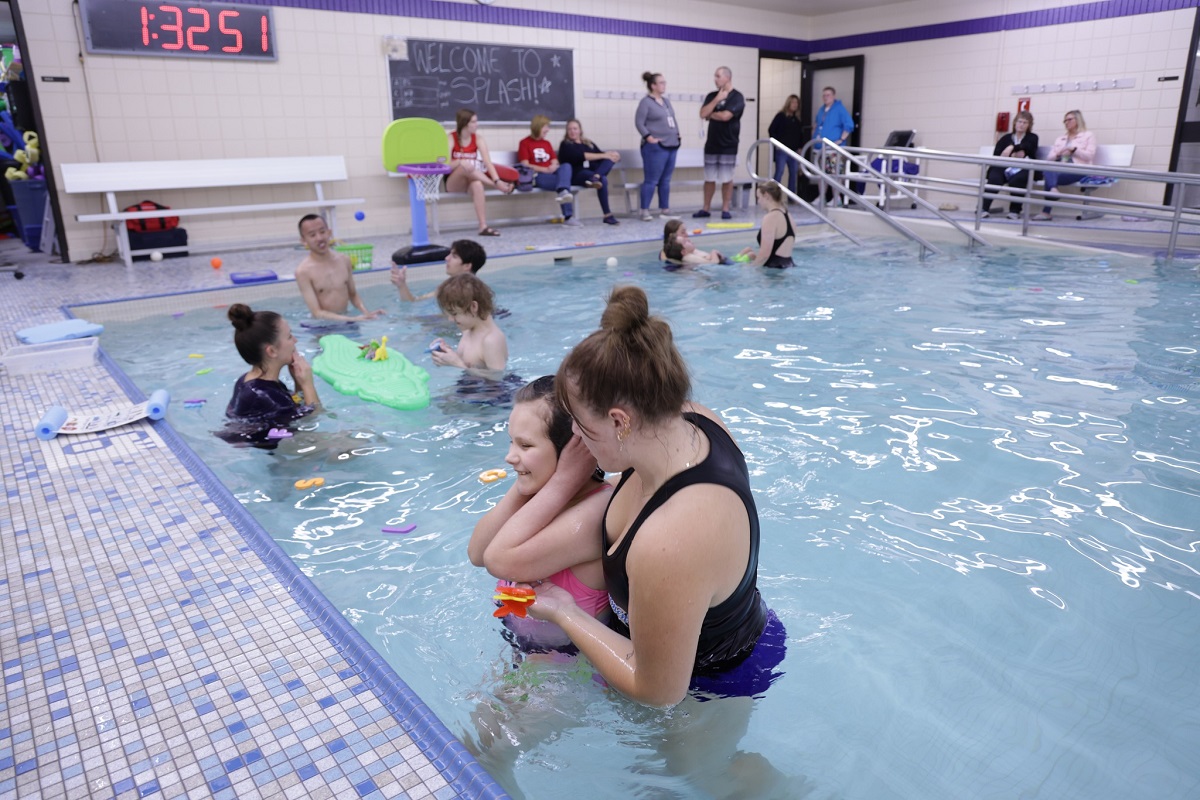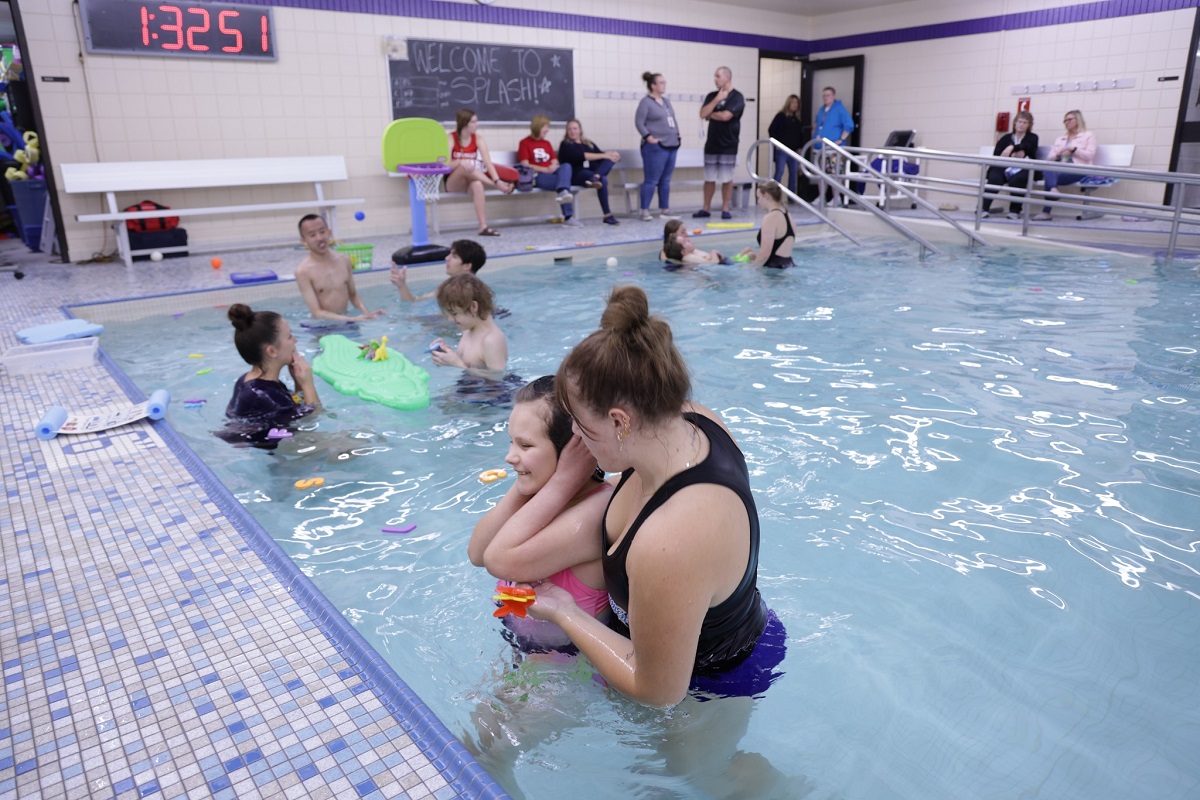 For more than 30 years, students at the University of Wisconsin-Stevens Point have created a special bond with students within the Stevens Point Area Public School District who have different abilities.
For 10 Fridays each semester, the university's longstanding Swim/Gym program brings K-12 students with mild to severe disabilities to the university where they are paired with a physical education major to enjoy activities in one of the university pools or gyms. While they have fun, they learn life skills, such as floating and swimming, and improve their motor development.
For the students in PEX 401: Physical Education for Individuals with Disabilities, it's also fun, energizing and a great learning experience as they acquire skills they will use professionally as physical education teachers.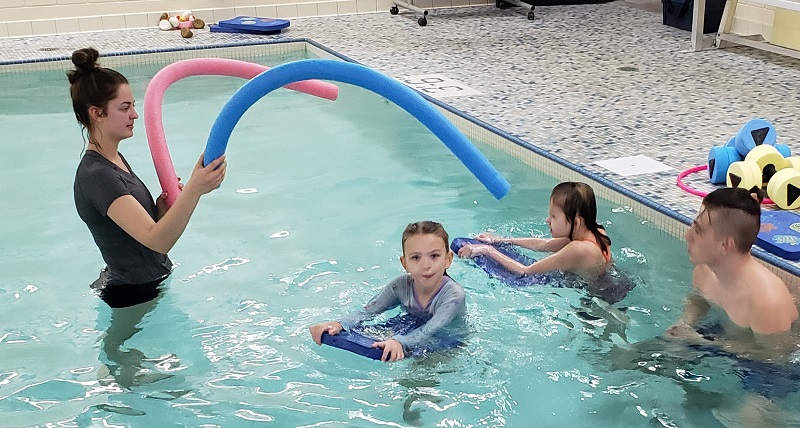 "We're building relationships with students of different ages and abilities, learning how to modify activities, and seeing how students respond," said Emily Wintrone, Onalaska, a physical education major with a minor in health education. "The more time you spend with them, the more you realize how much they are just like you, and then you can build on that. It's something I look forward to doing as a professional."
Like more than 75 percent of physical education majors at UW-Stevens Point, Wintrone is taking the course to earn an additional certificate for adapted physical education for grades K-12. This not only prepares students to create flexible lesson plans for all their students, it also gives them an advantage when looking for a job post-graduation.
Assistant Professor of Physical Education Paul Haas has led the adapted physical education course for 10 years. A 2010 and 2014 UW-Stevens Point alumnus who took the course himself as an undergraduate, Haas has seen many of the district's young students make great progress in the pool and the gym.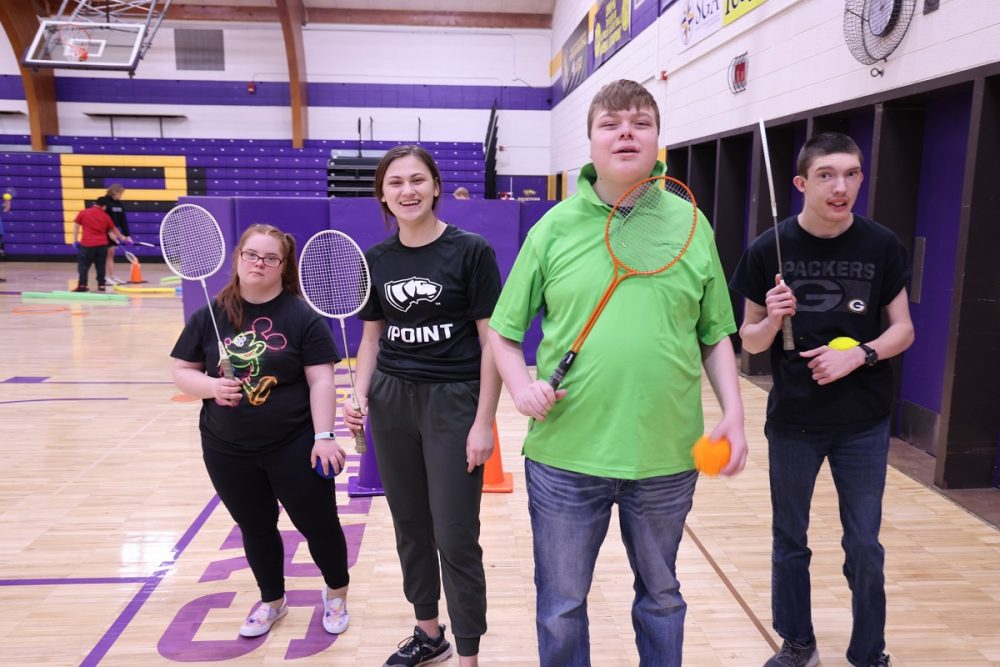 "My favorite part of my job is getting to see a kindergartner, who wouldn't get their toes in the water, grow up and jump off the diving board," said Haas. "Without this program they might not have the opportunity to learn such a valuable life skill as swimming. Seeing the value of this program is very meaningful to me."
The program currently rotates students from the district's nine elementary schools, three schools each semester, for a 45-minute class. Students from the middle and high schools visit for 55 minutes. The first five weeks are spent in the therapeutic or larger pool, depending on abilities, and the second five-week session is spent in the gym, where they work on small group activities and team building.
As each session begins, the university students assess each of their young students to get a baseline of their skills then create an individualized program to help them accomplish individual goals.
"It takes a lot of effort, but seeing the kids excited for your lesson plans is so rewarding," said Wintrone. Afterwards, there is free time for hanging out and playing group basketball, which helps them learn social skills.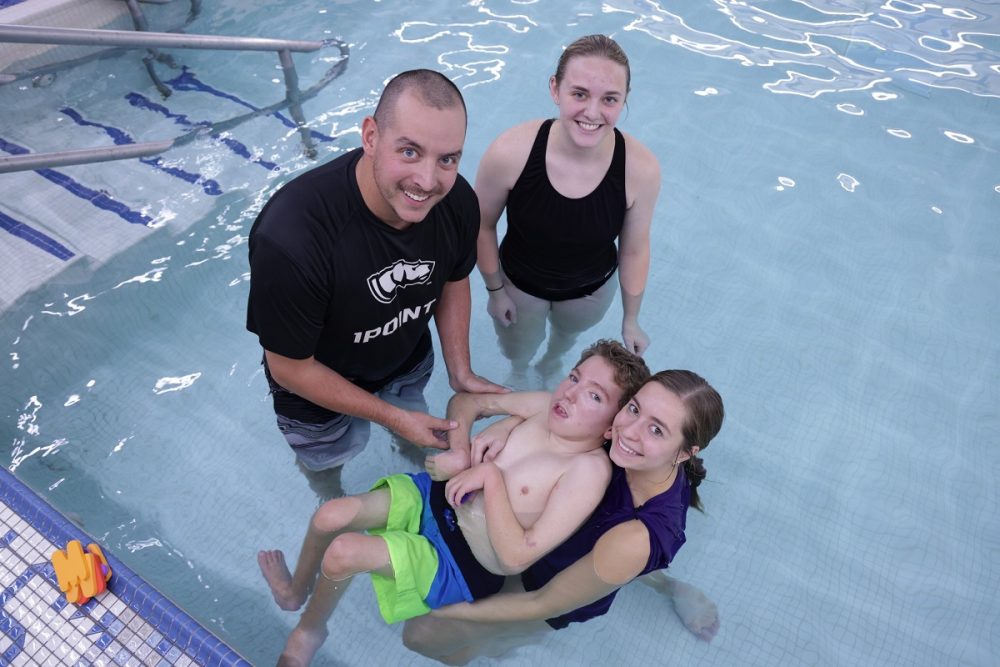 "It's a highlight for them to be able to hang out with the college kids," Haas said. "The parents of the students say they talk about it all week."
Paige Franz, Manitowoc, is another physical education major working toward an adapted physical education certificate. She began volunteering in the Swim/Gym program as a first-year student and took the course last spring.
"You meet each student where they are at, build a relationship with them and create a bond that motivates them," she said. "When you put in the effort, you see how much of a difference it makes, and it gives you confidence as a teacher."
Franz said her experiences have also helped her at her off-campus job, where she works with and better understands the needs of individuals with disabilities.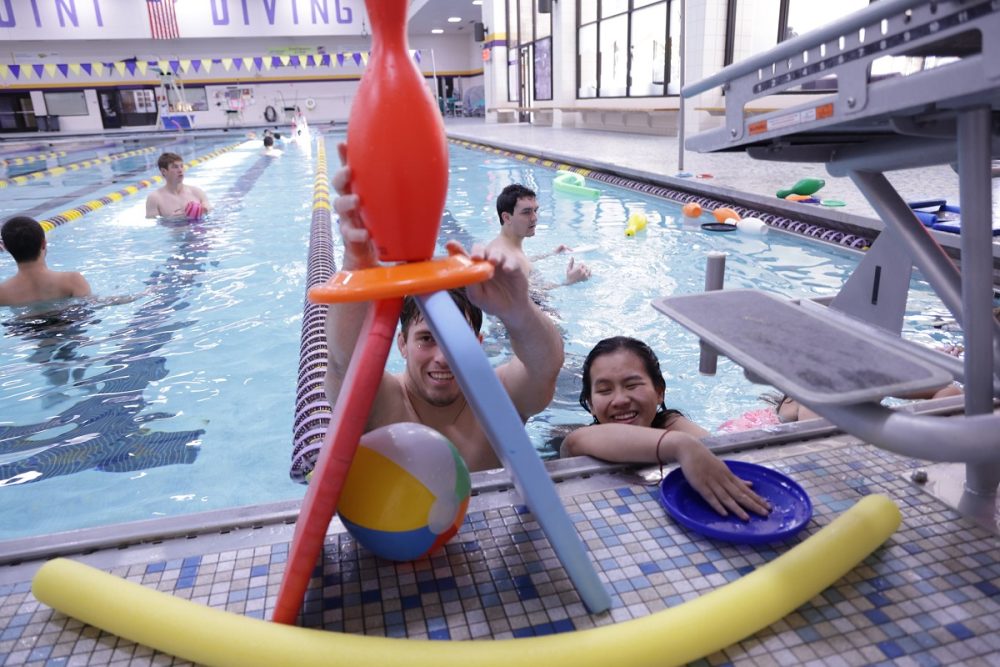 In addition to the Swim/Gym program, the UW-Stevens Point physical education program gives its students additional opportunities to gain hands-on experiences for their professional careers. Students help with free youth sports camps during the summer and various other physical activity programs within the community, including the YMCA and Boys and Girls Club of Portage County.
The program also partners with the Down Syndrome Association of Wisconsin to offer ice fishing lessons on Lake Joanis, pairing university students with families of children of all abilities. The next event is planned for February 2024.
"Our students are dedicated to their education and take pride in it," said Haas. "They put so much effort into our community events and activities, and they are already making a difference."