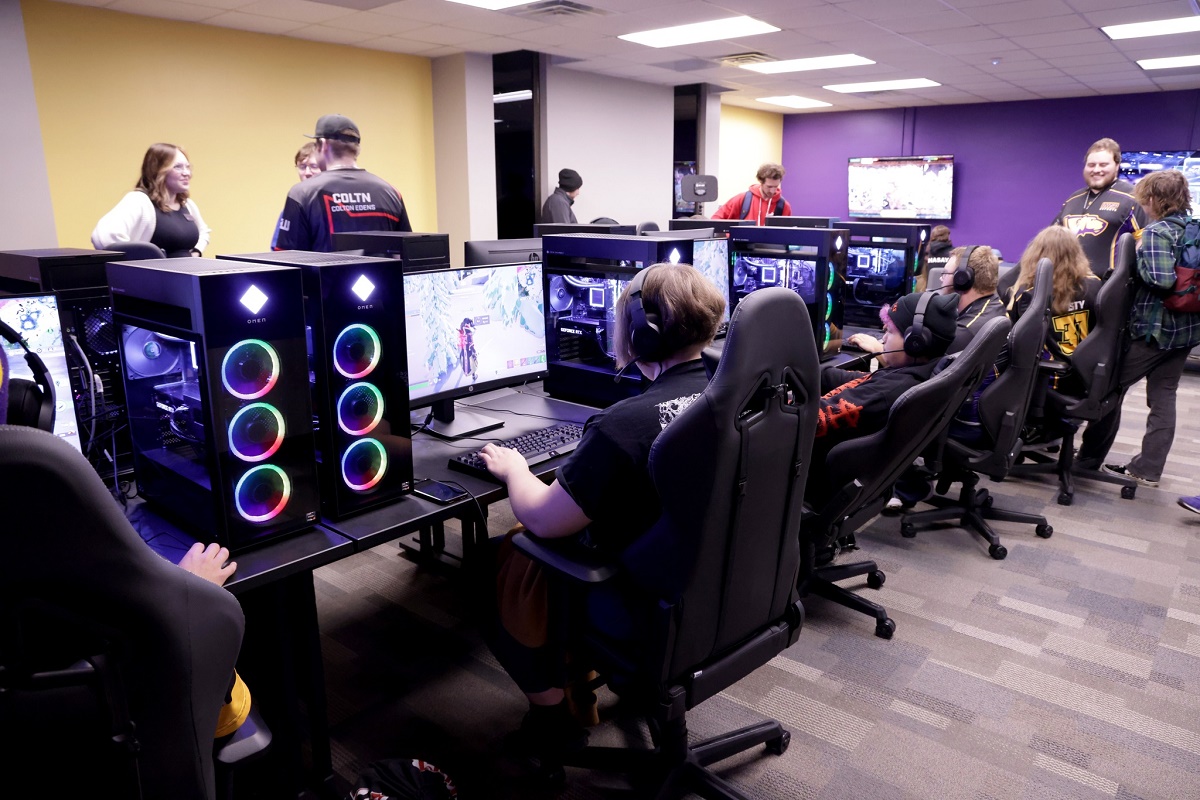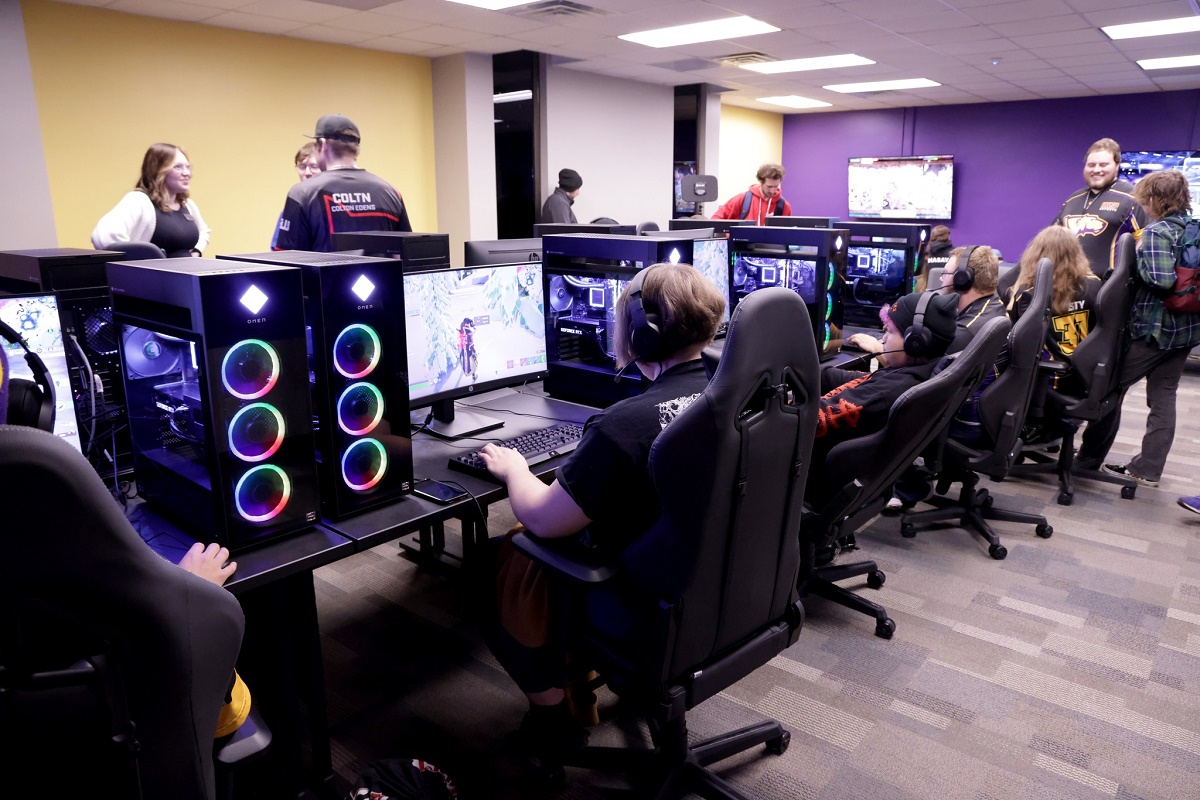 On any given afternoon in the College of Professional Studies Building at the University of Wisconsin-Stevens Point, you might find students playing soccer with customized cars, creating heroes and fighting legendary battles.
Within the new Esports Center, located in CPS room 104, anything is possible.
With competitive online gaming taking off, this space offers UW-Stevens Point students, faculty and staff with a UWSP login the opportunity to play favorite games using two Nintendo Switch consoles and 12 gaming computer stations. The Esports Center is open daily from noon to 6:45 p.m. for free play if there is a student or staff member available for monitoring and support. Games may be brought in or downloaded from online gaming libraries.
After 7 p.m., the space becomes the home of the UW-Stevens Point Esports team, a club organization that competes within the National Esports Collegiate Conference (NECC). Currently, about 25 UW-Stevens Point student members practice and compete on five different game teams, playing Rocket League, League of Legends, Fortnite, Overwatch 2 and Super Smash Brothers.
"Competing in esports has become very popular," said Dylon Lyons, who founded the UW-Stevens Point Esports team four years ago. A 2019 graduate, Lyons now works in Information Technology at his alma mater and serves as the Esports Club adviser.
"Every campus but one within the Universities of Wisconsin has a team, and that last school is creating theirs." Most Wisconsin colleges – private, public and technical – have teams as well, he said.
The club's president, Connor Kramer, Shawano, is a music performance-bass trombone major who plays on the Overwatch Purple team. He has found a sense of community and connection with his teammates and enjoys his leadership role. Working with the team builds skills such as teamwork and communication, which he also uses as a musician and member of an ensemble.
"I'm a very competitive person, so I want to improve myself," he said. "It's exciting for us to all focus on one goal and work together to win."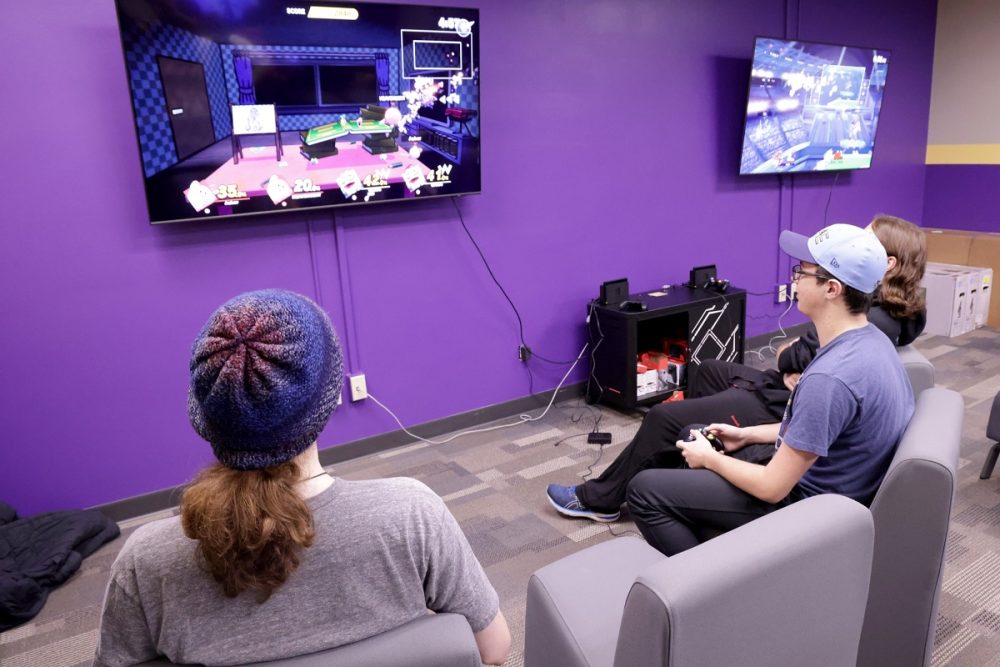 Lyons hopes to grow the team's membership to 10 teams, depending on which games have student interest. "We are also planning to host and travel to other schools for competitions. Next year we hope to begin casting them in another space down the hall," he said.
Casting is a way for additional gamers to be filmed while watching and commenting on the players as they compete, without influencing competition. The footage would be streamed on Twitch and YouTube, and enjoyed by fans similar to how football games and other sports are watched with commentary.
The Esports Center space took over what was formerly the CPS Innovation Space. It was funded through Information Technology, the Division of Student Affairs and the College of Professional Studies. Renovations are not fully complete, as more branding is planned on the walls and the doors, but the space has the furniture and equipment needed for game play, including computers with 165hz monitors and 3070Ti and 3080 graphics cards.
"What I love most about esports is the inclusivity of it," said Lyons. "What's most exciting is that it's not limiting, regardless of physical abilities. Anyone can play."
Learn more about the UW-Stevens Point Esports Center and Esports Club at www.uwsp.edu/esports.