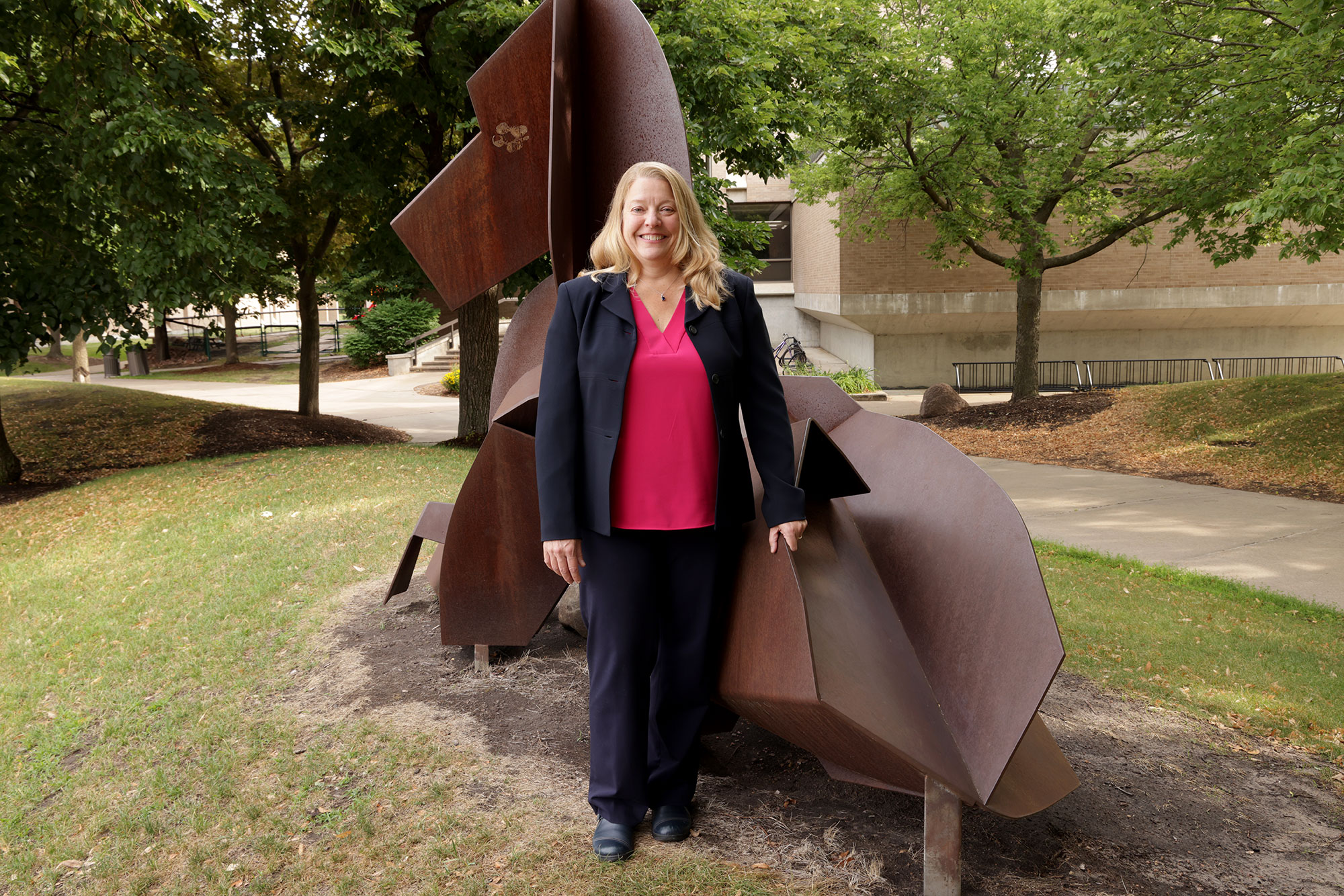 An assistant dean has been named the next dean of the College of Professional Studies (CPS) at the University of Wisconsin-Stevens Point.
Rebecca Sommer, assistant dean of the School of Health Sciences and Wellness since 2020, when three schools merged into one, and interim CPS dean since this summer, will become dean of the college Dec. 4. She succeeds Marty Loy, who had served as the dean since 2010 and recently retired.
Sommer previously served as head of UW-Stevens Point's School of Health Care Professions (SHCP) and associate dean in the college from 2017 to 2020. She also served as the academic adviser in the SHCP for four years, helping students understand the many professional opportunities in health care.
"The search for a new dean was a rigorous, national search, resulting in a strong pool of candidates. Dr. Sommer was the strongest candidate with the most relevant knowledge and experience," said Provost and Vice Chancellor for Academic Affairs La Vonne Cornell-Swanson. "She is a visionary leader with strong financial acumen and excellent skills working with faculty and staff. We are very excited Dr. Sommer has agreed to serve as the permanent dean of the College of Professional Studies."
As dean of the college, Sommer heads the Sentry School of Business and Economics, School of Health Sciences and Wellness, School of Education and Department of Military Science. These schools include 26 bachelor's, eight master's and three doctoral degree programs, and enroll approximately 3,200 students. The college also operates 12 centers that serve the campus and community.
Sommer will support the work of approximately 150 faculty and staff members; lead internal and external communications with alumni, partners and constituents; steward donors and head college development and fundraising; manage college facilities and be responsible for state funding, program revenue and cost-recovery budgets of approximately $12 million.
"Having served as interim dean, I know first-hand that CPS faculty and staff are innovative, forward-thinking and fully engaged with our students and community partners," said Sommer. "We will continue working hard to provide transformative educational experiences and prepare the next generation of teachers, business professionals and health and wellness practitioners. Ensuring a quality workforce is one of the most important factors in strengthening our regional economy."
Sommer previously taught as a tenured faculty member at Bates College in Lewiston, Maine. She has taught pharmacology, toxicology, cancer biology, general biology and topical seminar courses while conducting research funded by the National Institutes of Health. She was awarded more than $1.2 million in research funds from 2002-2012.
A New London, Wis., native, she holds a bachelor's degree and Ph.D. in pharmacology from UW-Madison.