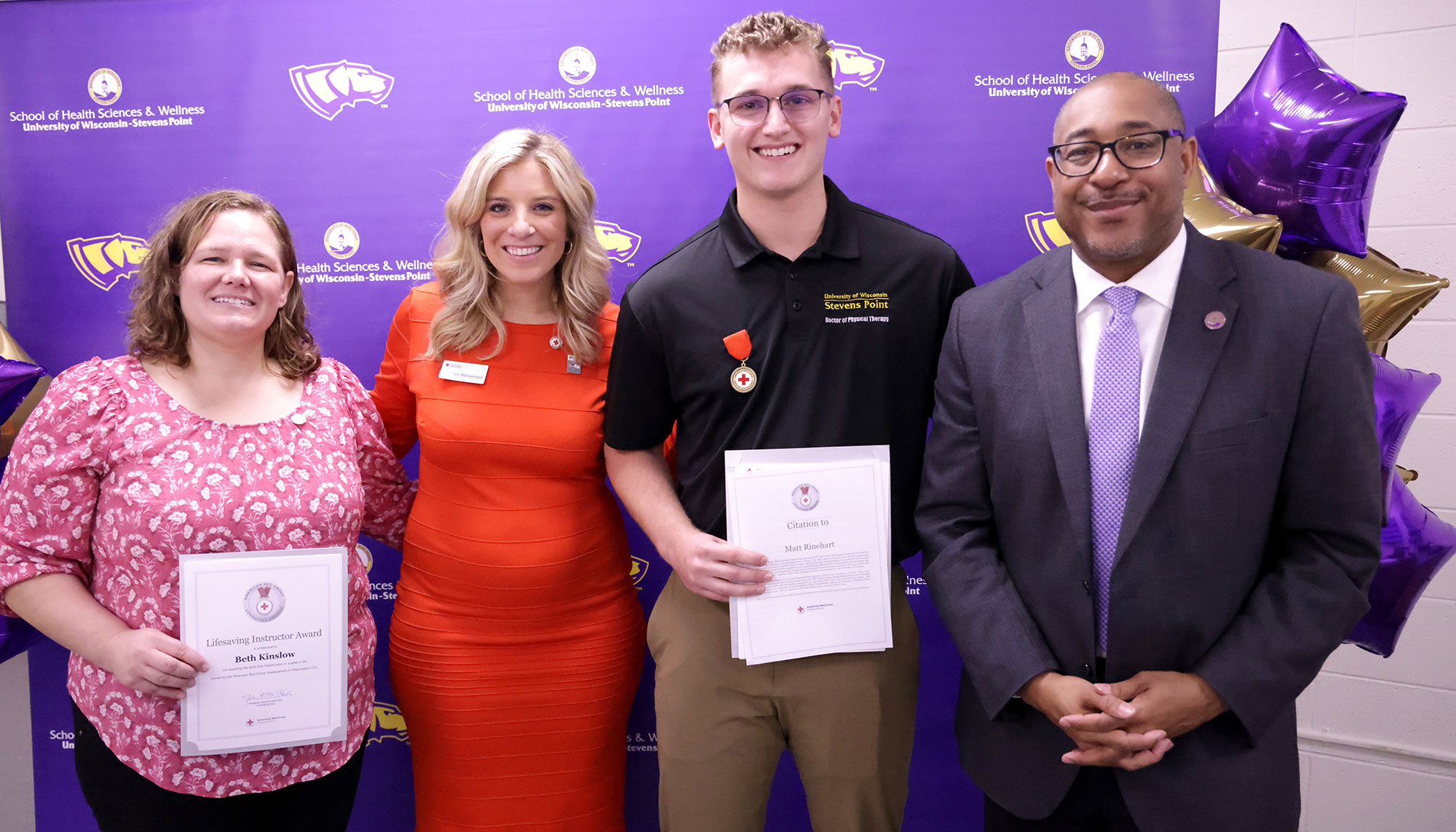 Matthew Rinehart, a current UW-Stevens Point Doctor of Physical Therapy student and 2022 health science graduate, was presented the American Red Cross Certificate of Merit for his recent life-saving actions. [Photos/Videos]
Rinehart helped saved a man's life while working at Menards in Plover this summer by using the CPR training he received from Assistant Professor Beth Kinslow in the School of Health Sciences and Wellness. Kinslow, who has been CPR certified since she was 14, was also presented a Lifesaving Instructor Award.
"I feel fortunate to have been there and been able to help that day," said Rinehart. "I want to emphasize the importance of looking out for one other."
The Certificate of Merit is the highest award given by the American Red Cross to an individual who saves a life by using skills and knowledge learned in an American Red Cross training services course. The certificate bears the signature of the president of the United States, whom is the honorary chairman of the American Red Cross. This action exemplifies the highest degree of concern of one human being for another who is in distress.
Kathryn Halvorsen, executive director of North Central Wisconsin region of the American Red Cross of Wisconsin, presented the awards on campus Thursday, Nov. 16. Since the Lifesaving Awards revival in 2018, the Red Cross has awarded more than 2,500 individuals worldwide and as a result they have helped to save more than 1,250 lives.
"I encourage everyone to learn basic life-support skills, to be prepared for that situation and spread that knowledge with others to help them be prepared as well," said Rinehart. "Whether it's CPR, first aid, mental health support, just talking or listening to someone can be a powerful outcome. Even the smallest can be a life-saving difference. Let's continue to look out for one another and in return, trust that someone else would do the same for us."
Related: