Food and Nutrition Conference and Expo!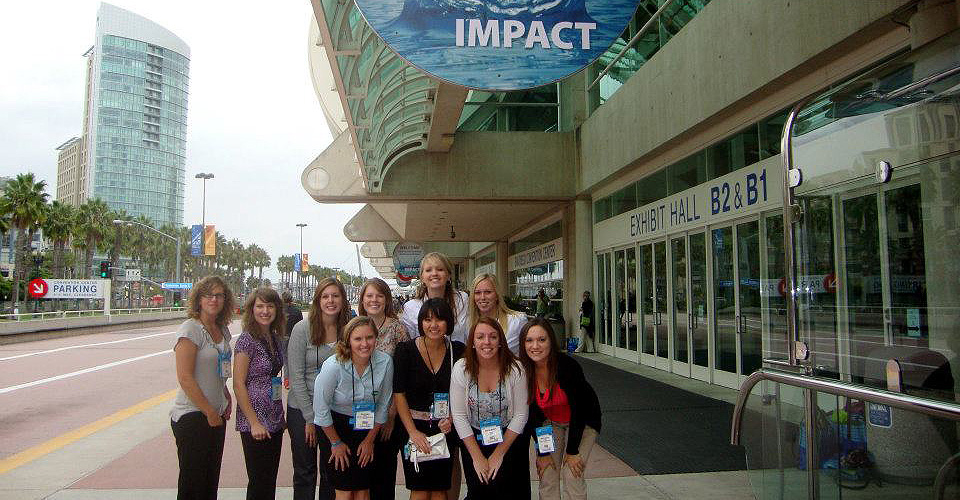 Flight=$330, Hotel=$215, Registration=$200, Pre-conference=$160, Network and knowledge gained=PRICELESS!
I returned from my trip to San Diego, Calif., a couple days ago where I attended the Food and Nutrition Conference and Expo (FNCE). Fortunately for me, I paid for less than the expenses mentioned above.
The experience was AMAZING! There were over 7,000 registered dietitians, dietitian technicians, students and others from all over the United States who came to learn about food and nutrition. Nancy Brinker, founder of the Susan G. Komen Foundation, spoke words of inspiration. Professionals in the field facilitated workshops of new research and tips on becoming a better professional. Internship directors provided information and business cards for their programs. Hundreds of exhibitors gave out free products. Three days there was simply not enough time to experience the whole conference!
The best part was networking. I mentioned in my last blog that I'm a shy person. At FNCE, there was no room to be shy. I came home with over 20 business cards, some encouraging me to contact them when I got back. I swapped contact information with other students to exchange ideas. All it took was a simple, "So, where are you from?"
My biggest surprise was how big of an impact Twitter was. In my first session, everyone was encouraged to tweet throughout the conference using #FNCE. I quickly got engaged with my twitter account (@songxng) and began having conversations. I even met another student I was having conversations with. Everyone was exchanging content from different workshops!
FNCE was definitely a huge stepping-stone in my career path. In just a short three days, I was able to gain so much insight about my future profession and, most importantly, about myself. I encourage everyone to take part in a professional conference. If anything at all, you'll learn a little about yourself.
-Song
Song Xiong is a senior at the University of Wisconsin-Stevens Point majoring in dietetics and communication.