ROTC's Joint Field Training Exercise – The Civilian's Military Experience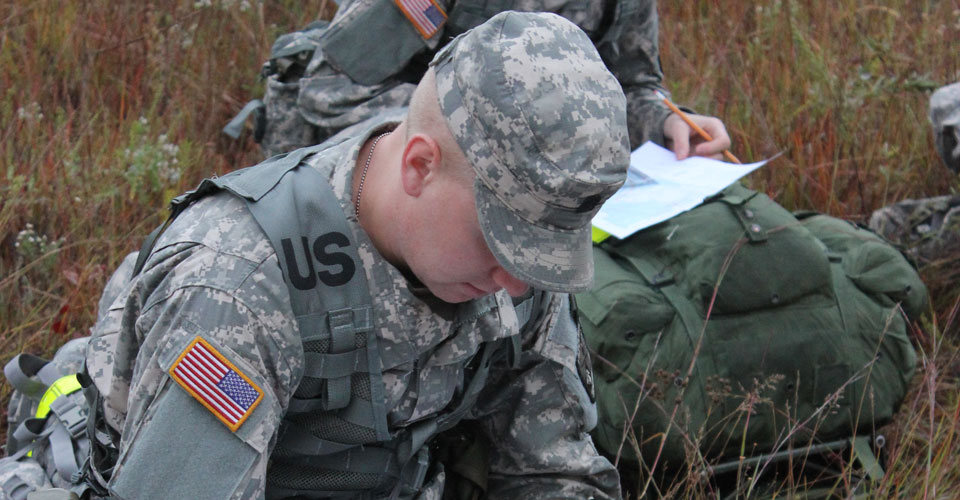 By Cadet Thomas Fritz
So maybe you've seen the signs around campus for Army ROTC and are wondering what the program is all about, what we do, and maybe you want to get a taste of the life. There's good news—the Army ROTC program's Joint Field Training Exercise (JFTX) might be just what you're looking for.
As a sophomore cadet in the program, I have had the experience of attending the JFTX twice, first as a civilian, and again as a contracted cadet this past fall. The JFTX takes place at Fort McCoy in southwestern Wisconsin, located in between the towns of Sparta and Tomah. We put on a wide variety of military-influenced events with the intention of giving civilians interested in our program an authentic military experience, while having as much fun as possible in the process. Highlights of the weekend include paintball, rappelling, a run through of the obstacle course, and team building events like the one-rope bridge.
My experiences as both a civilian looking to join the program and as a contracted cadet were similar yet extremely different at the same time. My first year was all about having as much fun as possible and getting acquainted with the military, my second year put me into a leadership role. I got to take part in the same events, but instead of focusing on only having fun, I made it my priority to let everyone else have as much fun as they could. Though I was familiar with what was happening, being in a new role with more responsibility gave me the same level of enjoyment but in a different way.
I look back upon my two JFTX experiences fondly. Whether you're a military veteran looking to see how we do things or just someone who's interested in what our ROTC program has to offer, attending JFTX is a solid first step in the right direction.