Taste of NFL founder inspires business students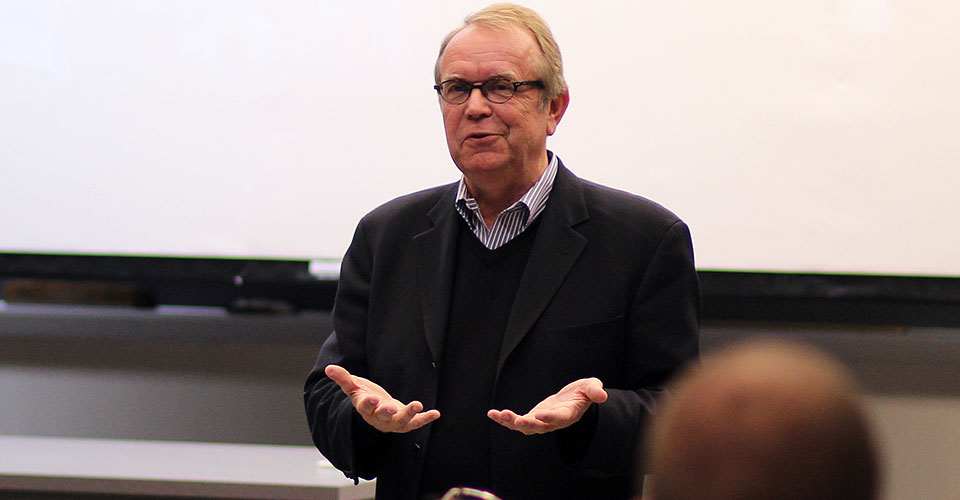 The founder of Taste of the NFL challenged business students to bump up what inspires them and pass it along. "Be an individual who brings out the best in those around you and the best will come around you," said Wayne Kostroski, a native of Stevens Point, who presented to over 50 UW-Stevens Point students on Monday, March 26.
Kostroski, the co-owner Cuisine Concepts in Minneapolis, is in town for the Portage County Business Council Business Expo where he will be the keynote speaker with his "Giving is Good Business: Achieving Super Bowl Results with Personal, Professional and Community Goals" message on Tuesday, March 27 at the Holiday Inn & Convention Center.
Transitioning from touring the country as a part of a rock band to successfully opening his first restaurant, Kostroski compared the music industry to a restaurant in that the hours are the same–nights, weekends, holidays–and you get an instant response from the client, whether they are tasting food or booing you off stage. In the restaurant business, Kostroski's rule is to read the table and make a guest feel better when they leave than when they came in.
Kostroski, who was heavily influenced by his late brother and mother, encouraged students to find the balance in their personal, professional and community as they pursue success.
The Taste of the NFL is known as "The Party with a Purpose" and address the needs of the hungry and homeless by raising awareness and money through special events. Since 1992, the Taste of the NFL has rallied the country's top chefs and the NFL's greatest to raise money in support of food banks throughout the United States. Held on the eve of Super Bowl, this event is a unique way to experience exceptional cuisine, meet NFL players and coaches, and support our fight against hunger. Through the efforts of hundreds of volunteers who help make Taste of the NFL the single most successful charitable event at the Super Bowl, Taste of the NFL continues to help feed the 37 million Americans who have turned to their local food banks for assistance.