We are the future – and so are they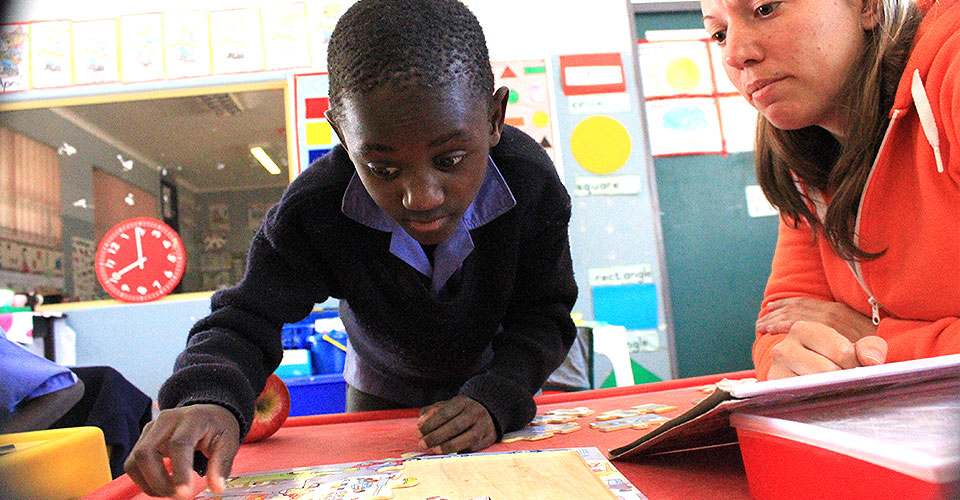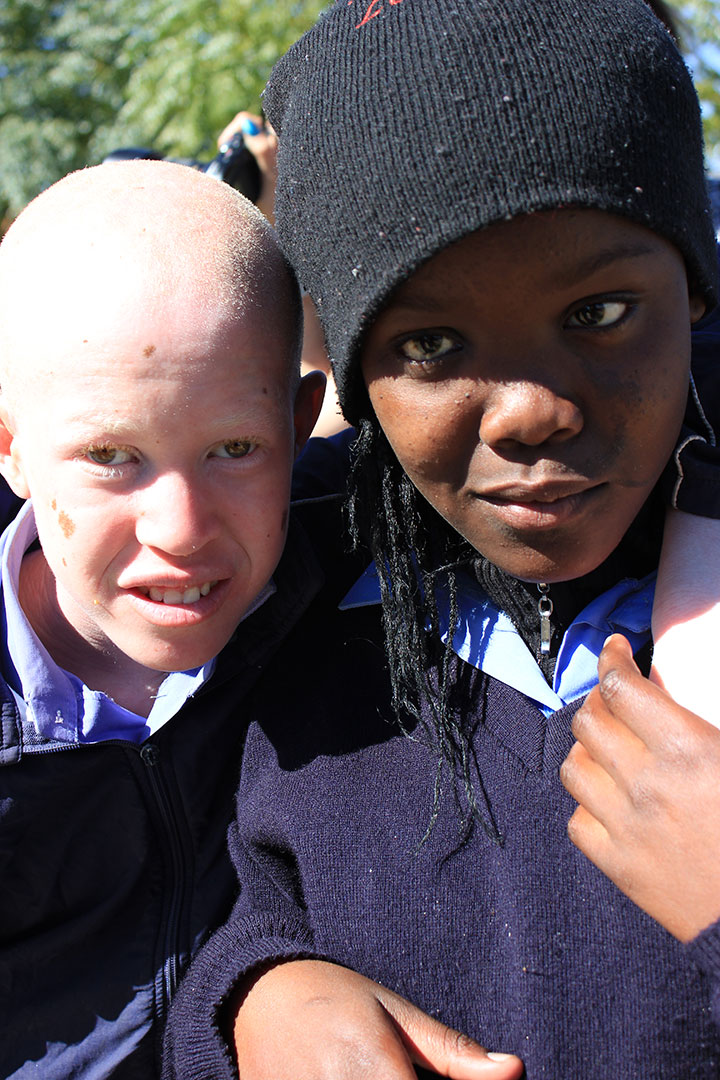 Every day I work with the children at the National Institute for Special Education (NISE), namely the learners at the School for the Visual Impaired, I learn more about myself and how these children are shaping my future. I realize the luxuries that the United States education system has, as well as the radical laws and rules that we must contend with. Above all, I realize that we in the United States have many spoils that countries like Namibia could only dream of having.
What I am learning about the culture of the teacher-learner relationship here in Africa is that elders are respected and children obey. The respect for us UW-Stevens Point students is dependent upon the activity that is occurring. When we play games during break or after school with the children, the respect is loyal and genuine; but when we are in the classroom the respect is hit or miss. When learning how to teach in college, we are told over and over again to remain positive; positive reinforcement, praise, and ignoring the negative unless it is made into something that will produce positive results. In Namibia it has become apparent that the social norm in the classroom is to use the elder respect to an advantage and discipline is of the utmost importance; whether that means to negatively approach a student, or to use a ruler to tap a learner's knuckles when they forget a pencil or assignment. This has been difficult to adjust to knowing what the expectations are in the U.S. for teachers. It has also taught me that some negativity towards a child's behaviors can increase a positive outcome.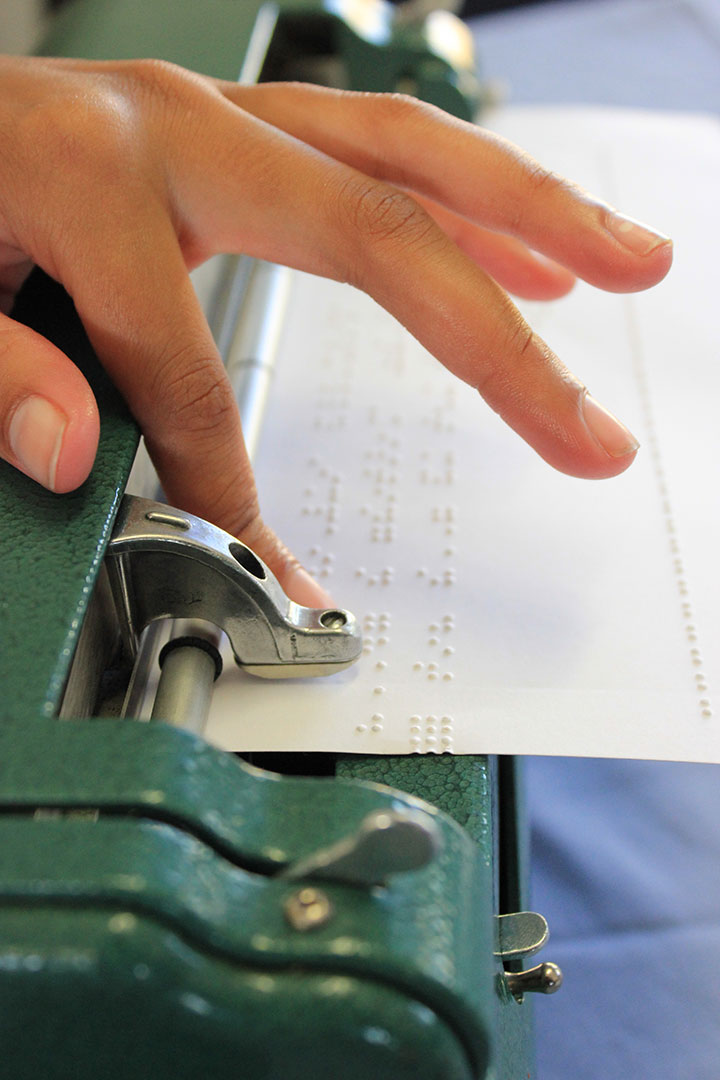 One thing that I developed a love/hate relationship with at NISE is the lack of technology. When teachers come in or leave work they sign a log book located by the secretary's office. On teacher's desks you don't see a computer; instead you see books, worksheets and lecture notes or activities planned out for the day. Classrooms don't have interactive white boards; they use chalkboards. Learners don't carry around distracting cell phones or other devices; they have Braille machines if anything and play schoolyard games with one another for fun. The social interaction is very attractive here–the students look out for one another and know incredible amounts about their friends because they talk to each other often. I don't particularly enjoy the lack of resource that computers and Internet have to offer, but the teachers make the best of what they have and use their resources wisely. This makes me realize that technology is an ever-expanding and vastly functioning tool but the basics are what learning is really about. I am impressed with the quality of content the students receive without lessons that require technology to complete. Technology should be taught as a tool, not a crutch or a necessity.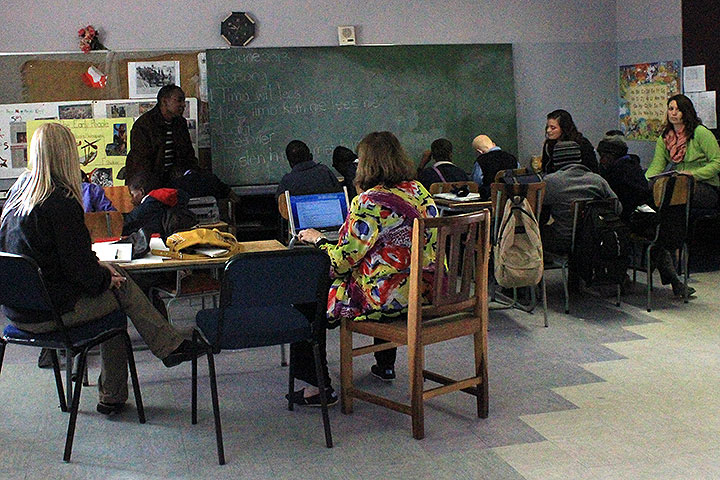 Early in the week the students from the UWSP School and Education and I received a visit from a Mr. Edward Thurman, a gentleman that works for the Peace Corp. Edward has fulfilled almost three years of service and was able to give us some insight as to what he does and how fulfilling his service has been. He was a no pressure kind of guy, but had a lot of interesting things to say that may encourage some students to choose this journey in life. After explaining that the application process can be somewhat difficult, he said it was worth every moment for how this view of the world shaped his life. I personally know that this is not a path I will choose but he did have a lot of interesting things to say including his experience with the culture and the education system in general. The visit with Edward was very informal, he allowed us to ask him any question we had on our mind and we allowed him the same in return. Before parting for the evening I asked him if he had any advice for us students for our future in education. To sum it up in a few simple phrases he offered: "keep the children engaged" and "always let the children lead the path of learning, don't push if you have to force or it will not make an impact." What I took away from Edward is to be the best teacher you know how and continue to learn along the way to create success for yourself and your students.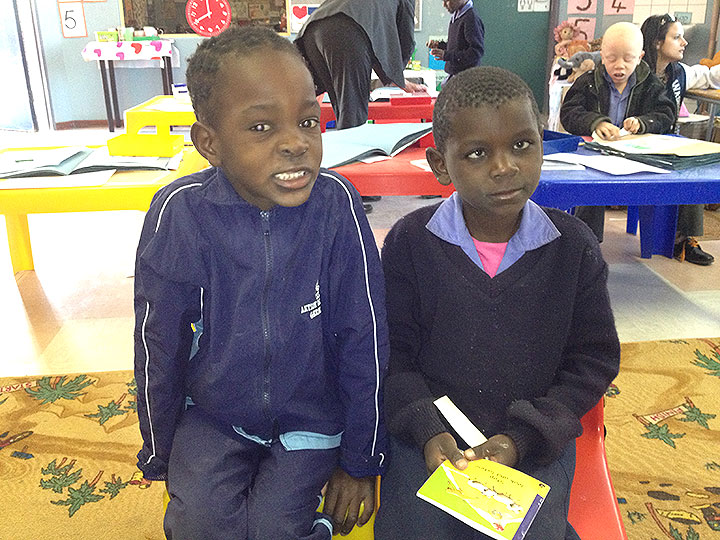 As a future educator on a trip with others on the same career path, we are the future and we will help to shape the future of all the students we teach. This not only goes for the participants of this trip but for anyone that interacts with children. Everything you do is seen, every move you make is mimicked, be careful of how you are perceived for it may not be easy to erase. I go back to the quote from my first blog, "You must be the change you wish to see in the world." –Gandhi.
-Rebecca
Rebecca Wagner, a junior majoring in early childhood education at UW-Stevens Point, is blogging about her study abroad experience in Namibia, Africa.