So you like Lord of the Rings?
I've always been a die-hard Harry Potter fan, but when I came to New Zealand I figured it was finally time to read the Lord of the Rings series and watch all of the movies. I quickly became addicted to the story and not much longer after that I booked my first LOTR tour. Peter Jackson filmed in over 150 locations for the three movies which means his entire cast and crew (usually between 200-500 people) were constantly on the move all across the country. I ended up doing only three tours while in New Zealand, but from each one I learned so many interesting things that are awesome even if you don't like LOTR (which you should!).
Pretty much anywhere you go in NZ is/has a film location, if not, then I bet there is one within 20 minutes. This made it extremely difficult to pick places to visit because there were so many, but the three I chose ended up being amazing! My first stop was at Hobbiton which is in Matamata. Peter Jackson and a few of his producers were searching all over New Zealand to find the perfect location to build Hobbiton, and while flying over a farm in the middle of nowhere (AKA Matamata), Jackson stopped his crew when he spotted a hill occupied by a some brush and a nearby pond. He walked up to the home on that farm and asked the owners if he could build Hobbiton there. The Alexanders (the family that owned the farm) declined Jackson's offer, unless he would be willing to pay a large price thinking that Jackson would never be able to come up with the money. Well even before the filming of LOTR, Jackson was a millionaire, so he agreed and they began constructing Hobbiton.
Like most of the set, the holes of Hobbiton were built out of temporary materials so it was easier to tear the sites down after the filming of those scenes was completed. Fortunately for all fans of LOTR, the Alexanders wanted to build a permanent Hobbiton, one that would allow tourists to visit the homes of our favorite characters. So this time a second, more durable Hobbiton was built along with an actual standing Green Dragon. Word on the street is that on a busy day Hobbiton makes around $200,000 in sales from their concessions, tours and food!!! No big deal. It was an amazing thing to experience; I got to stand outside of Bilbo's hobbit hole, enjoy a cider in the Green Dragon and hang out under the Party Tree! All three parts were filmed simultaneously where some of the first scenes were filmed last, and vice versa.  The last scene in Return of the King where Sam and his wife Rosie are shown outside their home with their children was actually the very first scene Jackson filmed for the series which I thought was really neat.
Our next LOTR tour was in Wellington, the capital of New Zealand. First we drove out to a construction company located on a small hill. This hill used to be the location of Helm's Deep and Minas Tirith. Helm's Deep was designed and built, Jackson got all of his Helm's Deep scenes completed and the set was partially taken down then constructed to look like Minas Tirith. Apparently the reconstruction took longer than planned, and Jackson was so rushed to get these scenes completed that they began filming immediately after the artists finished painting the set. So the actors could not touch any of the walls or props! And then a few days later the set was taken down completely so the construction company could have their hill back. Unfortunately now there is nothing left to neither Minas Tirith nor Helm's Deep. But it was still interesting to see before and after pictures and the actual location of the set. We then drove from Minas Tirith and Helm's Deep to the River Anduin which is where Aragorn washes ashore in The Two Towers. I grabbed a rock from the shore that I'm just going to say was touched by Viggo Mortensen.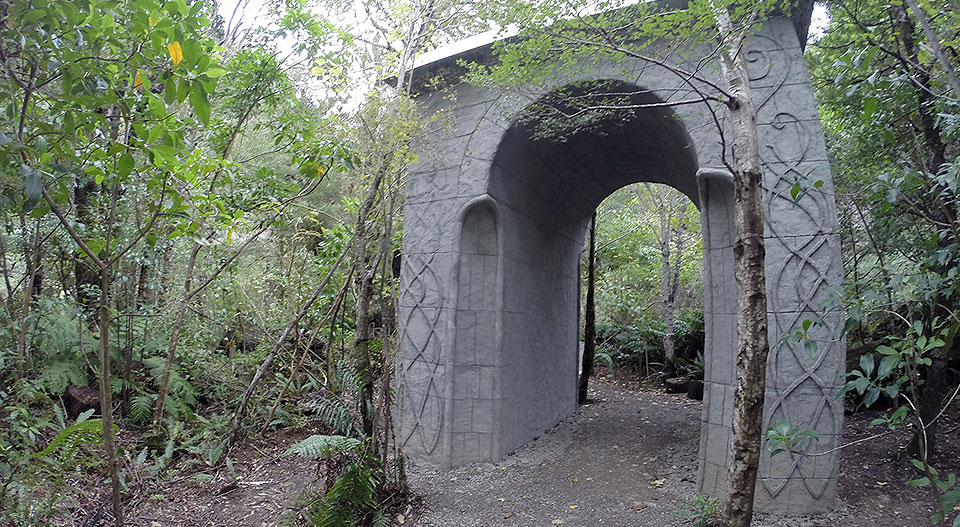 We also visited Isengard and the gardens. The path that Saruman and Gandalf walked on is still visible; it has a special type of grass planted on it that makes it noticeable in the park. Isengard was located in one of the five disc golf courses in all of New Zealand. My favorite location on this tour was Rivendell. Like all the other film sets, this one was also removed after its use, but there was one Elvish prop left behind in the woods to admire. Our tour guide told us that botanists and other plant specialists were hired to take detailed photos of the exact positions and sites of the trees and plants, then they removed and transplanted them in a green house. After the filming at Rivendell was done the plants were returned to their previous points. That would take a lot of patience and dedication if you ask me! And at the very end I became a star! Our tour guide brought out a cloak, bow and arrows, elf ears and a blonde wig and we all got to star as Legolas! Actually what happened was we got to take a picture dressed as him by the same tree that Orlando Bloom did all of the Legolas promo photos for the movies. It was incredible and also really hilarious to see everyone in costume and trying to act serious.
The last LOTR tour I did was at Weta Cave. It's not an actual cave though; it's where all of the special effects were done, props were created and costumes designed and brought to life. But they don't just do special effects for Lord of the Rings! Some more of their famous movies include The Hunger Games, Spider-man, Indiana Jones, Avatar, King Kong and tons more. When I went a few people were working on a project for a retired rich man who wanted a five-meter tall giant sculpture in his garden…
We got to see in detail how the swords are made, and even get to see Frodo's sword, Sting, along with countless other characters' armor and weapons. Everything was handmade by people with way more talented than myself; it was pretty much mind-blowing because the artists are working as people go on tours through the workshop. They had Sauron's original costume which they said weighed over 60 kilograms (around 130 pounds) and all of the chainmail that was worn throughout the series. At times the actors wore plastic chainmail but there were certain scenes
when the real deal was needed, so they had to wear the heavy armor which also weighed around 50-60 kilos depending on the size of the actor. There were two men responsible for putting together all of the chainmail … by hand. Apparently they did not have any finger prints left after those couple of months of torture (I mean dedication to their work…). Weta Cave didn't allow us to take any pictures inside the workshop, however we were able to take photos in the museum and outside the workshop. They had life-size (?) sculptures of Tom, Bert and William, the three trolls that Bilbo encounters in the The Hobbit and they looked pretty life-like.
So I'm pretty happy that I finally decided to start LOTR while in NZ because it would have been a shame to leave without getting to see all of those places before I left. Plus I got to meet some crazy fans that were practically in tears pulling up to some of these sets. If you like LOTR then I'm telling you that you need to go to New Zealand and see these places for yourself! The tours can get expensive, but all of the locations are listed online and you can find them yourself instead of paying for the guided tours.
-Emily
Emily Jakusz is a senior at the University of Wisconsin-Stevens Point majoring in health sciences-health care administration. She is blogging about her study abroad experience in Australia and New Zealand.