School of Business and Economics: Caz McChrystal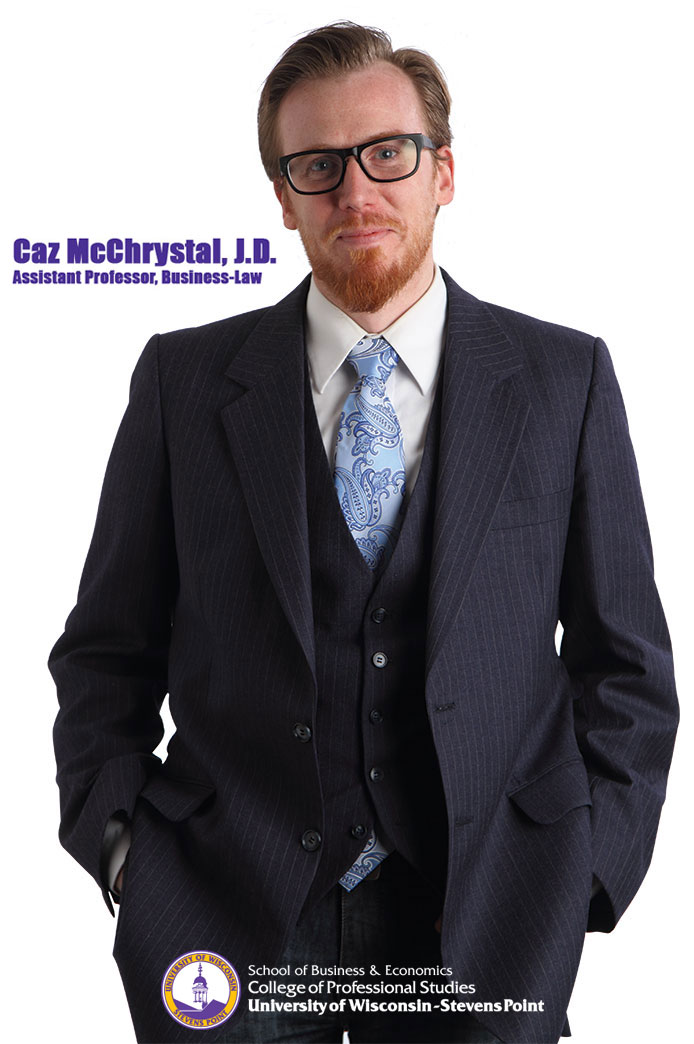 Professor Caz McChrystal's experiences make him an excellent storyteller in the classroom. For several years he managed bands along the East Coast, helping them find practice space, book shows and manage finances. He got a popular Boston-based funk band signed to a record label. Not long after starting his legal practice, Caz was lead counsel for the plaintiff in Brownmark v. Comedy Partners, et al., a copyright infringement case brought against Viacom and the creators of the popular show South Park.
But managing bands and building a family can be a tough mix, and Caz's legal interests were limited by the makeup of his clients. Looking for a change, Caz reflected on how much he had enjoyed teaching an undergraduate economics class. He recognized his calling; it was something already in his blood (both his parents are college professors). Now, instead of spending his nights in clubs, he spends his days giving students insight into business law, splitting time between Stevens Point and Milwaukee, where his family resides.
Students in his classes get a practical view of how the legal system works. "I approach teaching the law with the understanding of what the law is, what the law should be, and how the law shakes out in the court room," he says. "It's great when those three things are in alignment, but when it happens it's totally by accident."
The best reward: sharing his experiences with college students eager to make their impact on the world. "It's great when students approach me after class, not only for help with course material, but to discuss legal scenarios and talk about their career path."
Caz McChrystal, J.D.
Assistant Professor, Business-Law at UW-Stevens Point
Juris Doctor, Marquette University Law School
B.M., Business/Management, Berklee College of Music
715-346-4660  |  cmcchrys@uwsp.edu
Read more in the University of Wisconsin-Stevens Point School of Business viewbook. It's not just business, it's personal.