Defeating Cancer with Optimism: Student Earns CPS Heroes Award
By Ashley Remington '15
Graduate school is challenging in itself, but not too much for University of Wisconsin-Stevens Point speech-language pathology student Alysa Firkus—even while fighting the battle of a lifetime.
In March 2014, during her second semester in the UW-Stevens Point School of Communicative Disorders master's program, Alysa was diagnosed with Non-Hodgkin's Lymphoma. Choosing to maintain a full-time graduate load of classes and clinical assignments in addition to enduring rigorous medical treatments, Alysa was not going to let cancer to control her life. For her strength and courage, she was awarded the 2015 College of Professional Studies Heroes Award.
Born and raised in Stevens Point, Alysa returned to her hometown in 2013 to pursue a master's degree at UW-Stevens Point, allowing close family support after her diagnosis of cancer. Her professors offered flexible alternatives to physical classroom attendance, such as Skyping into class, but Alysa wanted to be a normal student, explaining, "I was a student; that's who I was, and I was going to come to school."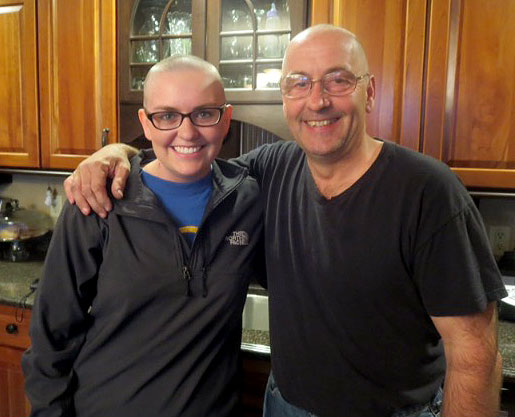 Despite medical procedures and appointments, Alysa never asked to adjust her academic or clinical responsibilities, and she preferred to take exams on regularly scheduled dates to ensure she would not fall behind. "I honestly believe that being a part of this graduate program helped me as I battled cancer, rather than hinder me," Alysa described. "The workload and rigor of graduate school served as a distraction throughout my treatment."
The faculty, staff and students watched in awe as Alysa fought her battle with cancer. Graduate school is challenging for a healthy student, and Alysa excelled in all aspects of the graduate program throughout the course of her treatments, even while experiencing "chemo brain," hair loss, fatigue and emotional stress.
"I remember sitting in class and being there physically, but being mentally absent," she described. She expressed gratitude for the amount of support provided by her classmates and staff, while at the same time appreciating the faith they had in her perseverance, even despite the obstacle she was facing. "They never expected less from me or doubted my ability as a student or clinician."
With an optimistic attitude and a powerful determination, Alysa never stopped fighting. During her summer semester in July 2014, she found out that her treatments were successful and she was cancer free. Alysa exemplifies the power of a positive and strong-willed attitude, and the importance of searching for the good in the world, giving the advice to find happiness in simple moments. "The world keeps turning and there is so much beauty and joy to be had."
"Alysa will leave a lasting impression on our department," said Maggie Watson, professor of communicative disorders. "She fought the battle of a lifetime with grace, courage, strength and optimism, and reminds us to appreciate each day, every opportunity and each other."
The College of Professional Studies Heroes Award is a $1,000 scholarship created initially through an endowment in honor of Casey Gazdik, a health promotion/wellness major, who died in 2001 from the rare lung infection of blastomycosis. Now, the award is funded through Casey's fund and other generous donations from people who wish to honor their own hero. This year's award is given in honor of Dick Cable. Alysa's ability to overcome the life-threatening obstacle of cancer with strength, determination, and an optimistic spirit unquestionably makes her a true hero.