Education alumna earns $25,000 Allen Distinguished Educators Award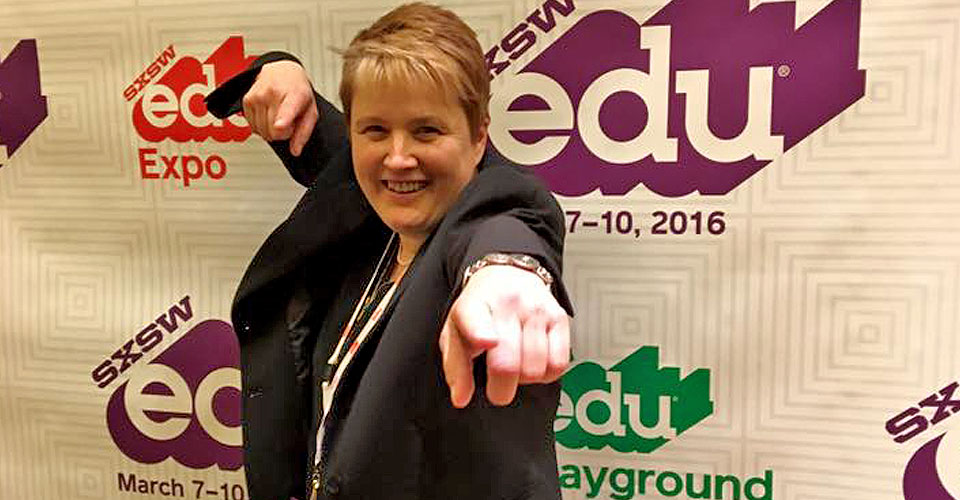 Paul G. Allen Encourages Excellence in Classroom Innovation with $25,000 Award
In the quest to ignite innovation in education, the Allen Distinguished Educators (ADE) program awarded $25,000 to an alumna of the University of Wisconsin-Stevens Point School of Education. Jodie Woodruff '02, a teacher from Providence, Rhode Island's Metropolitan Regional Career and Technical Center, was recognized as a 2016 ADE based on her entrepreneurship program that demonstrated the best in classroom innovation from across the country.
Woodruff was one of seven awardees selected from 81 initial applications representing 31 states. From the 16 finalists, seven winning projects were chosen.
"A national search for innovation in education revealed a significant appetite for student-led education programs," said Dave Ferrero, Senior Program Director for Education at Vulcan Inc., a Paul G. Allen company. "We believe that recognizing and supporting innovative teachers and their programs will create hands-on, real-world opportunities for student that are replicable models of success."
Woodruff runs a unique entrepreneurship program to teach high school students in an underserved area to create and run their own community businesses. They must identify a market opportunity, develop and pitch a business plan to potential investors, secure seed funding, manage a budget, market their product and even rent office space. They run their businesses out of a purpose-built collaboration space on the school's campus. Example businesses include a Kickstarter campaign consultancy and a graphic design and printing service for local Hispanic-owned small businesses.
"Our program has created an environment and culture to engage underserved students to recognize and seize opportunity in the world around them within the spirit of innovation and entrepreneurship," said Woodruff. "The ADE award will deepen our work and ensure more time and resources to create, network and learn from leaders in the field."
The ADE program was established in 2014 with an inaugural class of seven ADEs who continue to support the program as ambassadors, sharing their experience to inspire experiential learning in classrooms across the country. Founded by Seattle-based philanthropist Paul G. Allen, the program focuses on the integration of computer science, engineering and entrepreneurship into engaging, student-led learning. This type of curriculum can help students build skills, habits and dispositions that can transform their lives and lead them to success in the 21st century.
To see more about each winner's project and the resources available through the ADE program, visit allendistinguishededucators.org.
About Vulcan, Inc.

Vulcan Inc. creates and advances a variety of world-class endeavors and high-impact initiatives that change and improve the way people live, learn, do business and experience the world. Founded in 1986 by investor and philanthropist Paul G. Allen, Vulcan oversees various business and charitable projects including real estate holdings, investments in dozens of companies, including the Seattle Seahawks NFL, Seattle Sounders FC Major League Soccer, and Portland Trail Blazers NBA franchises, First & Goal Inc., the Seattle Cinerama theatre, Experience Music Project, the Science Fiction Museum & Hall of Fame, the Allen Institute for Brain Science, the Allen Institute for Cell Science and The Paul G. Allen Family Foundation. For more information, visit www.vulcan.com.

For more information, contact Janet Greenlee, director of philanthropic communications; janetg@vulcan.com; 206-342-2352