Work Uniform to Workout?
Let's read that one more time: work uniform to workout … okay I'm confused, what's that all about?
Sometimes we young interns are clocking 10-hour shifts each day, that's a lot! Not only are those long days, but after work the only emotion applicable is exhaustion and it's not fair to let your health suffer because of it, so it's time to get creative. This summer, I have the pleasure of being a celebration intern at Cellcom. Basically, I travel all around Central Wisconsin sharing our appreciation to the community by giving away prizes and smiles, so sometimes I clock a 14 hours day depending on the location. I don't have much time for anything but sleep it seems.
I hate to admit it but my physical activity log has definitely seen some reduction since returning from Europe. It's amazing how this change in my daily routine has made me feel less energetic and in a internship where welcoming and excitement is my number one duty, this isn't good. So I asked myself, what can I do to change this?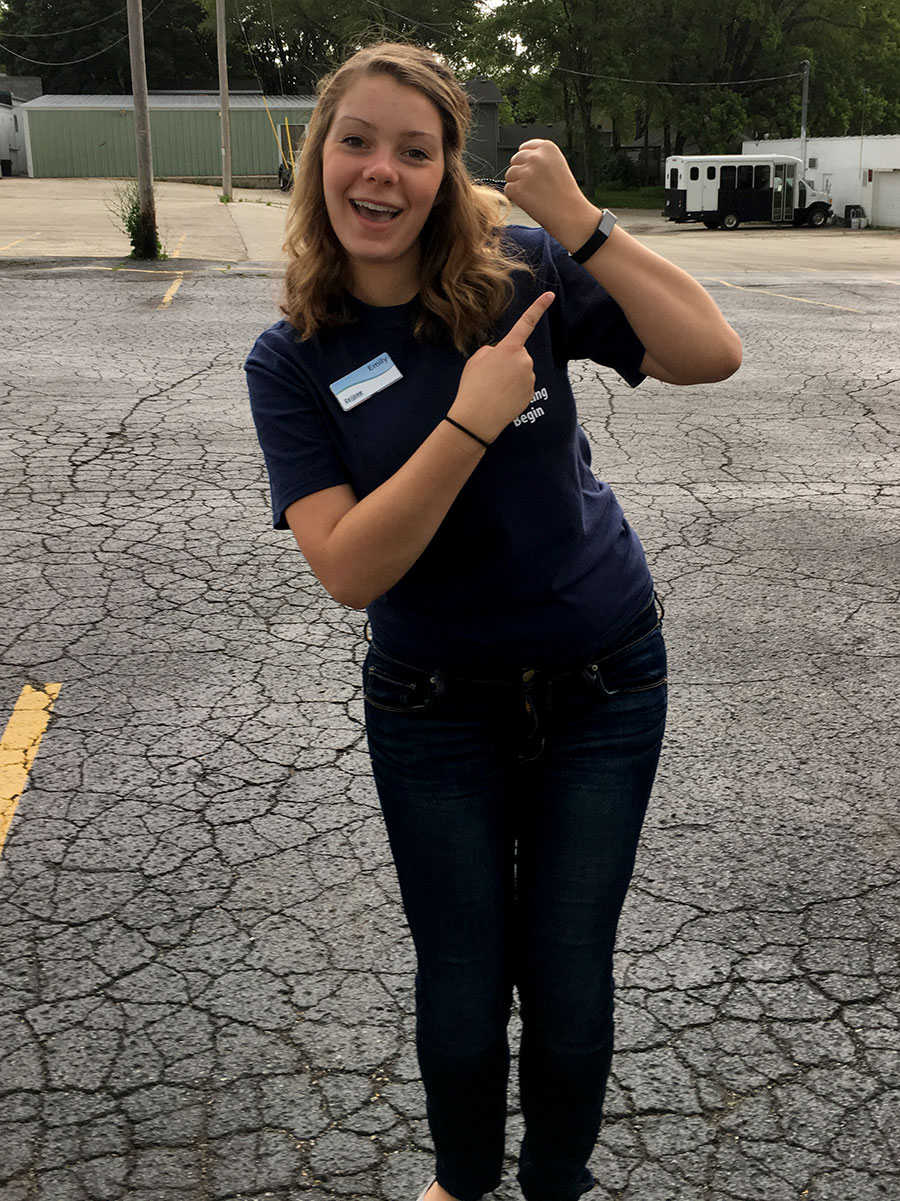 Well for starters, I'm all about those steps! So I leave just a tad earlier everyday to park in the farthest parking space in the whole lot. Trust me, every step counts, which leads me to my next point … I never leave the house without my Striiv wristband (similar to a Fit Bit). I'm normally not a competitive person but this is an individual fight because I have to reach that step goal every day! What a tool of motivation! In addition to all the extra steps, I make an effort to always take the stairs and be the first to volunteer to run an errand! I hope you all can follow my lead. Not only will you be the most helpful associate, but it's yet another opportunity to rack up those counts. Encourage your peers to get fitness bands as well and make some healthy bets to help everyone STEP up their game … see what I did there! I'm all about those puns!
Now I stand a lot at my job so I always make a conscious effort to remember to do my calf raises. This is so important not only to tone those legs but to save the varicose veins. It it very common for those who stand all day long to have issues with these veins because the blood pools which weakens the circulation but the veins themselves. Operation save the varicose veins this summer–check!
I hope you aren't feeling silly yet because your body will sure thank you for it! Another thing I try to do is squeeze my hands in a pulsating rhythm in order to keep that blood flowing all day long. Health is not ridiculous, just remember that if you feel a bit odd! Honestly, it's a conversation piece if people start to wonder what in the world you are doing.
Here comes the ringer of all work activity! On your lunches and breaks grab a friend and walk in the parking lot for 15-30 minutes! This is so easy especially if you pack a lunch that could be eaten on the go. Please refer to those awesome sandwich recipes from my previous blog! Side note: drink half of your body weight in water everyday. It shouldn't be too difficult especially if you are working up a sweat on your breaks! Now what if the weather isn't ideal everyday or it's raining cats and dogs outside? Well, hopefully there are some stairs you could climb instead! I'd love to hear how creative my readers can get too, so don't be shy to speak up and comment! Us workers got to stick together!
Finally, I work on improving my flexibility through acknowledging my physical being. Every time I bend down or reach over for a box, I think to myself, "How can I stretch this muscle?" These things may seem small, but haven't you ever heard of that cute little saying that states, "sometimes it's the little things that make a huge difference." In this case it's keeping all the blood flowing and all the extremities moving.
~Emily Tauschek
Emily Tauschek '19 is a dietetics and Spanish double major at the University of Wisconsin-Stevens Point.