HPW Internship: Kimberly-Clark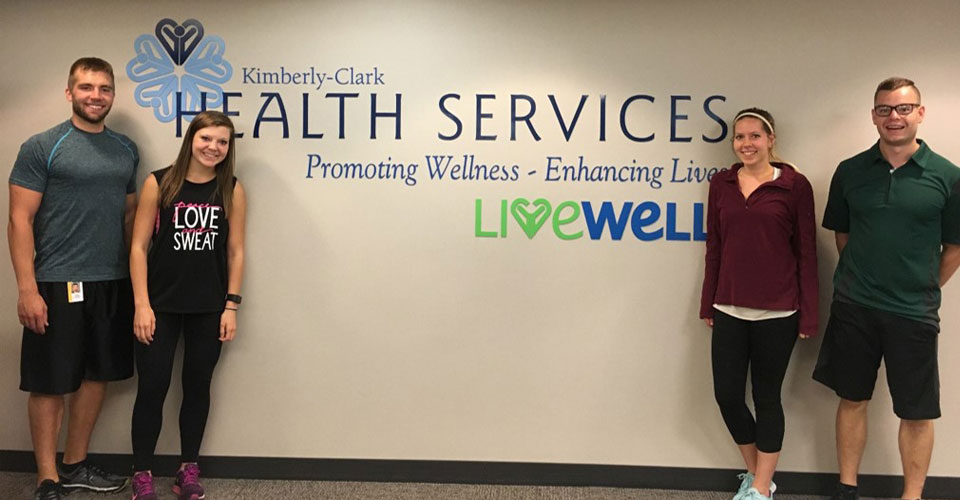 HPW Student Internship Perspective – Morgan Arnold
Interning at K-C I have implemented programs and initiatives aimed at encouraging stress management, physical activity, healthy eating, and preventative health practices. I had opportunities to market and promote programs through creation of posters,
flyers and brochures. I have designed, implemented and evaluated health promotion programs in conjunction with my supervisor and the exercise facility staff. I had some opportunities to join Skype meetings and conference phone calls with interns who are at the other K-C locations throughout the state as well as with other health and wellness professionals. I was given multiple projects such as working on a Youth Strength Training Toolkit and having a book report presentation that discussed the formation of habits. Working here, I was able to
observe, facilitate and collaborate with the exercise facility for group exercise classes, equipment orientations, and daily operations. When teaching classes, I got to work with the retiree population. These classes were Forever Fit, which consisted of low-impact movements, total body strength training, abdominal conditioning and stretching exercises, and Water Works, which consisted of a low impact
cardio and strength workout. Group fitness was never something I thought that I would want to do, but I have found out I truly do love teaching and being a part of classes. Morgan is shown getting her health screening done which is offered for all employees. During the health
screening, blood pressure is taken, height, weight and waist circumference are measured followed by a Sub VO2 max test. Following the Sub VO2 max test, flexibility and strength are measured. Morgan has observed and assisted with many health screenings throughout the duration of her 10 weeks and has able to see what procedure to take if an employee had an injury or did not feel comfortable with
certain aspects of the screening.
On-Site Supervisor
Stephanie Pereira Da Silva
Health & Wellness Manager
2100 Winchester Road
Neenah, WI 54956
StephaniePereiraDaSilva@kcc.com
(920) 721-4110
Hours
40 hours per week
Stipend
None
UW-Stevens Point Students Who Completed Internship
Collin Gaie, Summer 17′
Kyle Sternberg, Spring 2017
Amy Brennan, Summer 2017
Justine Riesterer, Spring 2016
Amanda Goltz, Spring 2016
Adam Fandre, Summer 2016
Morgan Arnold, Summer 2016
Mallory Williams, Summer 2016 (pictured above)
Alex Reichenberger, Fall 2015
Brittiny Stapleton, Fall 2015
Lindsay Worley, Spring 2013
Bennito Russo, Summer 2013
Emily Verbeten, Summer 2014
Cheyenne Woepse, Spring 2018
Jasmine Johnson, Fall 2011
Jamie Schwefel, Spring 2011
Brittany Dantinne, Summer 2011
Bonnie Hardy, Spring 2012
Joshua Zubke, Spring 2012