Ciana Rose: Finding her bliss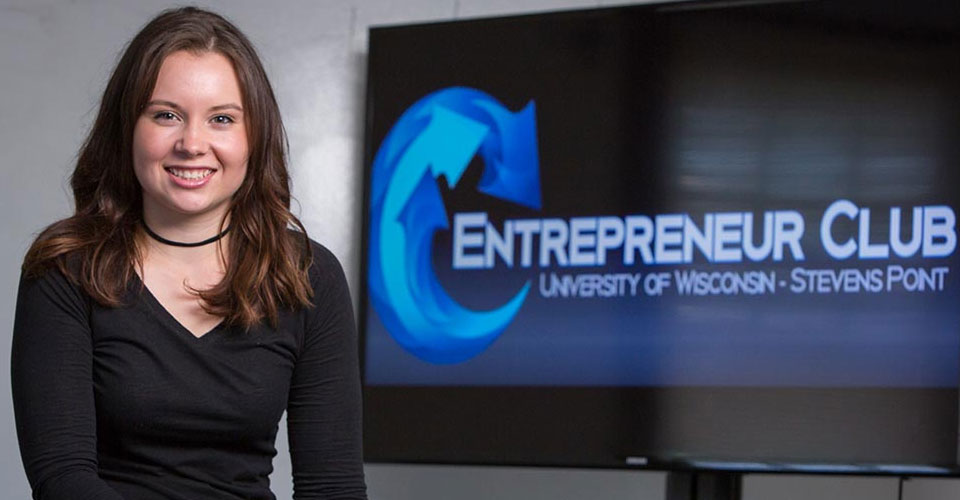 As a University of Wisconsin-Stevens Point first-year orientation peer mentor, Ciana Rose met many incoming students in June, where she challenged them to think differently.Although many students will think of failure only in classroom terms, Ciana wants students to realize failure exists outside of the classroom, and a fear of it can keep us from achieving our dreams.
"In our society, we see failure as death and we have the inability to try anything again," Ciana, a junior from Stevens Point, said. She cited her own experience as reason to believe otherwise.
"I've failed at something every day I've been here," she said. "I was wrong about what to study, what organizations best suit me, and what I generally wanted out of my college experience. Eventually, I stopped being afraid of being wrong. Failure doesn't mean you're done, it means something didn't work out the way you thought it would."
Ciana said she was influenced to dig deeper into her education when an adviser told her about an individually planned major option at UW-Stevens Point. "I knew that I wanted more from my education, even if I had to carve out my own area of study," she said. After pursuing courses across a wide range of areas, she discovered her bliss. "I love the interconnectedness that underlies all areas of study. Being able to connect subjects like art and history and economics together made me want to be in the middle, connecting those subjects to create worthwhile relationships."
Ciana credits Special Assistant to the Chancellor for Economic Development Dave Eckmann for inspiring her individually planned major in economic development and encouraging her to join the Entrepreneurship Club, of which she is now the vice president. "The Entrepreneurship Club and I fit well together because to us, new ideas come out of failure and mistakes," she said. "We need future leaders to be entrepreneurial thinkers and realize the interconnection of business, government and education."
Since starting college, Ciana says her reasons for attending UW-Stevens Point have changed.
"I applied to four schools, but decided on Stevens Point," she said. "It was affordable, it was close to my family, and it was the best decision for me at the time. What keeps me at Point today is the continuous encouragement and support I've received from studying what I love. I was so nervous to step out on my own academically, and I have only found respect and support."
Ciana credits faculty and staff such as her mother, Leah Rose in Enrollment Services, and Economics Professor Kevin Neuman for guiding her toward a triple major in business administration, economics and an individually planned major in economic development, where she is finding her bliss. In addition to her studies and other campus activities, Ciana is a senator in the Student Government Association and will be a writing lab tutor in the Tutoring-Learning Center in the fall.
What's your bliss? Find it when you learn about majors and minors, academics and student life at UW-Stevens Point.