HPW Internship: Clean Water Action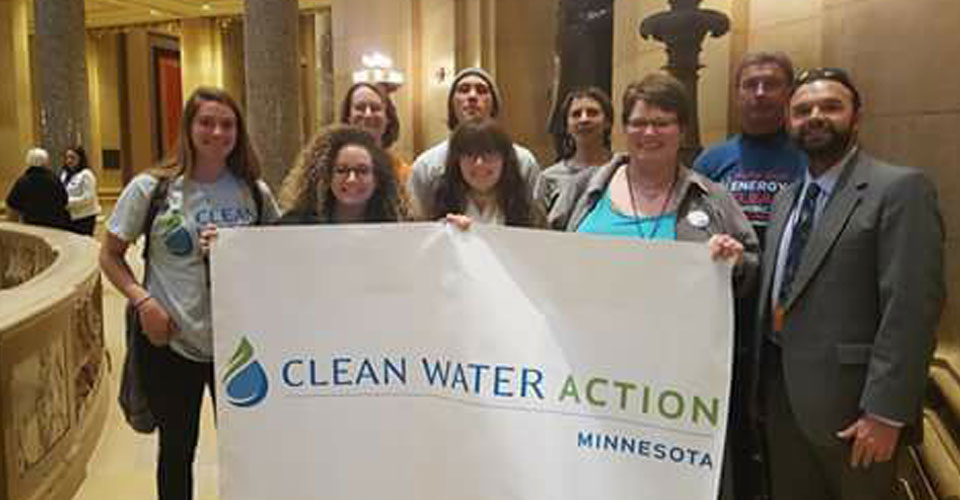 HPW Student Internship Experience – Cassandra Reissmann 16′
Being an intern at Clean Water Action is a motivating and challenging experience. The world of non-profit work is unique and presents new difficulties everyday. Whether it be racing to get budget or quickly learning about a new environmental campaign, I was presented in
experiences that were completely foreign to me. At Clean Water Action-Minnesota I was the first intern with a specific list of requirements to reach so it was a joint effort by my supervisor and me to create an enriching experience. Most of my days consisted of organizing different communities to ensure clean drinking water across the state—this happened by knocking on doors to get petitions signed and neighborhoods informed. I also was part of the Clean Water Advocacy team that called current members to get volunteers for the upcoming election. I was consistently rewriting phone scripts and going through lists of communities to see which demographics would be most likely to volunteer. This was more of a new-task-everyday internship rather than a project based one. Each day I would go in and was given the opportunity to learn more about the workings of an incredibly successful non profit; I worked with each different department in the company to see how
grassroots organizing takes hold. I used a lot of what I learned from UWSP at this internship site but mostly oral communication/public
speaking skills, counseling techniques, and outreach coordination. A lot of what I did was successful because of strong listening skills, something that counseling courses at UWSP covered well, and my outreach experience
Objectives
Behavior:

Mobilize the public to demand strong standards and to protect the sources of our drinking water.
Gain experience in determining effective wording to promote behavior change.

Promotion and Marketing:

Present information surrounding environmental campaigns to people in various communities
Engage in dialogue about issues that affect community members.
Learn strategic communication skills while enhancing the art of public speaking.
Help elect environmental champions and win important laws at the federal, state, and local levels.

Organizational Experiences:

Participate in staff meetings.
Gain knowledge about environmental issues, grassroots lobbying, and organizing and fundraising.
Work with supervisor to report and help organize end-of-shift documents.
On-Site Supervisor
Mike Koscielak
Field Canvass Director
330 2nd Ave
Minneapolis, MN
mkoscielak@cleanwater.org
(612) 623-3666
Hours
40 hours/week (400 hours total)
Stipend
$76.50/day
UW-Stevens Point Students Who Completed Internship
Cassandra Reissmann, Summer 2016 (pictured above)