CPS collaboration helps build Pacelli Fitness Center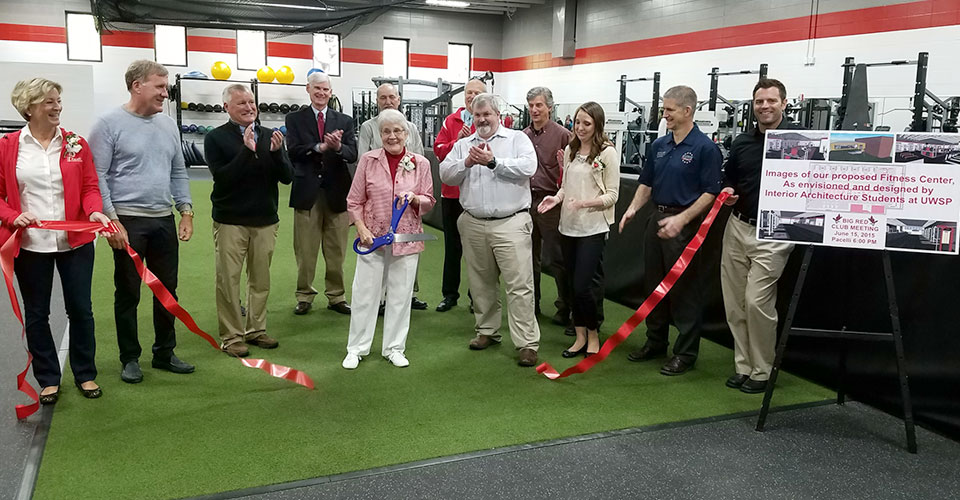 When Pacelli Catholic High School in Stevens Point had a need to create a new fitness facility, it knew the faculty experts and students from the University of Wisconsin-Stevens Point would be a goldmine of knowledge to tap into. [Photo Gallery]
Members of the Pacelli Big Red Booster Club reached out to UWSP School of Health Promotion & Human Development Associate Professor Corey Huck for help. After developing a survey to judge interest from Pacelli students, Huck established a summer training program for the local private school and helped decide what equipment should be installed in the new facility.
When it came to the actual design of the facility, Huck recommended working with the UW-Stevens Point Division of Interior Architecture students and faculty. Professor Nisha Fernando presented the Pacelli project to her senior-level students in IA 415: Problems in Interior Architecture and the final renderings from the class were used by the Big Red Booster Club to seek funding and build excitement among the community for the finished product.
Four years of collaboration came to fruition as a ribbon-cutting ceremony was held at the Berard-Klasinski Clinic Fitness Center in memory of Coach Bob Raczek on Wednesday, May 10.
Having a goal of sustainability, Huck and health promotion/wellness students from UW-Stevens Point will continue to design programming to be used by the entire Pacelli community–including students, staff, faculty, parents, donors and alumni.
"This facility is designed for all so that you can develop the knowledge, skills and motivation to foster a lifelong commitment to health and well-being," said Huck.
IA 415: Problems in Interior Architecture Students – Spring 2014

Team 1
Anna Frassetto
Clare Kleveno
Yunjuan Liu
Shannon McGinn
Stephanie Radmer
Ashley Weber
David Wright
Team 2
Tom Cvetan
Kalie Hendricks
Esteban Lomeli
Gwendolyn Marchel
Wenjie Ren
Megan Toetz
Alyssa Trautman
Chuxin Zhang