HPW Internship: North Central Area Congregations Organized to Make an Impact (NAOMI)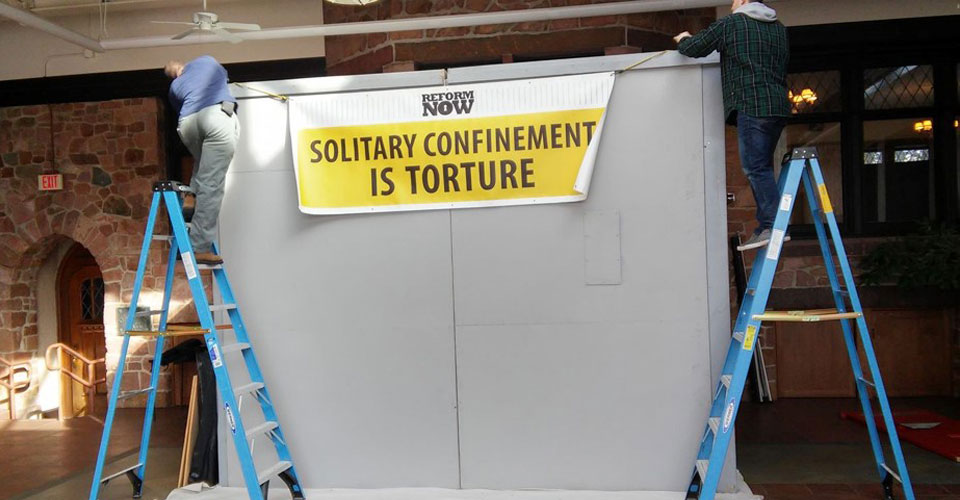 HPW Student Internship Experience – Alec Priewe Spring 17′
Working with NAOMI as a Community Organizer Intern was a unique and insightful experience. NAOMI is an interfaith organization that builds power for change through congregational organizing. That being said I got to work with many different groups in conjunction with our Poverty, Treatment Instead of Prison, and Transit Task Forces. My duties with NAOMI consisted of assisting in the organizing and promoting of events, updating the website and social media pages, best practice research, and program design.
Interning with NAOMI opened the door to a lot of new experiences and knowledge. In this picture, I am seen on the right, while I help set up the traveling solitary confinement cell for our event "Reflections on Solitary Confinement". The replica was built by EXPO member Talib Akbar who shared his story of his time spent in solitary to the Wausau community at the First Universalist Unitarian Church. This event was put on by the Treatment Instead of Prison Task Force, EXPO, and the First UU Church in efforts to raise awareness about Wisconsin's flawed solitary confinement system.
My time spent interning as a Community Organizer sharpened my communication, promotion, social media, and people skills. As a Community Organizer you work with a lot of different people and groups. It is rewarding to see an event successfully go through that you assisted not only in the development of it, but also the bringing together of the right people.
Objectives
Behavior:

Design and implement mindfulness based stress management programs.
Programs to be directed towards target audiences of the Poverty Task Forces and the Treatment Instead of Prison Task Force.
Program evaluation and assessment.
Assist the Wausau Poverty Task Force in creating, administering, and assessing a poverty simulation in conjunction with the Wausau School District.

Promotion and Marketing:

Update and maintain social media pages and website
Update the NAOMI website with latest projects and work.
Utilize NAOMI social media to promote programs and events.
Develop outreach and promotional materials for programs and events. i.e. (Martin Luther King Day celebration banquet, and issues task forces).

Organizational Experiences:

Meetings with NAOMI Task Forces and partners i.e., Open Door and HEAL (Healthy Eating Active Living).
Supervision and small budget experience with the poverty simulation.
Best practice research.
Gamaliel Foundation Leadership Training
One-Site Supervisor
Kate Gaines
Community Organizer
330 McClellan St.
Wausau, WI 54403
kategaines_wisdom@yahoo.com
608-960-0697
Hours
A minimum of 400 hours will be reached
Stipend
None
UW-Stevens Point Students Who Completed Internship
Alec Priewe, Spring 2017 (pictured above)