Golden Ruler Event celebrates UWSP Interior Architecture program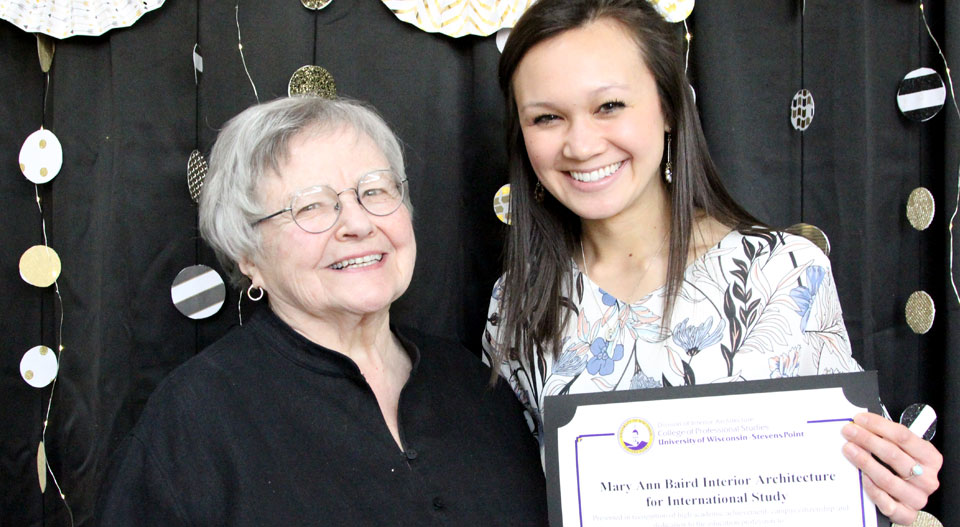 The UW-Stevens Point Division of Interior Architecture continued its tradition called the Golden Ruler Event: An Evening With Interior Architecture as the program recognized its 2018-19 graduates, student scholarship and award winners, donors, alumni and supporting professionals in the CPS Cafe on Friday, April 26. [Photo Album]
Golden Ruler Award
2019 Recipient: Professor Emerita Mary Ann Baird, in appreciation of support of the Division of Interior Architecture
Donor Presenters
Kathleen R. Miller Stumpf Julin and Pam Leviton
Alumni Speakers: Samantha Salmone '14 and Megan Toetz '16 from The Gettys Group
Whether at work or at play, designer Samantha Salamone brings an exuberant energy to everything she does. With influences like the colorful fashions of the rock'n'roll 50's and the vivacious fin-de-siècle Paris depicted by Toulouse-Lautrec she takes pleasure in creating environments that bring joy and a sense of freedom. When she's not making selections for the TownPlace Suites in Nashville, Samantha enjoys spending quality time with her nieces, taking in a rom com, and breaking out the acrylics to take on a blank canvas—and if you're lucky, you may spot her cueing up some Backstreet Boys or *NSYNC at karaoke on the weekend.
With her affinity for the aesthetic of icons like Aalto, Mies and Nelson, designer Megan Toetz may just have been born in the wrong era; living by their "less is more" mantra, her work is informed by the uncluttered forms created by these greats of the mid-century. When she isn't touting the value of simplicity in design, you can find her appreciating the simple things in life: enjoying brunch with friends and family, binge-watching the latest streaming show or browsing through the cutest dogs of Instagram. As an advocate for giving back, Megan is a committee member for our charitable initiative Gettys Gives.
College of Professional Studies Outstanding Students Dean's Award
Freshman: Lindsey Massen
Sophomore: Megan Elizabeth Asplin
Junior: Megan Schuette
Senior: Brittany Laffin
Division Awards for Academic Excellence
First year: Claire Allen and Layne Leege
Second year: Andrew Kluck and Miya Leistekow
Third year: Chelsea Martel and Natalie Smith
Fourth year: Allie Tripp
Huck Residence IA 317 Design Competition Award
Recipients: Halle Laverdure, Maly Thao and Scarlet Verdico
This scholarship was based on a collaboration between Professors Corey Huck and Nisha Fernando. The second-year residential design studio taught by Professor Fernando in Spring 2018 designed a single family house for Professor Huck and his wife Brie in the Town of Hull, Wisconsin. The design project was a competition among the students and three winners were selected by the Hucks who were granted a scholarship each this year. Professor Huck, Professor Fernando and the Division of Interior Architecture funded this scholarship project.
Natalie & Paul Ciulla Interior Architecture Scholarship
Recipient: Maly Thao
Natalie Ciulla was an alumna and instructor in the Division of Interior Architecture. Her husband Paul was also dedicated to quality design. Natalie's mother Antonia Nichiporuk with close family friends, Kar-Keat Chong, Ann Fitz, Kathe Julin and Pam Leviton, established a scholarship in their names to support young designers.
Agnes A. Jones Undergraduate Home Economics Scholarship
Recipient: Nadine Dragan
Agnes Jones was a high school home economics teacher, a supervisor of home economics student teachers at UW-Madison, and home economics department chair at Northern Illinois University before she was appointed as head of home economics at what was then Wisconsin State College-Stevens Point in 1957. Jones and her faculty were innovative creators of programs and during one five-year period received more than half a million federal dollars. She and Bonnie McDonald were early pioneers in the Wisconsin Head Start program.
Kelly Garr Dawley Memorial Scholarship
Recipient: Brittani Kasper
Dr. Donna Garr and husband Phil established this scholarship following the death of their daughter and granddaughter. Kelly Garr Dawley was their only daughter; she died in a tragic automobile accident while pursuing a degree at UWSP as a non-traditional student.
Jane Wright Abrahamsen Home Economics Scholarship
Recipient: Halle Laverdure
This scholarship was created to honor the late Jane Wright Abrahamsen, by her husband Martin. Jane was a native of Mauston who received a degree in home economics in 1928 and a bachelor's degree in home economics education in 1933, both from the Stevens Point Normal School. She then went on to get her master's degree from UW-Madison in 1936. She then started her professional career by teaching home economics at high schools in Ithica, WI and Ironwood, MI.
Bernice Kurzynski Scholarship
Recipient: Ariana Gonzales
Bernice Kurzynski retired from UWSP after 37 years, including serving as the academic department associate in the Division of Interior Architecture. As a UWSP alumna, Bernice was always dedicated to her work and service to the university. Her scholarship was established by IA faculty and staff at the time of her retirement to honor her endless contributions and service to the division.
Dora Phelps Scholarship
Recipient: Chelsea Martel
This fund was established to provide a scholarship to a part-time student employee in interior architecture, family and consumer sciences or dietetics.
Bessie May Allen Scholarship
Recipients: Megan Schuette and Natalie Smith
This scholarship was established by Bessie May Allen, director of the Home Economics Department at UWSP for 39 years. Bessie May shaped the home economics program at UWSP, taking it from a two-year course of study to a four-year program. She was vital in keeping the program alive, bringing it back to campus after the UW System Board of Regents had voted to eliminate it.
Mary Ann Baird Interior Architecture
Recipient: Carlena Yang
Mary Ann Baird, head of the Division of Interior Architecture from 1978-96, established this scholarship upon her retirement from UWSP. She taught at UWSP for 38 years and established this scholarship to assist students interested in semester international study programs.
Enterprise Lighting Scholarship
Recipient: Brittany Laffin
Enterprise Lighting created a scholarship to support interior architecture majors, particularly those who are members of the Illuminating Engineering (IES) Student Chapter.
Patricia C. Kluetz ASID Scholarship
Recipient: Claire Goyak
Pat Kluetz, had the unique opportunity to work with talented and creative students who have emerged from our program to become impressive professional interior designers. She continues to be involved in teaching and continuing education programs on campus and has served as a professional liaison to the Division of Interior Architecture ASID Student Chapter.
ASID Student Chapter Scholarship
Recipients: Victoria Pfeiler and Sydney Rall
The funds for this scholarship were generated through a raffle held at the annual UWSP ASID Student Chapter Banquet for students, alumni, and faculty. The scholarship is awarded to students who have made significant contributions to the ASID Student Chapter.
American Society of Interior Designers (ASID) Student Chapter
Co-Presidents: Victoria Pfeiler and Sydney Rall
Treasurer: Claire Goyak
Secretary: Alyssa Kilsdonk
Historian: Carlena Yang
Social Chair: Emma Palmer
Promotions Chair: Shannon Brumm
Second-year Representative: Emily Kroll
Third-year Representative: Megan Schuette
Fourth-year Representative: Nicole Goeser
Faculty Adviser: Wendy Redeker
Historical Preservations Student Society
President: Scarlet Verdico
Vice President: Chelsea Martel
Treasurer: Maly Thao
Historian: Katelyn Ruppel
Secretary: Danielle Nelson
Faculty Adviser: Aaron Kadoch
Illuminating Engineering Society (IES) of North America Student Chapter
President: Lindsey Massey
Vice President: Layne Leege
Treasurer: Scarlet Verdico
Secretary: Brittany Laffin
Media Chair: Katelin Kerkman
Faculty Adviser: Chris Burch
International Interior Design Student Association (IIDSA)
President: Natalie Smith
Vice President: Abby Boesch
Treasurer: Nadine Dragan
Media: Halle Laverdure
Secretary: Ariana Gonzalez Strut/IIDA
Liaison: Nadine Dragan Faculty
Adviser: Katja Marquart
Class of 2018-19
December Graduates:
Hannah Champion
Chantal Doxon
Karalyn Hoenecke
Dakota John
Abbey Johnson
Emma Johnson
Alissa Kahle
Lauren Kaltz
Kendra Kudla
Emily Steinhorst
Markley Trever
May Graduates:
Nicole Goeser
Brittany Laffin
Danielle Nelson
Gina Nommensen
Bianca Perez
Haley Ross
Katelyn Ruppel
Allie Tripp