Bork receives UWSP Excellence in Teaching Award
Assistant Professor Pamela Bork from the School of Education for being presented the 2020-21 UW-Stevens Point Excellence in Teaching Award! (Watch at the 5:26 mark.)
---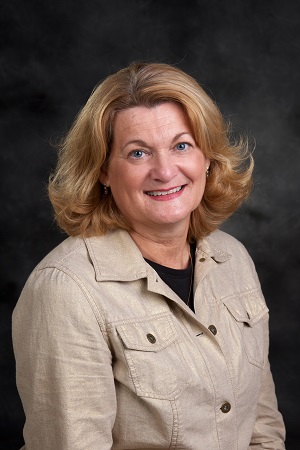 A true teacher's teacher, School of Education Associate Professor Pam Bork empowers future educators through providing high quality learning experiences and modeling her own love for the profession.
Bork has touched many lives through students at the UW-Stevens Point and the future students that they will all teach. For her efforts, she has been honored with the 2021 Excellence in Teaching Award at the university.
"The art and science of teaching often blend in a myriad of ways to make teaching one of the most demanding of all professions," says Bork. "In my mind, teaching is service and requires deep commitment to both the art and science to ensure student success."
Bork began her teaching career in an adaptive physical education classroom in 1980 after graduating from UW-Stevens Point. Her passion for teaching and learning then led her to a principal role the Stevens Point Area Public School District.
Since joining the UWSP School of Education faculty in 2012, Bork has embodied what it means to be an outstanding educator and educational leader. Her contributions reach undergraduate through doctoral levels and include advising, mentoring, leading seminars, development of the Doctor of Education in Educational Sustainability (Ed.D.) program and conducting multiple independent studies. Bork has served on several Ed.D. doctoral research committees and supported master's students during their final research course. In fact, in Spring 2021, she advised 27 master's students and four Ed.D. student researchers. And when the Harju Center for Equity in Education was recently establish thanks to a $4.3 million gift from alumna Dorothea Harju, Bork took on the leadership role as the center's first director.
In her undergraduate courses, Bork provides a plethora of opportunities for students to actively engage with elementary teachers and children in local schools for authentic teaching experiences.
"Professor Bork's demonstration of her own love of learning and teaching continuously inspires students as students, as future educators and as individuals," said Juliet Champion, an elementary education and special education student. "She undoubtedly has impacted students across campus and across the state in the schools in where her students teach."
Bork's value for teaching and learning is evidenced not only with her role as a professor, but also as the faculty adviser of Kappa Delta Pi (KDP) and mentor to students throughout their careers as students, student teachers and practicing teachers.
"Professor Bork's active participation in Kappa Delta Pi encouraged all members to strive for excellence in their future educational field while she herself practiced life-long learning," said elementary education student Jane Kubisiak. "The passion she has for the profession of education and the caring and responsive approach she takes in her own teaching practices makes her outstanding and second to none."