Save Your Energy by Making Connections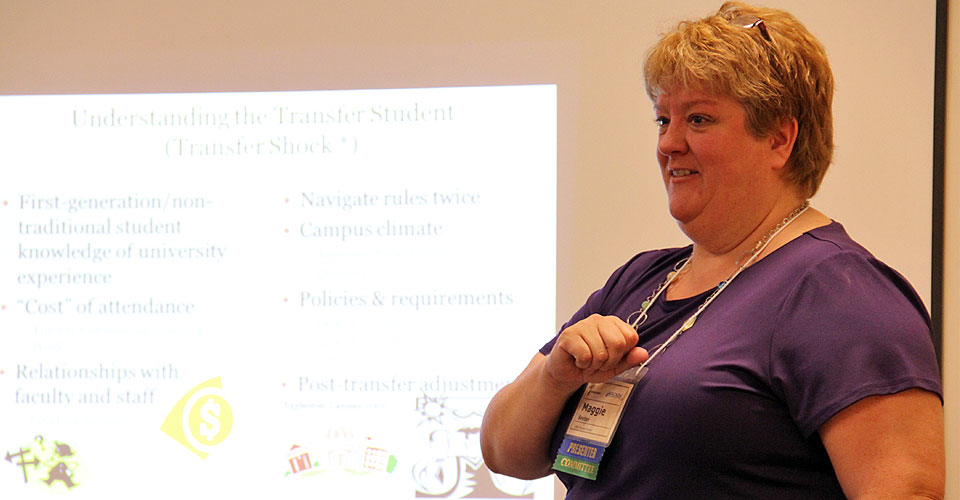 Maggie Beeber, UWSP School of Education undergraduate advising coordinator and teacher certification officer, and April Hartjes, an early childhood education instructor at Mid-State Technical College, presented at this year's Wisconsin Academic Advising Association (WACADA) Conference, held September 22-23 at UW-Stevens Point. They spoke about how four-year universities and two-year campuses can partner together to ensure transfer students succeed.
We leave no footprint when we make connections early and work on the foundation that has already been establish. Early collaboration results in better informed students when they transfer from a two-year/technical college to a four-year university setting. UWSP and several Wisconsin technical colleges have created an Early Childhood Program that can be completed from a distance using three sites in Wisconsin, primarily for non-traditional associate degree students. This program is being partially funded by a COBE Grant. Investing in partnerships between institutions can be informative and energizing. We are better equipped to support our transfer students when we have a better understanding of their prior experiences. It is important to recognize that student come to us with different experiences from different campus environments. Making connections on those campuses better inform us as advisors. UWSP and Mid-State Technical College work together on an IHE Grant which supports collaboration between students and faculty. We will talk about our process in jointly creating our new Central Wisconsin Early Childhood Alliance Program. We will share our articulation agreement and demonstrate the tools we have devised on TIS, planning guides and our website.