Social Media in Health Care: Business vs. Patient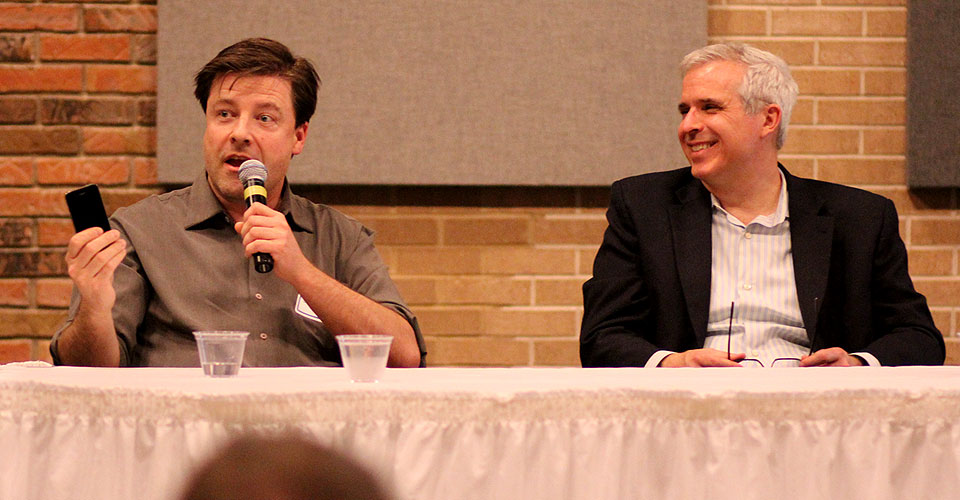 Two chief information officers address nearly 50 professionals and UW-Stevens Point School of Health Care Professions students about the future of social media in the health care industry at the Central Wisconsin Healthcare Information and Management Systems Society (HIMSS) networking event in The Encore of the Dreyfus University Center Wednesday, March 14.
Co-sponsored by the UWSP chapter of Sigma Mu Tau, featured speakers Oliver Degnan, CTO at Marshfield Clinic, and Will Weider, CIO of Ministry Health Care and Affinity Health System, introduced upcoming ideas and reiterated the importance of privacy in health care.
Degnan and Weider also spoke about the role social media plays in marketing and the policies each organization has in place to ensure best practices.
The Wisconsin Dairyland Chapter of HIMSS is one of over 40 affiliated chapters of the largest health care information systems professional organization in the nation. HIMSS is the healthcare industry's membership organization exclusively focused on providing leadership for the optimal use of healthcare information technology and management systems for the betterment of human health.