Classified Staff Appreciation Week 2012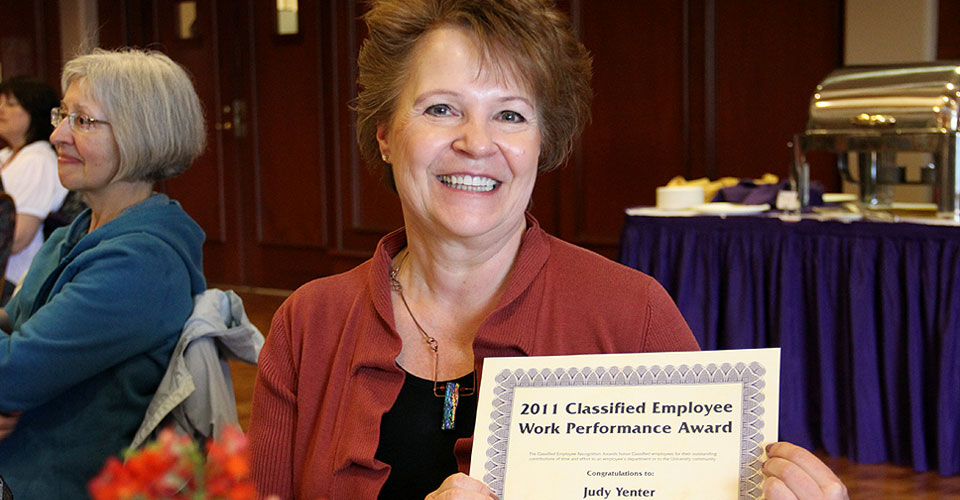 Several College of Professional Studies staff members were honored for their service to UW-Stevens Point at the Classified Staff Spring Awards Ceremony in the Dreyfus University Center Alumni Room on Tuesday, April 17. Thank you for all the hard work and dedication to UWSP!
Outstanding Work Performance Award
The Outstanding Work Performance Award recognizes performance far beyond what is normally expected of an employee. It includes taking on additional responsibilities or increased workload, accepting and completing special projects that are not part of the employee's normal work duties, developing or modifying procedures or exhibiting behavior that enhances the employee's workplace. The result is improved effectiveness and efficiency of service offered by the work unit or the university.
Judy Yenter, University Services Program Associate
Judy started her employment in the Military Science Department in 1977. After 35 years in the Student Services Center, Judy, in addition to her normal duties, completed the move of Military Science department into their new facility that was built as an addition to the Health Enhancement Center. This move was a monumental undertaking, in addition to her daily work. Judy took the lead and spent countless hours reviewing furniture choices and options, color palettes for everything from the walls to the baseboards to the patterns of the tables, chairs, desks, computer benches and artwork for the walls. Judy has a great attitude and warm personality.
Length of Service Awards
Length of Service pins and awards are given to classified employees for continuous service and recognition of investment of time and effort to the UWSP community. Length of service was determined as of December 31, 2011.
5-Year pin
Justin Stoffel, School of Physical Education & Athletic Training
Cheryl Langreck, School of Physical Education & Athletic Training
10-Year Pin
Sveindis Meyer, School of Physical Education & Athletic Training
15-Year Pin
Betty Kieliszewski, School of Education
35-Year Award
Frank Rodriguez, Academic Custodial