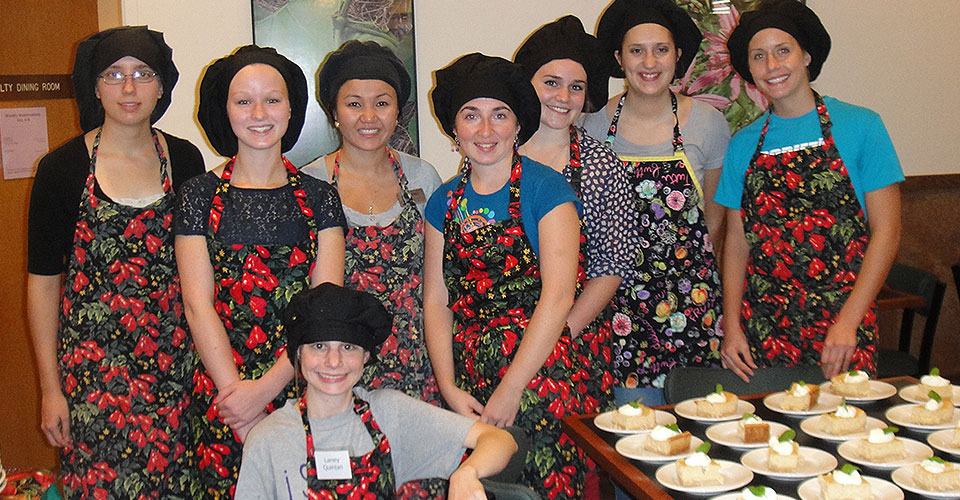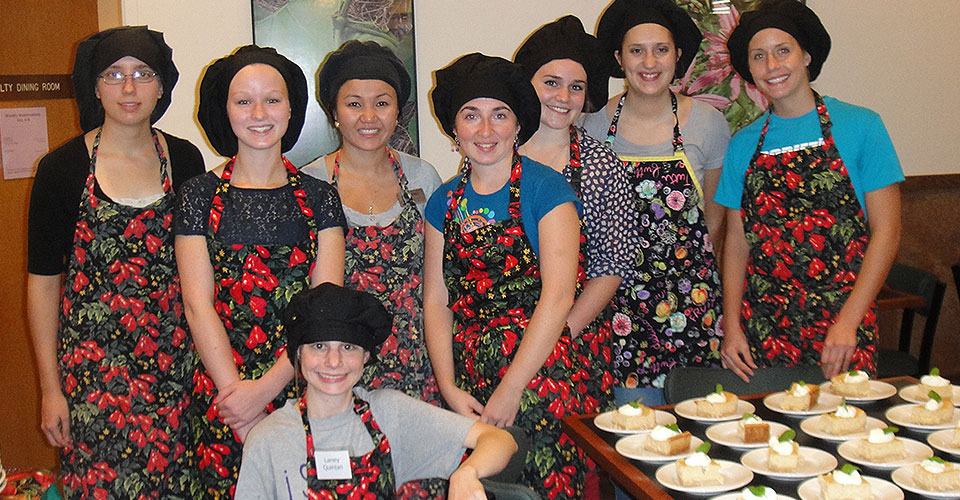 I look at the clock and there are 10 minutes left. My heart is pounding and I'm sure everyone within a mile can hear it, yet I calmly give directions: plate the pumpkin cheesecake and garnish it with whipped cream and a mint leaf. I can only imagine how the Iron Chef contestants feel.
Being the co-president of the Student Association of Nutrition and Dietetics (SAND), I was asked by Associate Lecturer Deborah Tang to have SAND prepare food for the UW-Stevens Point Food and Nutrition Advisory Board. This board includes all our dietetics professors and key members in the community in food-related fields, so the menu developed had to have some culinary complexity.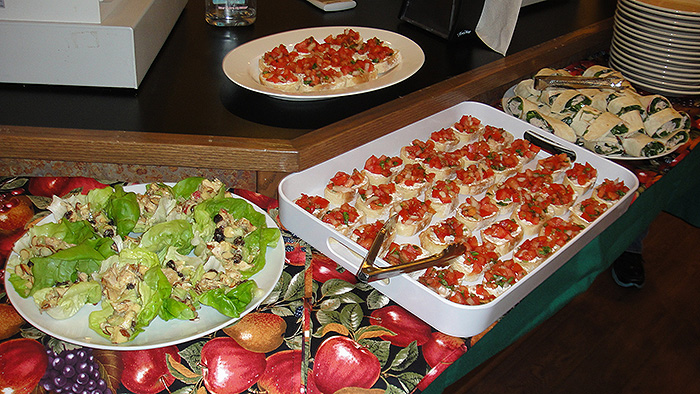 Weeks in advance, the small food planning committee created a menu that was nutritious and contained local foods. The weekend before, we went to the farmer's market to gather our ingredients. The production schedule was all set.
As I brought the pumpkin pie in the morning of the event, Kim Beckham, manager of the CPS Café, advised me to change the menu from a meal to having finger foods. She kindly offered the resources of the CPS Café, but it was up to me to recreate the menu.
With no time to consult the rest of the food planning committee, the menu was changed to bruschetta, curry chicken salad and turkey spinach sandwiches with cranberry mayonnaise. The committee was great in responding to the change in menu and worked diligently to complete the tasks assigned to them.
Of course nothing ever goes as planned and the café was out of mayonnaise and bread. We improvised and used tortillas to create wraps instead of sandwiches. I worked with one of the underclassman dietetics students and taught her how to make mayonnaise from scratch.
Regardless of the changes, the food and presentation turned out great! Much of that was due to a great group of students, the ability to adapt to changing situations and think quickly on our feet. As I have learned in my experiences in food service, nothing is ever set. Being prepared for change is the best way to be set. Maybe my team is ready for the Iron Chef, or perhaps we should just concentrate on our studies.
Song Xiong is a senior at the University of Wisconsin-Stevens Point majoring in dietetics and communication.