New program improves English skills of families in Almond-Bancroft schools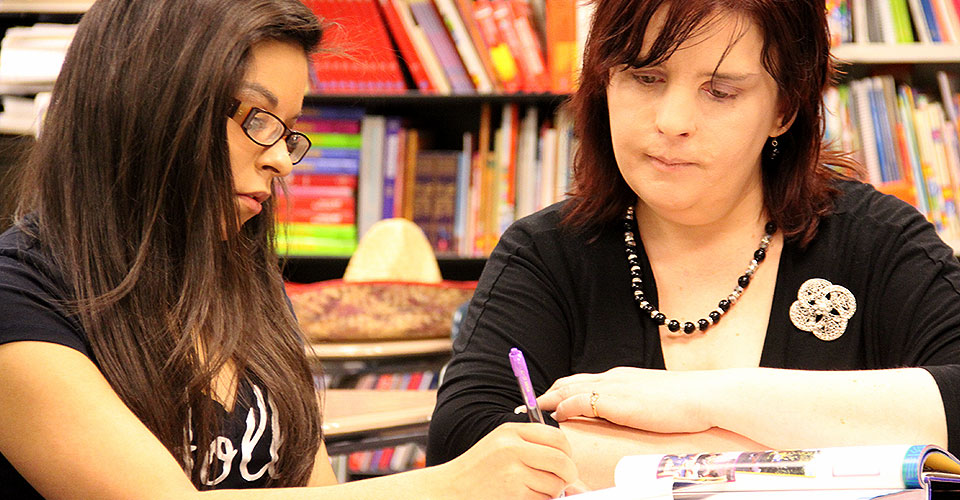 Spanish-speaking students in the Almond-Bancroft School District will be able to use technology to reduce communication barriers and improve academic performance thanks to a grant from the University of Wisconsin-Stevens Point. [Photo Gallery]
Lisa Vann, a 2007 graduate of UW-Stevens Point, spearheaded the effort to create online literacy labs to enhance the district's English Language Learners (ELL) program. The computer labs cover core subjects including math, English, social studies and science.
Her innovative approach earned Vann the UW-Stevens Point's Oscar W. Neale Fellowship, which comes with a $10,000 award.
Approximately 23 percent of the Almond-Bancroft school district's families indicated Spanish is the primary language spoken in their homes. Vann knows their concerns well. As a child, Spanish was the primary language in her home.
"I walked in those shoes, and I know the disadvantages those kids have without the resources," said Vann. "Oscar Neale's idea was to reach underfunded populations, to reach people in rural areas and to identify key resources for kids in need. The grant is a perfect fit for us."
Children of migrant farm workers sometimes miss large chunks of the school year as their families spend part of the year in other states, such as Texas. Her program provides online supplemental education, so children can keep current with their studies. In order for the program to work, English-speaking educators need to learn more Spanish and Spanish-speaking families more English.
The program includes collaboration with school of education students at UW-Stevens Point who will adapt the curriculum and teaching strategies to meet the needs of increasingly diverse classrooms.
"The remarkable aspect of this project is the positive and long-lasting impact it will have not only on students and parents, but also on the faculty and staff of the district and our future teachers we educate at UW-Stevens Point," said Pat Shaw, associate dean and department head of the UW-Stevens Point School of Education.
The Neale Fellowship honors Oscar W. Neale, a pioneer in the education field. It is awarded to professional development projects involving UW-Stevens Point and local schools and agencies. Vann is the seventh person receiving the fellowship since it was first awarded in 2005.