Cadets take part in Warrior Night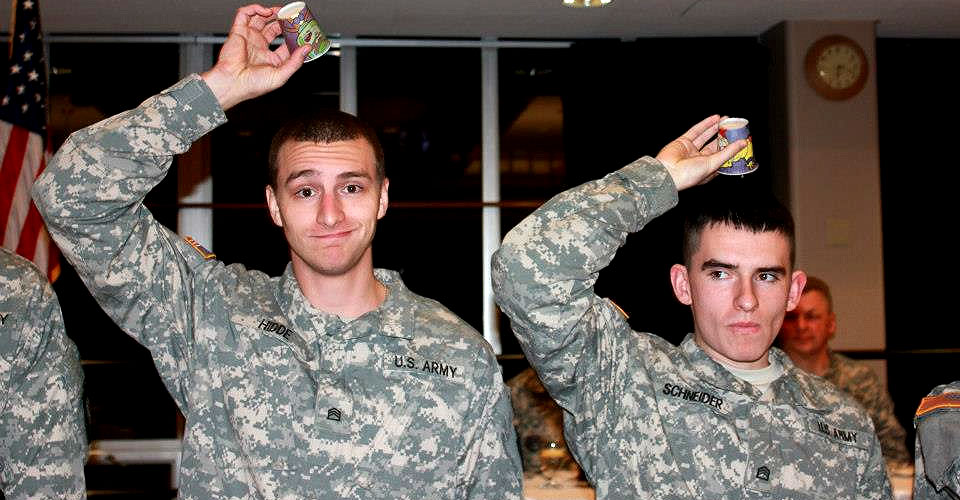 Cadets from the UW-Stevens Point ROTC program recently took part in an annual event called Warrior Night in the Dreyfus University Center Alumni Room.
The evening including "Dining In" which is a military ceremony for members of a unit which includes a dinner, drinking, and other events to build unit cohesion. The UWSP "Dining In" consists of a dinner, humorous class videos, a Grog bowl (nonalcoholic), and competitive games.
The Grog bowl is a custom that varies greatly among organizations. UWSP uses the Grog bowl for the purpose of building cohesion amongst the cadets and cadre of the Pointer Battalion. MSIV cadets (seniors) pick an ingredient that represents something, which they then add it to the grog. For example, one could add an energy drink for all of the energy required to complete all of the training for ROTC. Typically the ingredients lead to an unpalatable concoction, which individuals are called upon to sample for various reasons. Each ROTC class samples the grog at least once. Individuals can be called upon to sample the grog if they break the rules of the mess. These rules include such things as cursing and consuming your food in an unpleasant way.