Justin's last London blog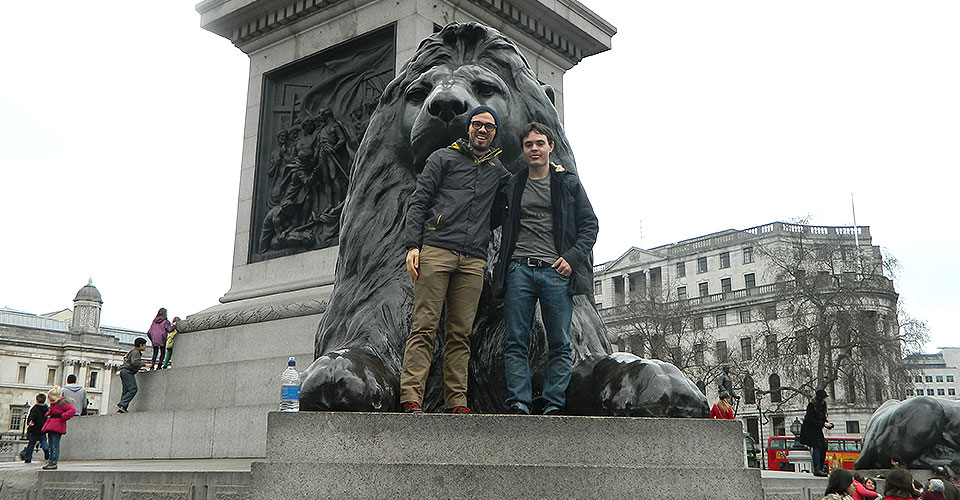 I extended my time in London until Jan. 17 because I did not want to leave this wonderful city due to the fact that it has been some of the best months of my life. I also felt like a few things were unfinished, so I felt the need to finish them before I was required to go back to the states. The last month that I was London was wonderful and I had the fortunate opportunity to see more of the London and spend time with friends.
In London, I visited a Southern Hindu Temple with my friend Indian friend Ganesh. Ganesh is a very friendly person who is a good friend. I met him during an event that was held in the International Student House earlier during the semester. Whenever I see him, it's always nice talking with him. We often laugh, talk about random things, and what it's like in our home countries. At the Hindu temple that we visited, we prayed to several different Hindu deitiessuch as Shiva, Vishnu, Ganeshaand many more. Shiva is known as the destroyer or the transformer. He is considered the Supreme God within the Shaivism, one of the three most influential denominations in Hinduism. Vishnu is described by many as the all-pervading essence of all beings, the master of—and beyond—the past, present and future, one who supports, sustains and governs the universe and originates and develops all elements within. Vishnu is the main Vedic God. The other deity Ganesh can be identified by his elephant head. He is widely revered as the Remover of Obstaclesand more generally as Lord of Beginnings and Lord of Obstacles. Devotion to Ganeshaextends not just to Hinduism but to Jainism and Buddhism. I also observed some different rituals that the Hindu's practiced. To me the entire experience was very peaceful, uplifting, and I felt connected to my higher self as how I would describe it. Someday, I'll have to visit a Northern Hindu Temple to compare and contrast the differences between them.
One day, I went to the London Dungeons with my friend Zuhal who is from Turkey. She's really nice and was fun to talk with. The dungeons were fun and the actors were really entertaining. They were kind of like a haunted house tour with rooms filled with amazing actors and fascinating props. The rooms were based on some of the most eerie aspects and horrid events from the city's history such as the story of Sweeney Todd, the Demon Barber of Fleet Street, Jack the Ripper killings, the Great Fire that happened in the year 1666, which nearly a third of the city burnt to the ground. After the Dungeons, we went to Camden Market where we chilled, ate some Chinese food and talked about Islam.
One day my good friend Matt Cooke, who actually studies here at UW-Stevens Point, visited me in London. Matt and I have many things in common. We both enjoy practicing yoga, meditation and learning about self-development. We have several other things in common which makes it easy for Matt and me to have great discussions. He's a friend who inspires me and who I can relate to on many topics. This semester, we co-founded the UWSP Yoga and Meditation Club on campus, which we look forward to leading and providing students with opportunities to learn about holistic wellness and practices. Matt was in Europe for three weeks because he was staying with his friend Hannah who lives in Ireland.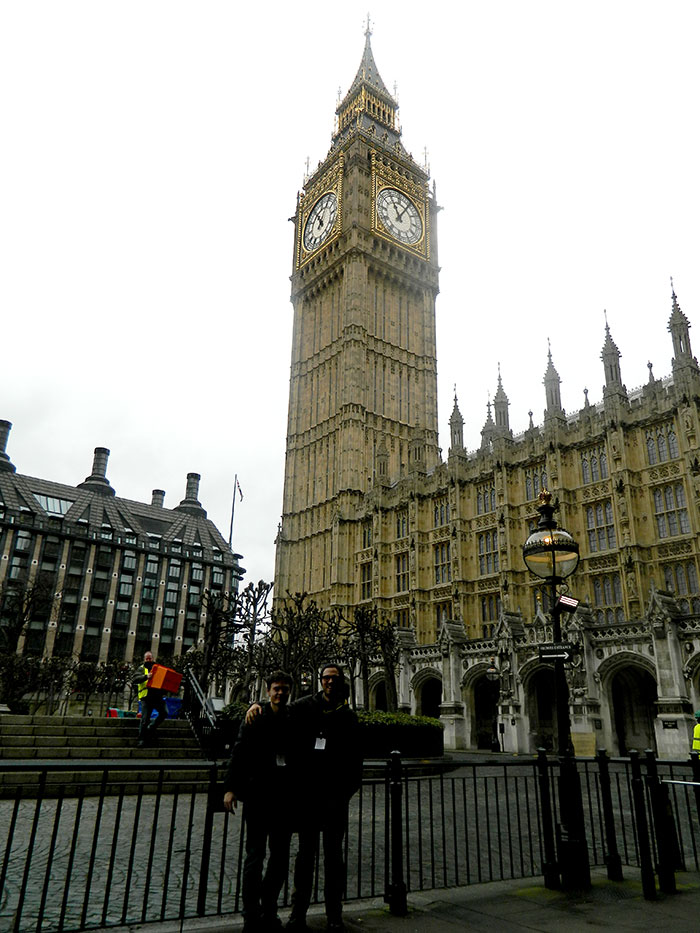 The day that Matt and I spent together was fun and filled with a lot of activities. I did more tourist things with him in one day than probably the prior three months that I was in London. First we went to Big Ben, UK's Parliament and joined a guided tour. The tour was very informative and educational, but to be honest somewhat not engaging. Matt and I thought the same, and believed it was because of the tour guide. However, I learned a lot about UK's government and some important historical political figures of the UK such as Winston Churchill and some others. Within the past years, I always come across amazing quotes from him such as "We make a living by what we get, but we make a life by what we give." To me this is very inspirational and the way that I want to approach life more often. By giving to others I often feel a higher sense of purpose and happiness when just receiving. Therefore, I believe it's generally better to give then to receive. However, both are just important in relationships. To me, it was really amazing knowing that Mahatma Gandhi, Barack Obama, and previous Queens of the British Monarch once roamed around these rooms where Matt and I were walking.
Afterwards, we went to the National Gallery and Trafalgar Square. I really like Trafalgar Square, it's a very a beautiful place with its water fountains and statues of lions. I have visited Trafalgar Square many times since I have been in London. In October, I went with my friend Ravin and two girls from Pakistan to a Hindu diwali festival and in November, I meditated with Buddhist Monks outside the National Gallery. The gallery is in very close proximity to Trafalgar Square. The National Gallery was pretty neat. Matt and I saw paintings of Van Gogh and Leonardo Da Vinici, which I remember seeing these paintings when I was in art class during high school. Later we went to the Tower Bridge, and went near the mighty Tower of London. It was a very beautiful day, no wind, a little overcast and the sun was just starting to set. Then after the Tower of London, we went on a walking tour of Jack the Ripper. I have been looking forward to joining the tour ever since I heard about it sometime before Halloween. The tour was very engaging and attention catching. The speaker had a great ability to engage our imaginations, and almost take us back in time and be an observer of the frightening and horrid incidents involving Jack the Ripper and his unfortunate victims. She was not afraid to go into the gory and morbid details of the stories of the notorious Jack the Ripper.
After the peaceful and heartwarming tour, Matt and I went to Brick Lane Market to get some food despite our appetites being nearly entirely suppressed from what we heard from the tour. We got to Brick Lane Market at a great time because it was about closing time, which compelled the people who were at their food stands to try to sell their food as soon as they could. I felt like royalty, because at every food stand where I walked next to, the seller offered us anything that we wanted. I tried tofu, sushi, different seasoned pieces of chicken, and a variety of other ethnic foods from all over the world. I became nearly full from just trying their samples, but I felt the need to purchase food from someone. So I decided to purchase a vegetarian meal from a group who was from Zambia. After getting our meals, Matt and I then sat down inside on these sofas. We had a deep conversation about relationships, yoga, meditation and our goals and dreams that we aspire to achieve in life. Matt will be interning at My Yoga Online in Vancouver right after graduation, which is the largest online yoga studio in the world. I'm really excited for him and we have plans of me coming up to Vancouver and visiting him.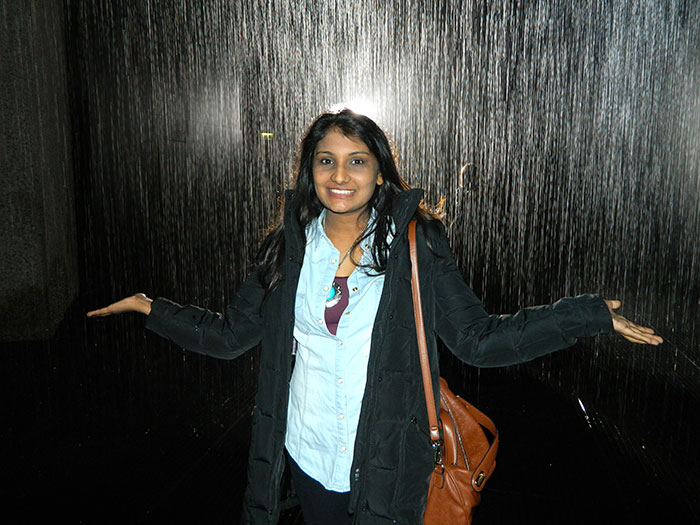 In addition, in London I went to several places with my friend Rhea, who is Indian, but grew up in Kenya. She is studying to become a corporate lawyer, which I know she will excel in because of her intelligence, ability to make logical arguments and her sweet, but clever ways of getting information that she wants. One day, we went to the Lion King Musical which was an amazing performance. The actors and performers had so much passion, and the musical itself was extremely creative and inspiring. This is one of my all-time favorite films, so I was really thankful to see the musical in London and having Rhea along. The next day, Rhea and I went to see the changing of the guards at Buckingham Palace. Rhea has been living in London for five years and this was actually her first time seeing the changing of the guards. My friends often say that I have a knack for being proactive and getting people to do things. Once we arrived to Buckingham Palace, I realized that I forgot my memory card for my camera, which was in my laptop back at home. Rhea brought her camera, but the batteries soon died. Therefore, it was 'destiny' to not have photos of this experience. However, I had more fun watching the tourist act crazy and foolish while they were trying to catch a glimpse of the guards.
In London, we went to several ethnic restaurants that included Italian, Indian, Asian and Lebanese. Rhea was determined and had a genuine interest for me to try different ethnic foods before I left London. I'm so thankful that she did because I now have a much higher appreciation for ethnic foods and the variety of different tastes that are from different parts of the world. I enjoyed Rhea's company and the conversation that we had. All four of the ethnic restaurants were great and I really enjoyed the taste of different foods, which I will go more in detail in another blog. One night, we went to the rain room at Barbican Centre. For months, I have been hearing about the hype of this room and that I can't miss it. I really like to watch rain fall because to me it's refreshing, peaceful and it makes me feel a sense of tranquility. The rain room has falling water for visitors to walk through and experience how it might feel to control the rain. This was a unique opportunity I thought, because in the outside world I have no control over the rain like a god might. On entering The Curve the visitors hear the sound of water and feel moisture in the air before discovering the thousands of falling droplets that respond to their presence and movement.Walking together with Rhea through the rain room and watching the rain fall down was a very nice experience, which I felt peaceful and a sense of bliss. I'm really grateful and fortunate for having the opportunity to meet Rhea and her genuine interest in helping me get the most out of my experience and my time in the city of London.
I hope you have enjoyed this article and that it will inspire you to travel abroad and encourage you to get out of your comfort zone because during these times it's when you grow the most and become the people who you have always dreamed of. In addition, traveling and getting out of your comfort zone will show you a new and a fascinating world and the many possibilities that are out there just waiting for you to act upon. I believe we only live once, so live your life the way you want to and never set limits or be discouraged to try something new.
I want to thank all my friends and family members who supported me on this amazing opportunity of studying abroad. I made some wonderful friends, who I hope to stay in contact with such as Zuhul, Ganesh, Ricardo, Miklos, Ravin, Valentine, Florent, Rhea and others. I'm currently, back in the small town of Stevens Point and trying to adjust to my old way of life. To be honest, and it's extremely difficult to move on and adjust. I know that my life will never be the same and that this experience has positively changed me in so many facets. I will miss London a lot, but more importantly to me I will miss one of my friends the most.