New collection in CPS Café unites art and food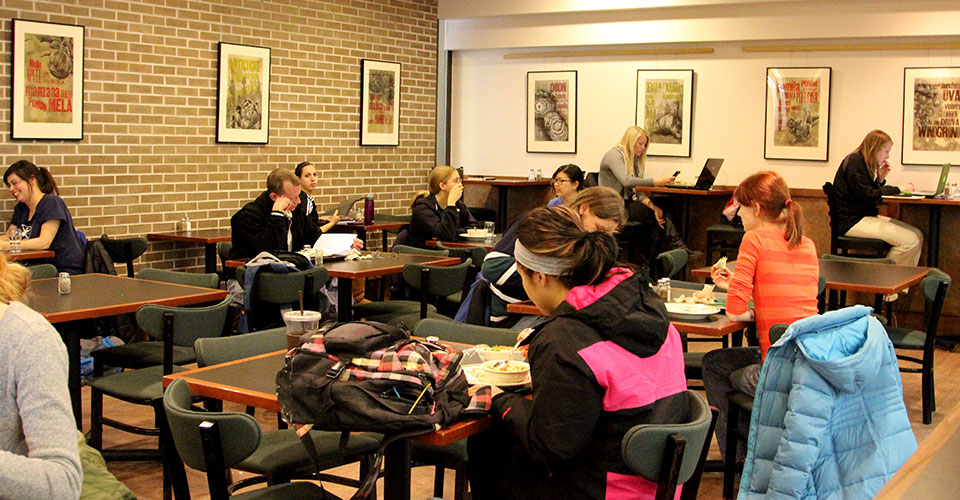 Have you ever considered the importance of pleasing all five senses in a restaurant environment? Taste and quality of the food may be priority, but design and décor, scents and more, all play into the satisfaction of customers and the success that the food industry desires.
As you walk past the CPS Café in the College of Professional Studies at the University of Wisconsin-Stevens Point, you experience the enticing aroma of the delicious healthy meals that are being prepared, luring in your taste buds. Now, there's a whole new way to experience food in the CPS Café with the addition of seven pieces of artwork by senior Alexander Landerman '13. Customers can experience this new collection, which creatively depicts various fruits and vegetables including an apple, onion, artichoke, garlic clove, grapes, raspberries and peppers, while enjoying their meal.
Landerman's creativity was inspired by his roots. "I was born and raised in Central Wisconsin in the small town of Stockton on the outskirts of Stevens Point," said Landerman, who is majoring in art with a two-dimensional emphasis. "My childhood was largely spent outdoors hunting, fishing and camping where I developed a passion for plants and animals."
Landerman was awarded the Public Art Symposium by the Carlsten Gallery Student Advisory Committee in 2012 and was given the opportunity to create seven original pieces of artwork for UW-Stevens Point's permanent art collection. "My intent was to create a small body of work dealing with the universal language of food," said Landerman, who combines letterpress printing and drawing. "By printing the same word in different languages for a particular fruit or vegetable and then drawing that item over the text, I hope to show a commonality between us all—the necessity for quality food. This is something the CPS Café is known to provide to our students, faculty and community members."
The CPS Café not only works to serve some of the most quality meals for its customers, but it offers an inviting atmosphere as well, especially with the newly added décor by Landerman. Lining the walls of the CPS Café, the intriguing collection creatively reveals his intent of demonstrating the universal language of food and enhances the overall experience of the café. As students, faculty and other customers settle in to eat their lunch, they can now feel a sense of connectivity to diverse cultures as they observe the unique artwork.
The CPS Café is a unique food service business open to the public. Dietetics students operate the café and experience all aspects of food service operation and management.
By Ashley Remington
Watch video of Alexander Landerman creating letterpress artwork.