Solving Problems in Architecture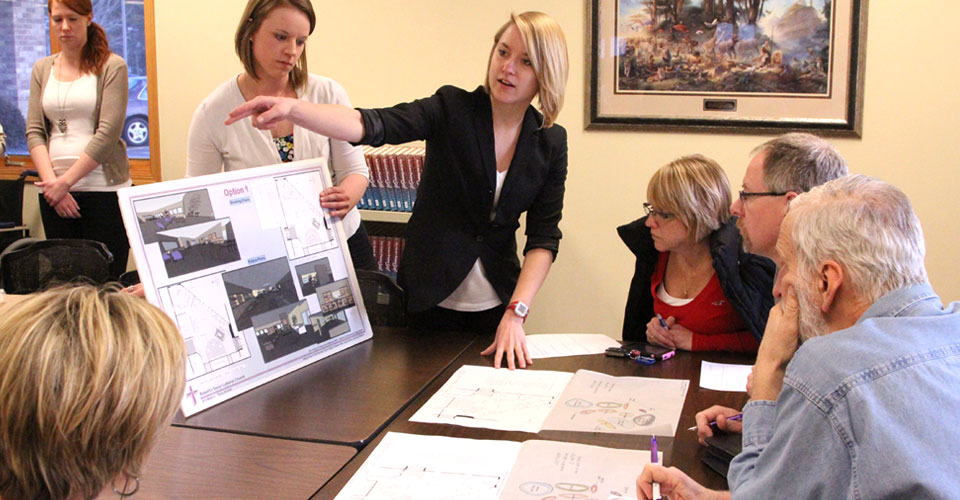 Redesigning spaces for real clients in the community, students in the interior architecture program at the University of Wisconsin-Stevens Point not only gain valuable experience, but also leave a lasting impact. Students in Associate Lecturer Wendy Redeker's IA 415 Problems in Architecture worked in groups on two projects this semester: Beautiful Savior Lutheran Church in Plover and the Waupaca County Health and Human Services. [Photo Gallery]
Nicole Casper, Brianna Falor, Kristie Behnke, Bryanna Williams and Kayla Nelson presented to Beautiful Savior Lutheran Church two design possibilities with two cost options each for a redesigned narthex. The area includes a coffee lounge, mailboxes, Bible study, coat room and mothers' area.
Lauren Fecho, Lindsey Penning, Mandy Bobbe and Michelle Scepurek gave Waupaca County Health and Human Services three options for its lobby and reception area–a minimal design that used the county's existing furniture, an updated concept, and a fully new design. The highlights of the design included a planter area that incorporated the area's nature into the waiting area and an updated receptionist desk.
The groups researched costs and materials for each of the designs and provided the clients with contact and budget information to fulfill the projects.
The UWSP interior architecture program's goals are to graduate professional interior designers who are able to synthesize knowledge and who are able to creatively solve problems for a wide range of physical interior environments, including residential and commercial, and for a diverse group of users.