UWSP ROTC Presents Vietnam Vet With Honors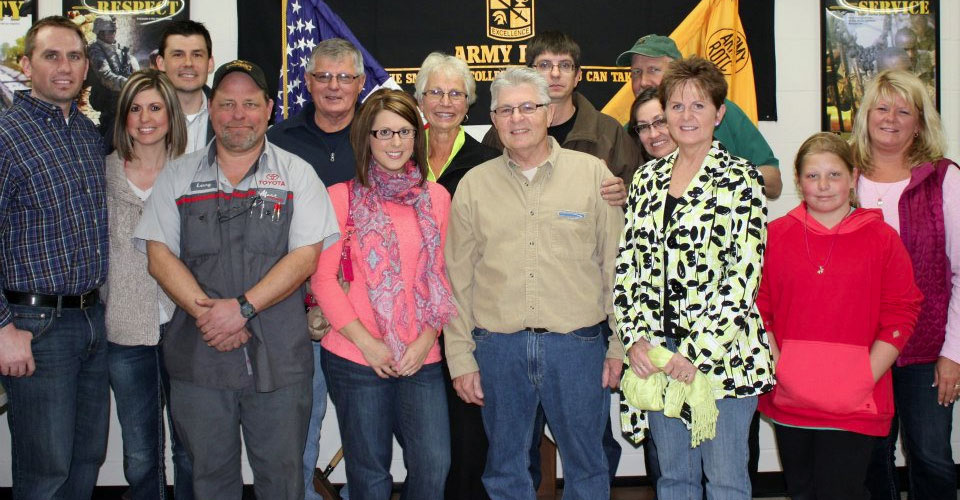 Some awards are well worth the wait. As was the case when the University of Wisconsin-Stevens Point ROTC program presented a long-overdue award to an area veteran on Thursday, April 4. [Photo Gallery]
Richard R. Konkol of Stevens Point served in Vietnam in the early 1970s.  When he left the service, some awards he had rightfully earned did not make it into the official record. He has, for some time, sought to right this wrong with the assistance of Mike Clement, the Portage County Veterans Service Officer.
Konkol's newly recognized awards include the Vietnam Service Medal with Three Bronze Service Stars, the sharpshooter marksmanship badge with rifle and mortar bars, the expert marksmanship badge with pistol bar, and the Combat Infantry Badge—or CIB.
The CIB is a silver and enamel badge 1″x3″, consisting of an infantry musket on a light blue bar with a silver border, on and over an elliptical oak wreath.
The bar is blue, the color of the Infantry branch.
The musket is adapted from the Infantry insignia of branch and represents the first official U.S. shoulder arm, the 1795 model Springfield Arsenal musket.
The oak symbolizes steadfastness, strength and loyalty.
The CIB is awarded to personnel in the grade of colonel or below with an infantry or special forces military occupational specialty who have satisfactorily performed duty while assigned as a member of an infantry/special forces unit, brigade or smaller size, during any period subsequent to December 6, 1941, when the unit was engaged in active ground combat.
The complete criteria for each area and inclusive dates are listed in Army Regulation 600-8-22. The CIB was pinned according to tradition by a previous recipient of the award, Sergeant First Class Christopher Smith.