Running Fool
What a weekend! Marathon Runners Club (MRC) of UWSP had a lot of events going on the past few days that I was fortunate enough to take part in. They were a blast! It's fun getting involved in student organizations and their club events, you usually meet some awesome, fun people who share similar interests! I don't think there's a better way to meet people than through what you enjoy doing. You gain a friend and a buddy to do what you love with!
I didn't start running seriously until I got into college. A born-figure skater, I hated everything about running. It hurt, it was hard, it was long. One day I decided to not hate it … and I started running laps around a track. I was elated when I got to a mile … two … and then I joined MRC to meet other runners who could motivate me! I ended up meeting people I call some of my best friends today! It also got me more active on campus and in the community, as now I participated in local races, intramurals, and other club sponsored events. The picture with me and the medal is from my first 5k – – I was stoked to complete the distance and even medaled in my age group! Over the past three years then, I did lots more 5ks (Allen Center Fall 5K with my roommates & Plainfield 5K with a MRC member pictured), mud runs, trail runs, 5-mile races, and a half marathon (see me at the finish line below?). In the near future I'm excited to accomplish my first duathlon, sprint and Olympic distance triathlon! I probably wouldn't have been so involved if I didn't get more involved in the club!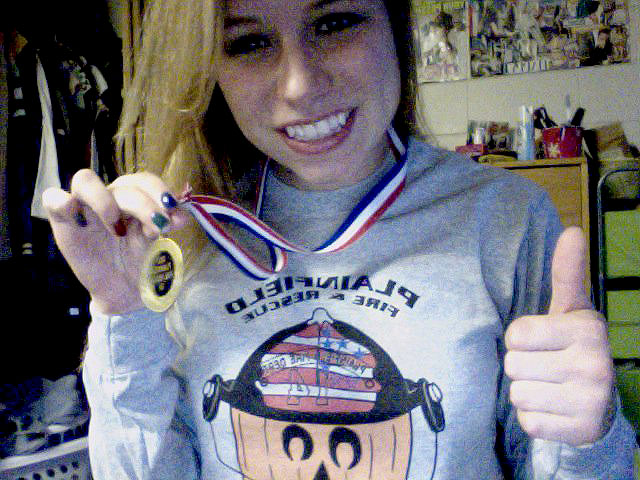 So back to the weekend. It started Friday at the Zumba Party on campus. Four of us from MRC donated canned goods to the UWSP Cupboard (they offer food to students in need) in exchange for two hours of Zumba dancing! We had a blast! The girls were really energetic and goofy and we loved proving that runners can dance! If you haven't tried Zumba yet … you totally should! It's a Latin and Indian style dance fitness class. Allen Center offers free classes every week, check out its schedule and join the fun!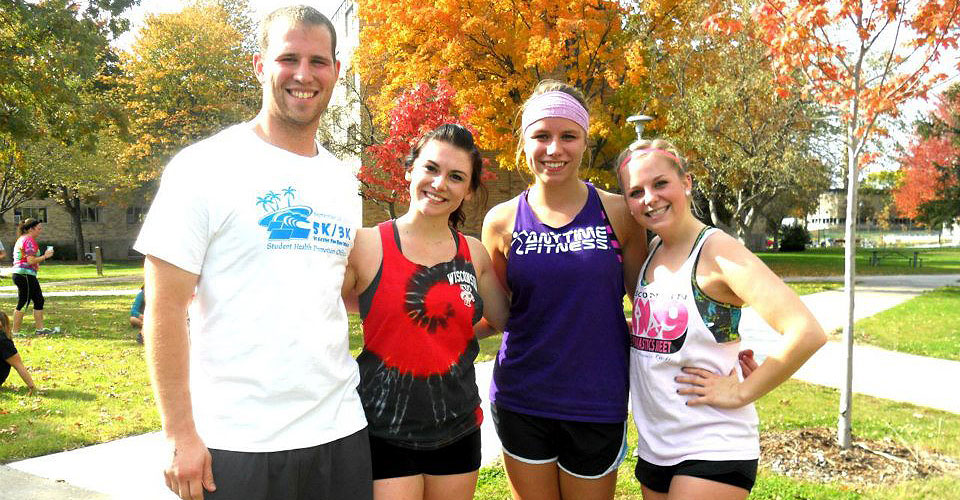 Saturday another four of us hopped in a car bound for Minocqua, Wis., for the 5K Only Fools Run at Midnight. As the name suggests, it's a night run, gun going off at 12am! How fun! We started the drive early so we had time to catch dinner in Wausau at Red Eye Brewing Company. All of us being pretty health-conscious, we had great plates in front of us of salad, wraps, veggie burgers, and paninis! Mmm…
After dinner we packed up and headed north for the race. Unfortunately we drove through SNOW the entire way there! Can you believe it? April 6and it was snowing! It didn't stop either, so had a snowy, slushy run!
Tom, our trustee driver, was shooting for a PR (personal record) and succeeded! He also took second place in his age group! The three women ran together–which was a cool experience for me. I tend to always break away and run on my own in races, so it was neat to be supported by two awesome ladies!
Sunday we held a runners yoga session and had a group run to Belts'! Yoga was challenging but fun and a few runners new to yoga completed their first-ever class! The Belts' run was a nice cool down from the run the night before, and who doesn't love ice cream?
MRC has its last official meeting this Thursday. We've had a great year of cool events and great accomplishments by the members. It's a cool organization to be a part of since we all share this crazy love for running. This weekend I'll be in Iola with pops racing the trail run, then the Spring Thaw 5K, Finals Frenzy 5K, and Paper Discovery Duathlon. It'll turn out to be a pretty successful semester!
If you have any questions about getting more involved in student organizations, check out the Student Involvement & Employment Office's website. If you're interested in Marathon Runners of UWSP, send them an email at marathon@uwsp.edu or check out their Facebook page! All organizations love new members and you won't regret joining!
Run on!
-Courtney
Courtney Cerniglia is a junior at the University of Wisconsin-Stevens Point majoring in business administration and Spanish.