An Evening of Celebration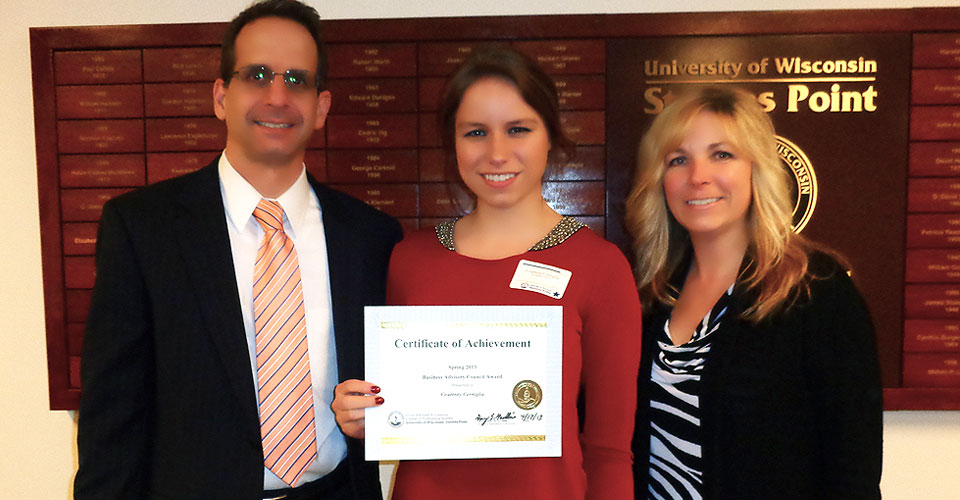 Friday night (April 26) was a celebratory evening for the University of Wisconsin-Stevens Point School of Business & Economics. A room of talented, hard-working students, College of Professional Studies (CPS) faculty, and area business donors gathered together to celebrate some of the best the college has to offer. [Photo Gallery]
I am happy to be a part of the CPS community of faculty and students here at UWSP. The program is well-run, interactive, and showcases real world experiences in and out of the classroom. The faculty I have had the pleasure of working with have been inspirational (John Leschke, Ann Kropp, Scott Wallace, Barbara Mihm, C.R. Marshall in particular); offering me glimpses into my future by relating concepts from class to business experiences.
Much of what I have learned in class I have used in my work experiences. It's been rewarding to be able to communicate and offer solid suggestions to the people I work with in an educated, professional manner. I feel my education from UWSP will take me far!
It was an honor to be present Friday evening in a room of such talent. I congratulate everyone that received awards and give thanks to those who donate to such a wonderful program!
-Courtney
Courtney Cerniglia is a junior at the University of Wisconsin-Stevens Point majoring in business administration and Spanish.