Thanks for the Memories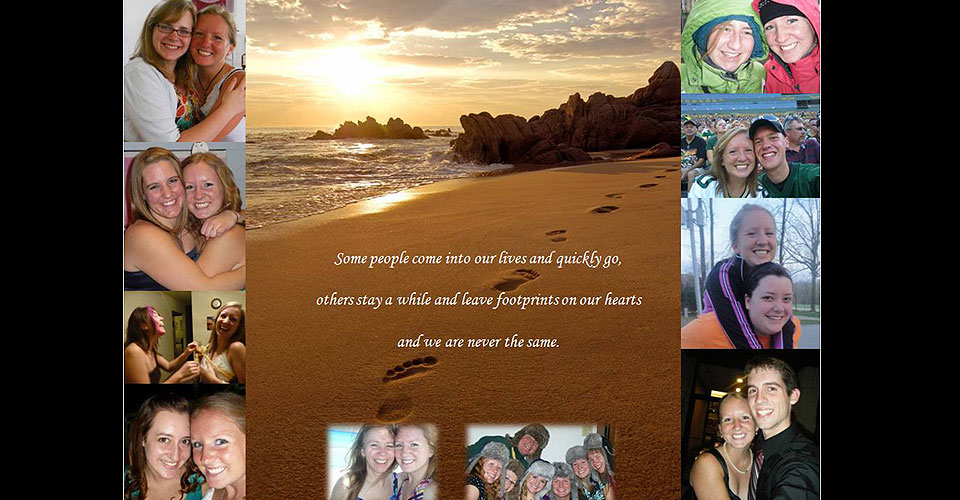 As I look back at the past few years at UW-Stevens Point, I wanted to find a way to creatively remember them all. So here is a toast to some of the best memories I have had while in college:
To grumbling stomachs
and Debot dinner dates,
where food is in abundance
and you must get multiple plates.
To running partners
and great conversations.
To raps and MB moments
and life-changing revelations.
To dirty pop dances
and frozen yogurt so good.
To hours downtown
and being so hood.
To deadly sledgehammers
and turbins so quirky.
To jumping off docks and
barely escaping the bus in Turkey.
To playing broomball
and learning to skate.
To being concussed,
but Winter Retreat was great!
To gingerbread houses
and building forts.
To prom dresses and Perkins
and carpet hairballs of sorts.
To floods in Point
and camping with friends.
To playing on playgrounds
because childhood never ends.
To bonfires and moosing
and koomcha attacks.
To doghouses and kayaking
and hammocks in packs.
To riding on lawnmowers
with two people on board.
To gassing it up in town
hearing the motor that roared.
To lamb intestines in Turkey
and a long car ride.
To playing 20 questions
and coats hung up high.
To building a church
and also a bench.
To gaining big strong muscles
while digging a trench.
To sleepovers and spa nights
with laughter and stories.
To bible studies and dances
and getting rid of worries.
To Easter Olympics
and learning guitar.
To intensive quiet hours
and jamming music in the car.
To guttural grunts and nostril flares
and much laughter and tears.
These are all the moments
that forever I will hold near.
To each of those people who I have referenced in the above words, thank you for leaving memories in my mind and a permanent mark on my heart. The friendships that I have found at this university are ones that will surely last a lifetime.
-Brittany
Brittany Melby is a senior at the University of Wisconsin-Stevens Point majoring in business administration and interior architecture.