Record number students make CPS Dean's List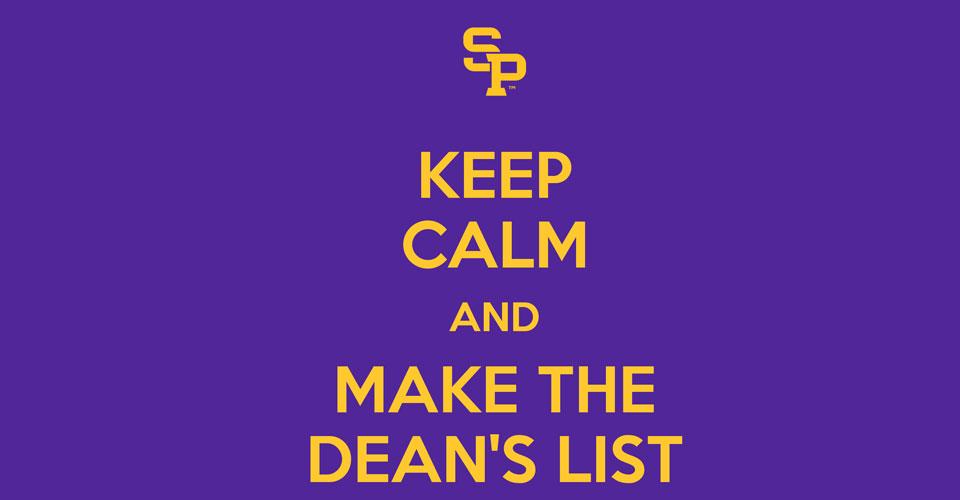 The most successful semester ever is in the books at the University of Wisconsin-Stevens Point as the College of Professional Studies Dean's List was announced. A total of 544 students earned a GPA over 3.75, including 152 with a perfect 4.0, to earn dean's list honors. Congratulations to all!
Dean's List by major (number of 4.0):
Athletic Training: 20 (4)
Accounting: 34 (9)
Business Administration: 65 (17)
Clinical Lab Science: 21 (5)
Communicative Disorders: 57 (13)
Dietetics: 36 (11)
Early Childhood Education: 25 (5)
Economics: 9 (2)
Elementary Education: 148 (50)
Family & Consumer Science: 28 (6)
Health Promotion/Wellness: 32 (11)
Health Sciences: 44 (11)
Interior Architecture: 18 (4)
Physical Education: 8 (1)
Pre-Nursing: 9 (3)
Special Education: 67 (21)

CPS Dean's List (* indicates 4.0):

Sarah J. Adams*
Paige P. Albrecht
Sara J. Andersen
Alaria A. Anderson
Bethany L. Anderson
Emily N. Anderson
Sandra K. Arvan
Miriam K. Asmus
Kathleen M. Ayello
Sara E. Babbitts*
Megan L. Ball
Adam J. Barg
Cally J. Baroni*
Emma C. Bartelt
Alyssa M. Barthel
Candice R. Bartlett*
Cierra L. Bartol-Byers*
Morgan M. Battenberg
Alicia Beard*
Lauren K. Bechle
Elizabeth M. Becker
Jessica F. Becker*
Arsen V. Bedzhanov
Kylie S. Behnke
Sarah E. Bernam
Amanda M. Biffert
Brooke L. Binder
Katherine A. Bitz
Maria L. Bjugstad*
Phillip M. Blair*
Kaitlin M. Blaney
Julia R. Blank
Arjen C. Blanker*
Talena R. Bliven
Alyssa A. Blume
Fabian M. Bogdan*
Heather J. Borchardt*
Rudy J. Botz*
Shelby L. Bowe
Ashlee A. Brager*
Jennifer A. Brandl*
Casey R. Bray
Alexander H. Breggeman
Alyssa A. Breu
Cassandra L. Bright
Stacy L. Brokish
Sarah B. Bromley
Joseph J. Brosig
Nicole L. Bruhn
Taylor N. Buresch
Sophie P. Burke
Eric M. Burmeister*
Jessica K. Burmeister*
Kelly Burns*
Palmer J. Buss
Brittany Busscher
Daniela Rosa Cabrera-Abarca*
Cassandra A. Caine
Gina F. Carrola
Erin P. Carter
Courtney M. Cerniglia
Marissa L. Christensen*
Amelia A. Cisewski
Abigail M. Clark*
Ashley Clark*
Kristin N. Cmeyla*
Chelsea F. Colebourne
Julia N. Colling
Erin L. Connell
Elizabeth M. Cooke
Lauren N. Cottrell
Kristin M. Counihan
Jessica J. Cox*
Jenna E. Crawley
Bridget F. Culbert*
David A. Curtis*
Katelyn M. Damro
Samantha A. Darm
Jordan M. Dassow
Alexsandra D. Davis
Allison N. Davis
Miranda J. Dawson*
Andrew K. Dax
Tiphany A. Day
Tyler A. Dayton
Danielle N. DePeau*
Casey M. DeRemer*
Amber N. DeWitt
Meagan M. DeWitt
Whitney R. Deicher
Jesse A. Deininger*
Jordyn M. Denzer
Brandon S. Desmet
Jamie M. Destache
Lily I. Dettle
Yesenia Y. Diaz
Evan Dixon*
Aaron J. Dodson
Hillary A. Drake
Adam D. Dreas
Julie M. Dressner*
Heather A. Dryfka
Katie R. Duff
Jamie L. Dunn
Kylea E. Dushack
Kirsten L. Eckert*
Kristofor M. Edwards
Alexis M. Effert
Ashley R. Eggert
Rachel C. Eggert*
Arielle E. Elms*
Caitlin E. Engel
Kimberly D. English
Kristin J. Epp
Katelyn M. Evraets
Adria Faciszewski*
Jamie J. Fechhelm
Michael A. Feiten
Alexandria C. Felton*
Alexandrea R. Fernstaedt*
Grace F. Firari*
Chelsey N. Fitch
Amanda M. Folz
Natalie R. Frank
Nicole M. Frank
Brad M. Freeborn*
Elise M. Frohna
Trina A. Fuehrer*
Colton Funk
Samantha M. Furman
Briley M. Gagnon
Collin P. Gaie
Sarah A. Gamillo
Wenyuan Gao
Juan Pablo Garcia-Lopez*
Mallory A. Garsow
Christopher R. Gee
Sidney J. Geldmeyer*
Elizabeth A. Gierczak
Casandra L. Giles*
Jordan R. Giordana*
Ivannia Gonzalez
Cally Gordon*
Alyssa N. Grams*
Danielle L. Graser
Kirstin A. Grimm
Mitchell R. Groeschl
Rebecca L. Grulke
Sarah C. Gulotta
Lauren E. Gurholt
Megan E. Gwyn
Christine C. Haak*
Stephanie F. Haegler
Camen J. Haessig*
Justin C. Hale
Zoe G. Hale
Shannon M. Hall
Kariann M. Haluska
Amanda C. Halverson
Natalie R. Halverson
Cody J. Hanick
Holly L. Hansen
Jana K. Hansen*
Nicole M. Hanson
Danielle R. Hartjes
Nicole M. Hartman
Mandi M. Hartshorn*
David M. Hebert
Brittany E. Heinz*
KylieJo R. Hill*
Alyssa R. Hingeveld
Courtney R. Hoffman
Serena R. Holdosh*
Ashley L. Holler
Kimberly A. Holtz
Kelsey A. Hooyman*
Andrew J. Hopfensperger
Michael J. Hovde
Tianni Huang
Mara N. Hull
Robert J. Ihssen
Lisa A. Ingels
Kacey D. Iwen*
Amanda J. Jacobson
Brandon Jaeger*
Megan C. Jammer
Kyle P. Jansen
Matthew W. Janssen
Sadie Jensen
Christine M. Jessen
Jennifer M. Jobke
Ashley L. Johnson*
Ashley R. Johnson
Kristin M. Johnson
Kyle P. Johnson*
Meredith E. Johnson
Tiffany L. Johnson
Sara L. Jungwirth
Matthew S. Jurasewicz
Anna C. Kaisler*
Kaitlin E. Kakes
Andrew J. Kalmon
Anne E. Kamstra*
Alycia L. Kania
Karissa D. Kautz
Jami E. Kay*
Megan M. Kees*
Nicholas A. Kielpinski
Micaela A. Killinger*
Ashley N. Kilmer
NamHoon Kim*
Amanda C. King
Alicia A. Kinnard
Benjamin J. Klaas*
Erin M. Klemm*
Charles W. Klopstein
Britni Knaack
Christina M. Knowlton
Kasey A. Koch*
Susan M. Kopf
Morgan M. Koth*
Stephanie A. Krautkramer
Susan M. Krcma
Shelby N. Kreeb
Thomas J. Kremer
Elle F. Kronberger
Katie A. Krubsack*
Benjamin J. Krueger
Brittany A. Krueger
Tyler J. Krueger
Mara M. Krumbein*
Seth D. Kuhn*
Kayleigh N. Kundinger*
Michael J. Kurek
Jessica L. Kurtzweil*
Anna M. Kurzynski
Maggie L. Kuski
Lovro Kuspilic*
Jared M. Kust
Jade Kutella
Zachary M. Kyhos
Christy L. LaGuardia
Nicole E. LaVoy
Kelsie S. Lally
Matthew T. Landolt
Kelsey G. Lang*
Benjamin T. Langton*
Jennifer G. Lanting
Juliann J. Lau*
Brian S. Lawrence
Addison E. Leigh
Eric L. Lemieux
Samuel P. Lemmer*
Alexa B. Lewin
Robin M. Lichon
Allyson N. Lindauer*
Jenna M. Littleberry*
Athena Lo
Caitlin L. Lockard
Megan M. Lockwood
David D. Londo*
Kelsey M. Loney
Megan N. Long
Emily M. Loose
Briana Loughan
Taylor J. Lucas*
Sarah R. Lynch
Keah S. Mach
Lindsay M. Macrander
Joe J. Maedke
Cassandra L. Magle*
Kelsey Majerus
Frank H. Malik
Michelle Mangal
Erin L. Mangin
Julie R. Martin*
Brandon M. Marx*
Brandon S. Matznick
Jennifer Maultra
Katie L. Maultra
Bailey A. McAllister
Harper R. McCauley*
Andrew J. McDonald
Shannon N. McGinn
Kathryn M. McNiel
Stephanie R. Meacham
Megan L. Meissner
Kimberly R. Mennen
Kelsey B. Mentek
Kaitlyn R. Merfeld
Brittany M. Merten
Kaitlyn M. Michiels
Brianna B. Miller*
Sara Mindt*
Saki Miyajima*
Jamie R. Moon
Hannah R. Morgan*
Katelyn Morici
Justin M. Moroder
Margaret M. Moroder
Rebecca T. Morrical*
Jennifer A. Morris
Laura M. Mueller*
Rachel A. Mueller
Beth M. Murkowski
Christian C. Murkowski
Amber L. Myszka
John T. Narel
Michelle L. Natzke*
Sarah E. Navarro
Carli E. Navin*
Katherine E. Nejedlo
Aaron J. Nelson
Brianna L. Nelson
Marki L. Nelson
Ashley L. Nemoir*
Diandra M. Nero
Heather L. Newman*
Kaitlin N. Newville
Jamie L. Nichol
Alexander P. Niznik*
Danielle M. Noland*
Elizabeth M. Norlin
Michelle J. Normington
Magdolyn N. Nowak
Matthew B. Nowak
Brianna M. ODell
Angela J. Obermeier
Laura A. Ogg
Seunghwan Oh
Alyssa M. Olp
Crystal D. Olson
Mindy M. Olson*
Sarah B. Olson
Patricia L. Ostrem
Rebecca M. Ostrowski*
Venessa J. Ostrowski*
Caitlin E. Palazzolo
Kerry A. Palmer*
Jack W. Pamperin
Stephanie L. Pankonen
Kassi R. Papendorf
Justine Parent
Corey R. Parris
Kelsey N. Paunovich
Carrie Pavlat
Richard A. Pavlat
Kelsie M. Pelzman
Arielle E. Penza
Adria L. Pernsteiner*
Rachel L. Peters
Casey L. Peterson
Gregory E. Petz*
Amanda L. Phillips
Dana M. Pieczynski
Brianna L. Piepenbrok
Justin M. Pilger
Rachel M. Platz
Chelsea R. Pomeroy
Bryce R. Pomplun
Rachel L. Popelka
Tara M. Pospeschil
Nicholas W. Prebelski
Joshua J. Raether
Ashley Rawlings
Ashley E. Recker*
Bailey R. Reed
Alexandra S. Reichenberger
Linzy M. Reinders
Leah K. Reineccius
Chelsea D. Richter*
Helena S. Riekena*
Claire S. Riordan*
Amy J. Roberts
Shawna L. Robinson
Heidi M. Rodich
Courtney E. Rogers
Claire G. Roggeveen
Stephanie K. Roland*
Andrew R. Rosik
Bryanna C. Rossmiller
Chelsea R. Roth
Ashley M. Rothmund*
Allison C. Round
Cassy A. Rusch
Miranda M. Sadowski
Cassandra E. Salmen
Stephanie N. Sandacz
Molly Santkuyl*
Gretchen E. Sauey
Lindsey L. Sauter
Madalyn R. Sawdey
Nicole M. Schaub*
Bradley J. Schaufenbuel*
Elizabeth R. Scheuers*
Ryan R. Schilter
Brenna L. Schladweiler
Ashley M. Schmidt
Brittani L. Schmidt
Tara A. Schmidt*
Leslie A. Schmidtke*
Katherine M. Schmitz
Kendra L. Schmitz
Kimberley R. Schneider
Staci Schneider
Lindsey N. Scholl
Hannah E. School*
Megan E. School*
Jordon Schreiner
Steven Schroepfer
Alicia M. Schueller
Jordyn L. Schwartz
Emily A. Seegert*
Adam M. Seehafer
Emily A. Seep
Emily M. Serena
Amanda M. Servey
Nicole A. Shepard
Yeon Soo Shin
Katie L. Shulfer
Tessa P. Siegfried*
Sallyann Siira
Kylie M. Simonson
Abigail Siok
Elizabeth A. Slovensky
Hannah N. Smith*
Rachel A. Smith*
Stephani L. Smith
Taylor S. Smith
Steven J. Smongeski
Katelyn S. Smrecek
Amy I. Snyder
Allison R. Solum
Jordan Sorenson
Hannah M. StAubin
Jennifer L. Staeven*
Scott M. Staszak
Daniel M. Steen
DeAundra M. Stehle
Shelby R. Steinke
Kyla J. Stellpflug*
Elizabeth M. Steward
Kimberly M. Stieber
Elizabeth M. Stommel
Taylor N. Strane
Taneal M. Strassburger*
Braeden D. Sucharski
Tori K. Suhs
Shea E. Sumnicht*
Rachael A. Switzer
Alexia Szabo
Carly D. Szczerbiak
Zachary W. Szprejda
Emily M. Szutkowski*
Kalli L. Talaska
Kyle S. Tamboli*
Kody L. Taylor
Matthew J. Theisen*
John C. Thiel
Shayna L. Thomas
Brittany N. Thorne
Nichole L. Thorne
Allyssa A. Tinsman*
April M. Tritz*
Myranda M. Tyler*
Sam J. VanAlstine
Lieah VanGompel*
Rachel VanHammond*
Luke S. VanHandel
Sarah E. VanOrder
Kayla R. VanVeghel
Chelsea R. VandeHei*
Julia R. VandeHei*
Meagan A. VandeVen*
Herh G. Vang
Anna G. Vaughn
Emily M. Verbeten
Kristin M. Verhagen
Fredrick M. Vermeern
John D. Voet
Sarah N. Vogel*
Amy V. VonHolzen*
Kirsten T. Voss
Haley L. Vosters
Shelby J. Votis
Adam M. Vraa
Mika Vuckovich
Kalia Vue
Sarah E. Wald*
Daniel Wall
Maggie M. Wallace
Allison E. Walsh*
Tianna L. Wandsnider
Ying Wang
Dustin A. Wanta
Whitley A. Warrenburg*
Marissa Warzynski
Susan K. Washebek
Emily D. Watkins
Jamie L. Watry
Tabitha R. Weeden
Anna R. Weisbrod*
Dan L. Weltzin
Tanner P. Wenzel
Reese M. Werner*
Joseph M. Weyenberg
Brianna K. Weyers
Jessica A. Wickman*
Sheree R. Wilichowski
Jaimie R. Willhite
Angelina M. Wilson*
Danielle J. Winter
Lauren J. Wirsbinski
Elizabeth Wirth*
Rachel M. Wisniewski
Jeremy A. Witkowski
Jacob P. Wittig
Jordan T. Wittmann
Tanya S. Woelfel
Michael C. Woelky
Jensen L. Wohlgemuth
Kali J. Woldt
Joann L. Wolfenberg
Lisa M. Wolosek
Hannah M. Wuest
Natalie J. Wuest
Christina L. Wyttenbach*
Claire M. Wyttenbach
Sijia Xiang
Mynah Xiong
Ta Xiong
Bernadette P. Yang
Amanda R. Yenter
Marilyn M. Yenter
Dayleen S. Yoerger*
Michelle L. Yourich
Amber L. Zaddack
Abigail L. ZarzaReyes
Janelle Zebro*
Amanda M. Zellner*
David R. Zettler
Aric J. Zondlo
Amanda M. Zygarlicke
Collin F. Zynda

Students may major in multiple programs.