NISE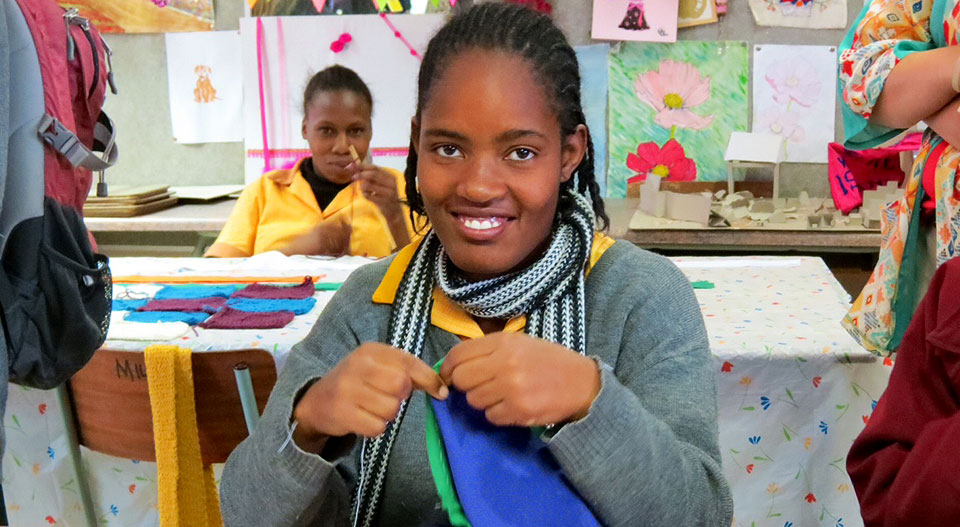 For the past 20 days we have been working within the School for the Visually Impaired. Over the duration of this week we were able to tour Moreson, the School for the Mentally Impaired, and the School for the Hearing Impaired, all incorporated under National Institute for Special Education (NISE). These three special schools are all located within walking distance from each other, yet they seem to be disconnected in communication, resources and discipline.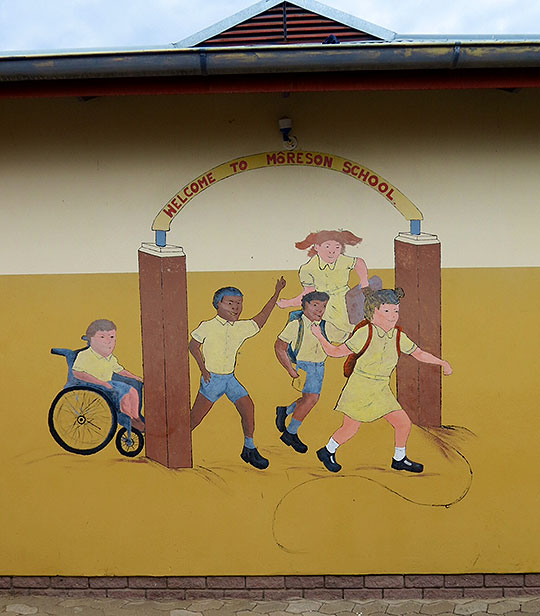 We visited Moreson on Tuesday and were first shocked at the amount of color on the buildings and the amount of foliage on the premises. Learners were outside playing an organized soccer-like activity while others greeted us with hugs. As Moreson is the School for the Mentally Impaired, we saw students with Down Syndrome, Autism and other students of various cognitive abilities. The curriculum is based more on functional life skills and vocational studies. Their "grade" levels are split in regards to the type of skills that are taught at each level. For example, there were basic levels, junior levels and senior levels. We were able to visit an arts and crafts vocation class where learners were mastering needle point, knitting, sewing, beading and weaving. They are training to start their own business and even sell some of their artwork they create in class. We are headed back on Tuesday to buy some of their beautiful and personal creations. I met an incredible learner who was beading the steams of serving spoons and knives. She explained the process of picking out colors and types of beads and how she completed a set with four utensils. We were also able to tour the section of classrooms designated for students with Autism. This room was secluded from the rest. These learners are focusing on routine and functional skills such as cooking, cleaning and self care as part of their curriculum.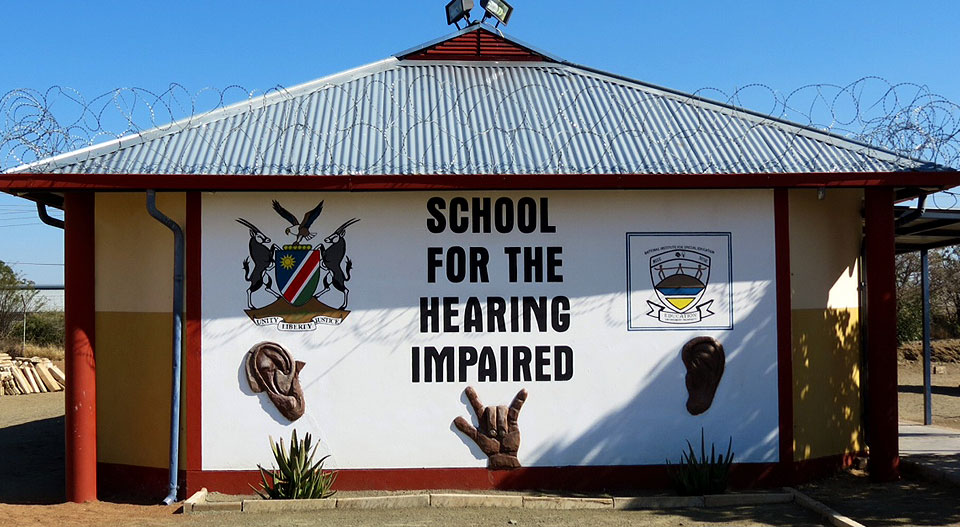 One of the most touching moments of my trip came on Wednesday when we visited The School for the Hearing Impaired. The new Center for Deaf Communication at the front of the NISE grounds was a multimillion dollar addition. The school started with only four learners and over the duration of 19 years, the school has grown to more than 120 learners. Again, we were floored by the murals on the walls, colors and resources within the classrooms, and specific to this school, the silence. A unique feature that was apparent right away was the carpeted classrooms from floor to ceiling. The carpet absorbs sound as many learners wear hearing aids.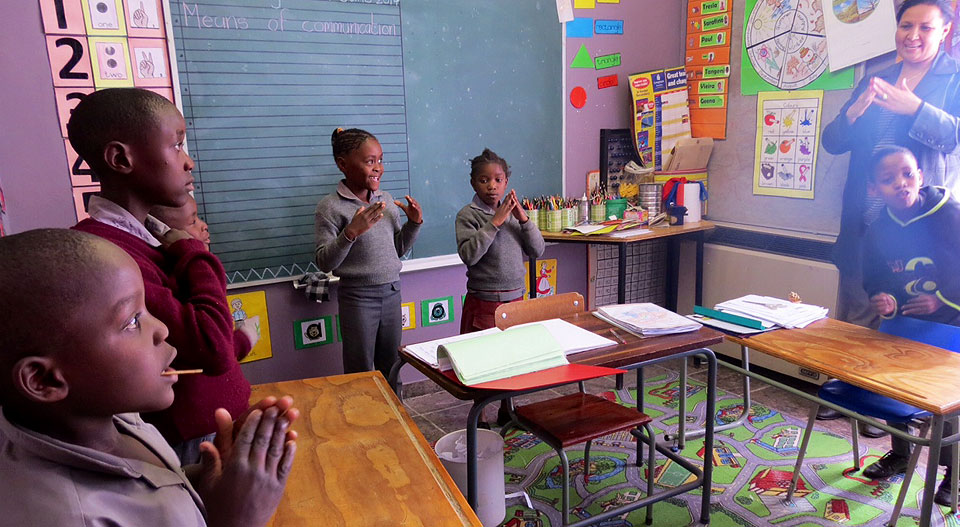 We visited pre-primary classrooms and, what they call, basic education classrooms where the students were taught through their eyes via sign language. The signs here are different than American Sign Language (ASL) as they use sign language specific to Namibia. The sign language is apparently closer to Australian Sign Language! We got to enter a classroom where the learners are learning hair cutting and styling skills. There were even salon sinks, mirrors and mannequins! These students shared their sign names with us by first spelling their names in letters and then demonstrating their designated signs. Each student and teacher has their own unique sign personalized to them. You are given a sign name based on a first impression, often a physical characteristic. The first letter of your name is included as well. We were surprised and touched when the students requested to give us our own sign names! We were warned that they are painfully honest and don't hesitate to find a physical characteristic unique to you in order to give you a name. Each one of the UW-Stevens Point students stood in front of the class of learners and was given a sign name … very accurately if I do say so myself. When it came to my turn, the learners debated and this resulted in two sign names! One is sweeping my right hand over my eyebrow and then forming the letter "T" with the top of my thumb touching the middle of my bent index finger. The second sign was a brush of my chin and then the same letter "T." Apparently they noticed my eyebrows and chin first! Hilarious but very precious. Other UWSP students were named for their hair, earring placements and even first impression attitude! It was so interesting to see the observant nature of these leaners. They notice small characteristics and even demeanours … but each name is meaningful.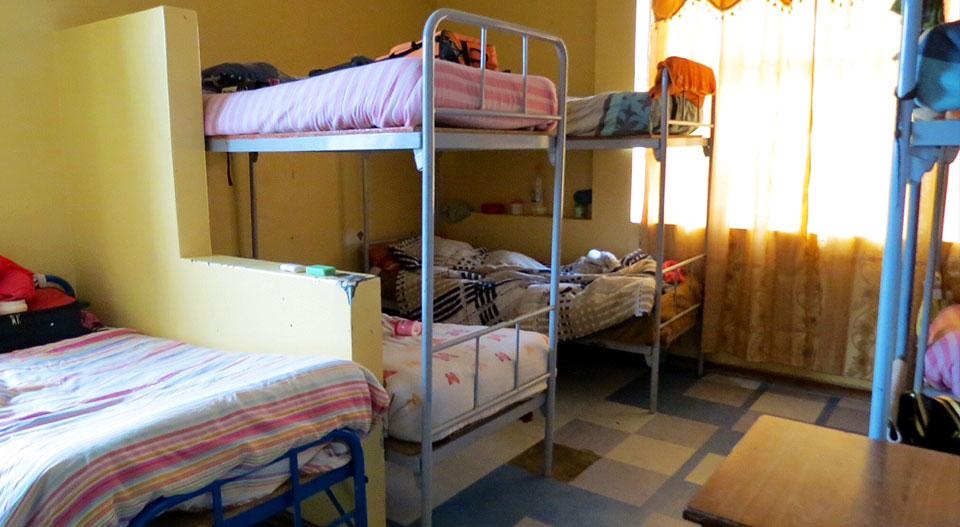 We viewed the single kitchen that serves all three meals for every school for every student that stays in the hostels. We have been wanting to view the hostels in our facility for quite some time now, so we finally got to see where our learners live. The hostels include a community eating space, a small community bathroom and crowded rooms full of dozens of bunk beds. Each learner has their own bed (either a top or bottom bunk) and cabinet area. The hostels are managed by matrons who sleep in their own rooms on the grounds. For the vast majority of the students that go to school at one of the NISE schools, the hostels are where they remain for most of the year. There are out-weekends and breaks but most students don't have another home in which to go home, as mentioned in a previous blog post. Marillize, the kindhearted principal of The School for the Visually Impaired, has extended the reach of her school and hostel to help students in bad home life situations to ensure they have food, shelter and education.
As a final thought, I am most concerned for the students at The School for the Visually Impaired. They sadly seemed to have the least amount of supplies and the least amount of discipline. Some students do have vision and can see materials and colors in the classroom. If the rusty playground equipment found at our school, in comparison to the extensive colored wooden playground set found otherwise in NISE, isn't an indicator of the lack of support and supplies, I don't know what is. It was evident that the teachers at the other two schools truly care about their schools' successes and are passionate about their role in the learners' lives. Just the way they encouraged their learners, by touch, sign, or support showed that they are dedicated. In contrast, I have been frustrated by the lack of teacher involvement at The School for the Visually Impaired. These teachers leave their classrooms for extended periods of time, are absent from school for multiple days in a row without finding substitutes, or sometimes sit in the back of their classrooms without teaching a single subject for the day. Marillize has tried to instill motivation into these teachers with little luck. Without government or ministry support, she is struggling to increase the standard of teaching. It is frightful to think of what happens when we are not here to teach in classrooms without teachers or take over with lessons we have previously prepared. We have been informed that many teachers here teach for a paycheck and nothing more. However, there are a select few educators that are determined to help their students succeed. They take the time to learn Braille and how to de-Braille, include and accommodate students with total blindness in their classrooms, and show positive reinforcement and pride in their learners. I feel that the lack of teacher and parental involvement is causing the lack of discipline and chaos found at The School for the Visually Impaired.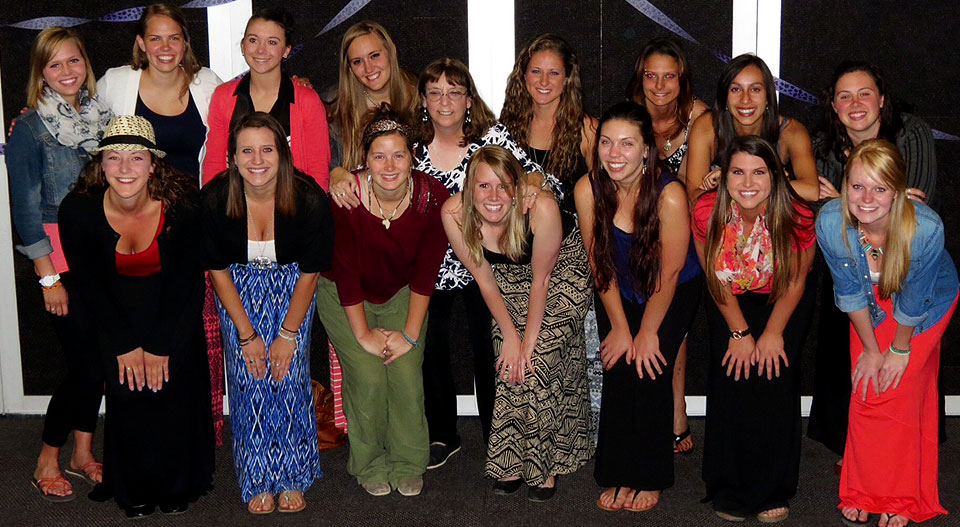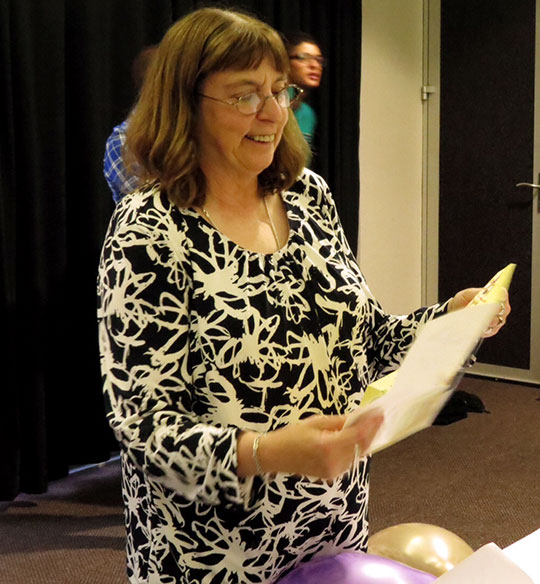 On a positive note, our surprise birthday extravaganza for Professor Caro was a complete success! We rented and decorated a banquet hall for the night, had dinner catered and all bought Patty a beautiful bowl she has been eying this whole trip! We lured her to the banquet room on her way to dinner where we all awaited her arrival. Gustav, Marillize and their family attended as well. She deserves a wonderful and special day full of all the love and support she shows us on a daily basis. We are incredibly lucky to know such an inspiring women with a heart of absolute solid gold. Arebbusch even supplied us with a cake. Happy 64th. Birthday, Patty!
"Today be thankful and think how rich you are. Your family is priceless, your time is gold, and your health is wealth."
-Taylor
Taylor Buresch, a senior special education major with minors in cognitive disabilities and Spanish, is blogging about her study abroad experience in Namibia, Africa.