HPW Internship: Ridge to Reef Farm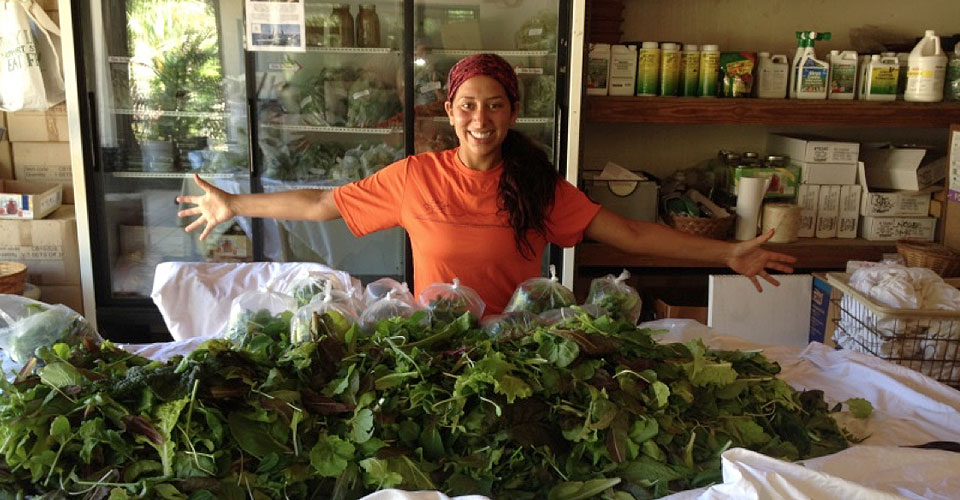 HPW Student Internship Experience – Elissa Albert 15′
As an intern at Ridge to Reef farm I came in knowing next to nothing about how to farm. With eagerness and excitement, Farm Manager Andy Pac showed me the way. I began week to week shadowing one of the five farm hands and learning their part to the big production of producing the only organic produce and fruit to the community of the Virgin Islands. I started by learning the daily chores and needs of the animals by feeding and watering them every morning, letting the sheep and chicken out of their pens to roam free for the day and graze, and lastly putting the animals back in their pens at the end of the day. I saw first-hand free-range animals and I was happy to be a part of that. I then learned the process of where all our plants begin…in the potting shed and in the greenhouse. I learned when to plant (according to the moon calendar we followed) and how to plant each crop (spacing, depth etc.). We make our own organic soil at Ridge to Reef which I began making as well to use to plant the seeds in. Next, I shadowed the CSA and Marketing Coordinator for a week to learn how to clean, process
and package all of our fruit and produce. I saw where all our produce goes to: individuals and families on Saint Croix, as well as shipped off to Saint Thomas and Saint John. I helped run our two markets for the week and met locals of the island. Here I got to use the knowledge I learned of marketing in the community and was happy to be comfortable at public speaking as I used that skill a lot. Lastly, we have
a second property where we get almost all our fruit from, a 40 acre orchard of fruit trees. I learned how, when, and where to pick fruit from the fruit trees. Fruit such as bananas, longneck avocadoes, a variety of different mangos, genips, September plums, passion fruit, coconuts, and papaya. After I learned all the different pieces that make up Ride to Reef organization, I continued my days by filling in wherever
was needed. Typical day looks like the picture above, where the whole farm crew is up at 6:30am to transplant our squash seedlings into a fresh bed before the sun gets too hot and dries up the nice soil. In the background of the picture you can see the tiller because the bed was first tilled, than irrigated, then ready for planting. This would take an hour or two. I would continue by cultivating beds that were in need, cutting down moringa to feed the animals, or prepping new beds to plant in. Each day was filled with manual labor and hands on problem solving and learning.
Objectives
Behavior:

Participate in all aspects of farm production and maintenance including weed management, pest and disease management, harvesting, post-harvest handling,
irrigation, greenhouse propagation, seeding, transplanting, composting, animal caretaking and producing value added goods.

Promotion and Marketing:

Assisting with CSA operation: harvesting and packing CSA shares, staffing the CSA pickup
sites.
Selling and promoting produce at markets.
Working at the V.I. Locally Grown Market. Working at the market and CSA pickups requires longer hours and days – while it is an additional time commitment, it's a great
opportunity to learn how to interact with customers, meet locals sell produce at market and gain experience in accounting and management.

Organizational Experiences:

Work with supervisor to organize basic building projects and maintenance.
Work with supervisor on volunteer management.
Clean and organize farm.
On-Site Supervisor
Edward Andrew Pac III
Farm Manager
Ridge to Reef Farm
#1 Creque Dam Farm Road 2903
Frederiskted, VI 00841
beansandcorn@gmail.com
352-226-4402
Hours
400 hours total, 40-50/week
Stipend
Compensation includes rustic accommodations (valued at $450 per month) and use of the community center and bathhouse, including kitchen (propane stove), wireless internet, phone, hot showers and flush toilets. We also offer access to fresh, organic food including seasonal produce from the farm, and kitchen staples (rice, beans, flour, sugar, etc). Wireless Internet, propane stove, refrigeration, and solar power are available at the Community Center (Food and services valued at $250 per month). When I arrive, I will stay temporarily in a cabana, with running water and electricity, until a more permanent accommodation is agreed upon.
UW-Stevens Point Students Who Completed Internship
Elissa Albert, Fall 2015 (pictured above)