Almost There …
Pointers!
Fall semester has come and gone. I have so much to catch you up on; let's get started!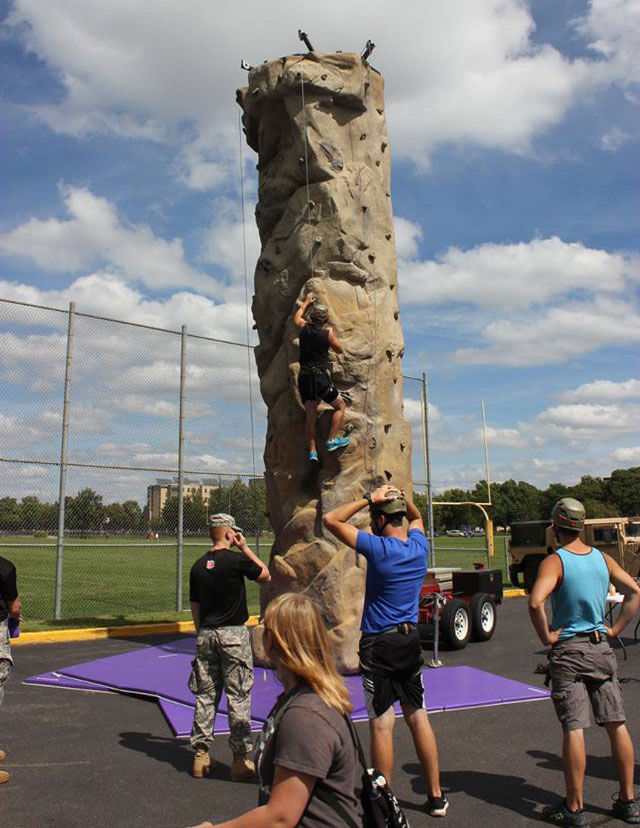 I was in charge of setting up and running Warrior Challenge during Welcome Week. It was a huge success. We had a rock wall, a HMMWV (High-Mobility Multi-Wheeled Vehicle) pull, a pull-up competition, and a station where people can learn more about ROTC.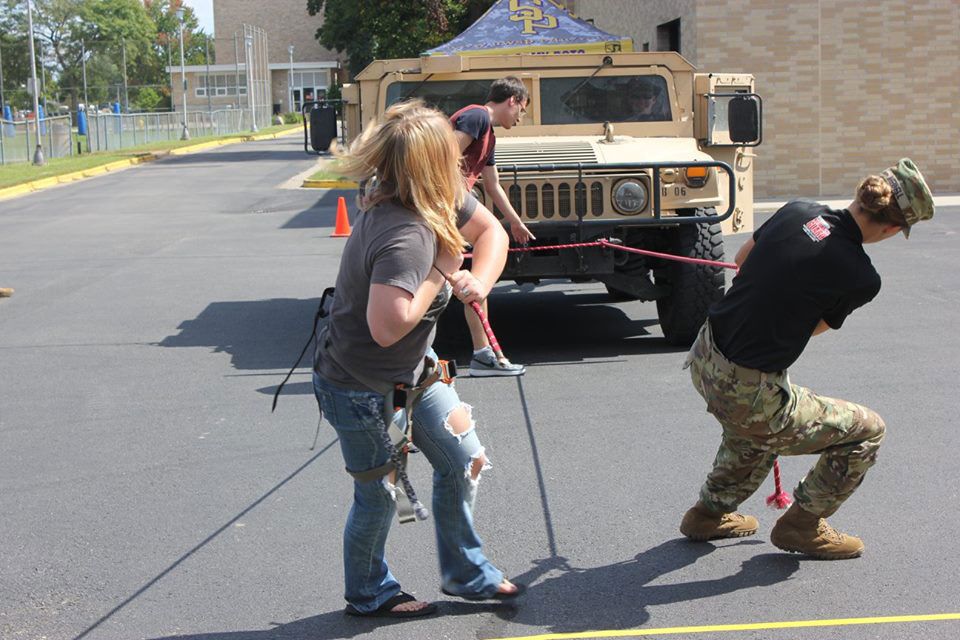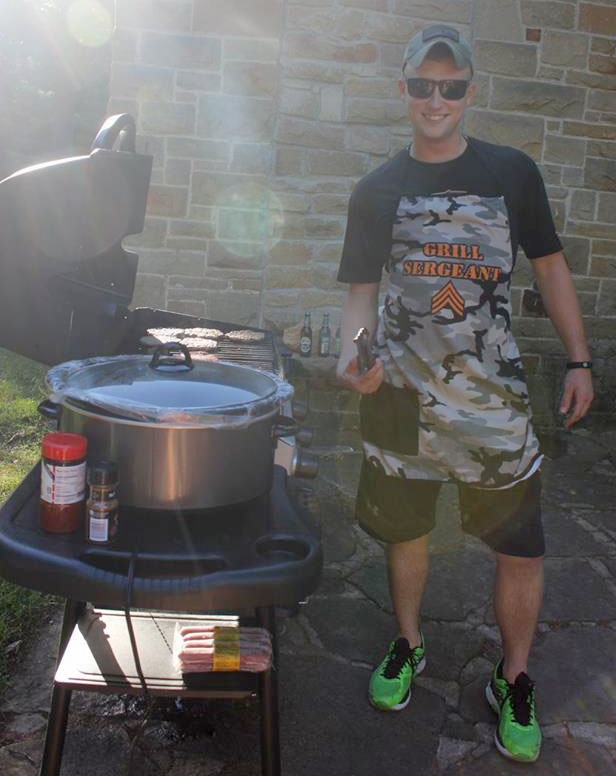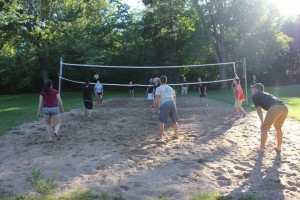 Next we had our yearly Welcome Back picnic. This is where everyone gets together to catch up after summer break. We cook brats and burgers, play volleyball, and get to know the new students considering joining ROTC.
Then we had our Fall LTX (Leadership Training Exercise). This is where we invite students enrolled in the MSL 101 and MSL 111 class to spend a day in Ft. McCoy and challenge themselves physically and mentally while getting to know their classmates. Here students go through obstacle courses together, play paintball, and finish the day with some pizza!
Next up was Homecoming. We partnered up with the Veterans Club and the National Guard and had an LMTV (Light Medium Tactical Vehicle) in the parade. The spectators loved it. We were able to throw out candy and join together with other organizations. It was a lot of fun!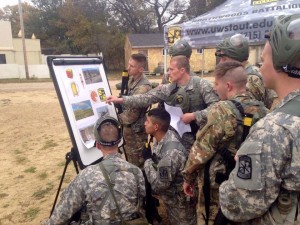 That same weekend, the UW-Stevens Point ROTC Ranger Challenge team made its way down to Ft. McCoy where they competed against 14 other teams in many different areas: One rope bridge, a medical/first aid course, a physical challenge, a call for fire, a 14-mile ruck march, a 100-question test checking general Army knowledge, and a weapons challenge. UWSP's team came in 8th out of 15!
We celebrated Halloween with our annual Costume PRT (Physical Readiness Training) …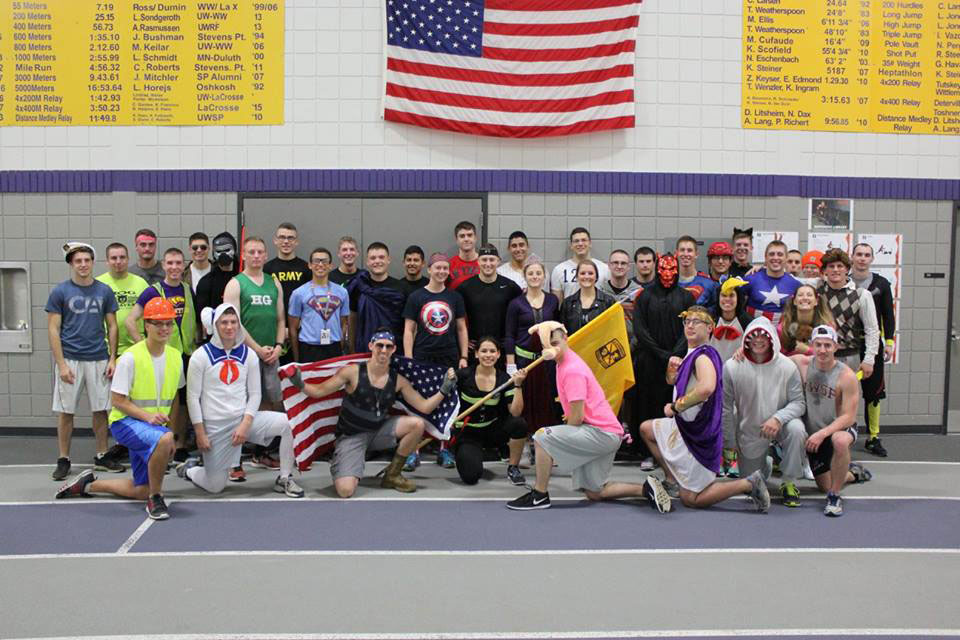 Finally, we had our annual Dining In. A "Dining In" is a military ceremony for members of a unit which includes a dinner, drinking and other events to build unit cohesion. The UW-Stevens Point Dining In consists of a dinner, humorous class videos, a grog bowl (nonalcoholic), and competitive games.
The grog bowl is a custom that varies greatly among organizations. UWSP uses the grog bowl for the purpose of building cohesion among the cadets and cadre of the Pointer Battalion. MSIV cadets (seniors) pick an ingredient that represents something, which they then add it to the grog. For example: one could add an energy drink for all of the energy required to complete all of the training for ROTC.
Typically the ingredients lead to an unpalatable concoction, which individuals are called upon to sample for various reasons. Each ROTC class samples the grog at least once. Individuals can be called upon to sample the grog if they break the rules of the mess. These rules include such things as dressing incorrectly and consuming your food in an unpleasant way. The night is always memorable and a fun way to get to know each other a little more.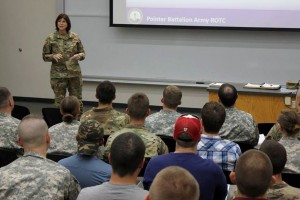 We had our first semester with our new PMS (Professor of Military Science), LTC (Lieutenant Colonel) Rochell Maier. She has been an amazing asset to our battalion so far. She brings many years of experience and advice with her. She has been a perfect fit in our program and we appreciate all of her hard work and dedication so far.
I had my last first day of college, which is a crazy thought. I am no longer the PAO (Public Affairs Officer) for ROTC, I was selected to be the CSM (Command Sergeant Major). So now, instead of taking everyone's pictures, I make sure that they look good and are within standards for the pictures. One more semester and I'll be thrown into the real world.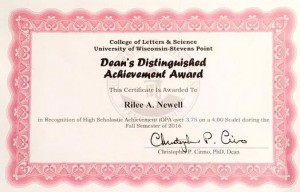 I was able to finish fall semester with high honors, I made my way onto the Dean's List, and I found out that I will be graduating with honors! I was selected to commission into the Ordnance Corps upon graduation and I will be attending five months of training in September. I have decided to hold off on graduate school or any further academic training until I have completed my military training. Plus, I'm still on the fence about what I actually want to do for a career … any suggestions?
My winter break was pretty average. I took two online classes and worked a lot. Ryan and I took a weekend mini-vacation to the Mall of America and had a blast. Other than that, I took a lot of time to focus on me and my well-being. I did a lot of working out and yoga. Although I would have loved to have spent my time sitting on a beach, I loved every minute of my winter break.
Sorry the semester wrap up took so long, it's been a busy senior year so far! Stay tuned, I'll post an update around mid-semester.
Until next time! Pointers Lead the Way!
Cadet Newell
Rilee Newell is a cadet in the UW-Stevens Point ROTC program. She is majoring in sociology with an emphasis in deviance and social control with minors in military science and peace studies.