HPW Internship: Sheboygan Area School District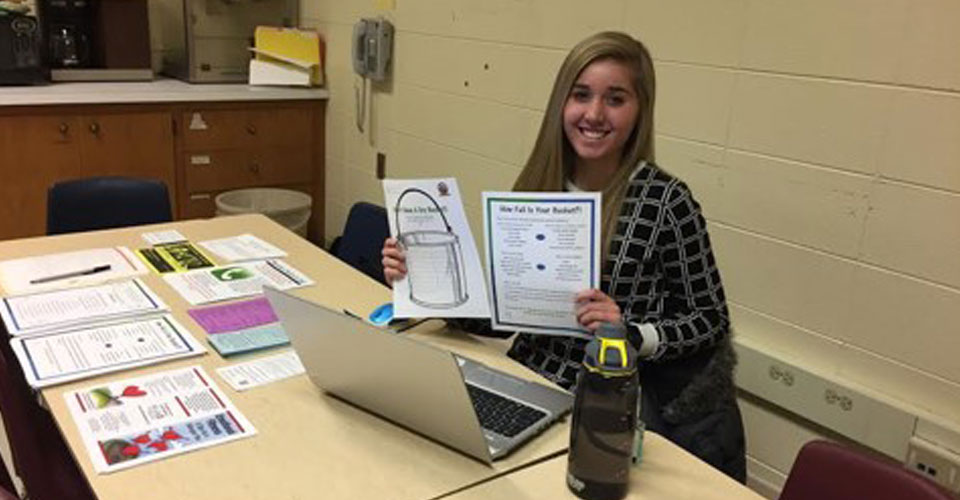 HPW Student Internship Experience – Celina Romenesko 15′
Interning at the Sheboygan Area School District (SASD) was a great experience. I met with many people while interning to see what their jobs and their duties were like so I could put a better fit behind my own degree. I made many bathroom readings that my supervisor still uses today. I also made many "weekly challenges" for a weight loss program. Some of those challenges includes: no fast food, no alcohol or soda, and getting 7-8 hours of sleep in a night, but many more. I also attended many meetings with my supervisor about the community help she was a part of like the well county campaign. But my main project was making an online nutrition program that the employees could
watch and participate in for wellness points. The wellness points was the main reason watched the videos, it helped lower their insurance premium. This program could be done on their own time, in their own homes and only needed internet connection and a form of technology to watch videos. This website I used (www.edpuzzle.com) would stop the video and make the "student" or the employee, answer the question. I could then see how each person did from their progress portion. The picture on the right is myself talking with one of the employees about the nutrition program, she had a few questions on how the quiz questions popped up during the video, so I showed her how to use it and she ended up really enjoying the video as well as learning basic information about nutrition. The picture on the left was another project I was able to join in on. We had marketed a cancer crusade walk/run to raise money for the Sheboygan county cancer care fund. I sold raffle tickets as well as "in memory of" options. It was really nice talking with people who have survived through hard times, or hearing of the wonderful memories of people that have passed due to cancer.
Objectives
1. Able to create at least one specific wellness program based on SASD Health Risk Assessment data from start to finish including but not limited to creation, planning, marketing, implementation, & evaluation of the program developed.
2. Understand the day to day activities of a wellness coordinator including but not limited to health coaching, health promotion, education & outreach.
3. Gain an appreciation of the scope of wellness from a community perspective and the role of the wellness coordinator in the community.
Behavior:

Educate employees on stress management by:

Under the supervision of the Wellness Coordinator, I will develop a challenge to promote and educate healthy ways to manage stress for the month of March for SASD employees, carry it out (including marketing), and evaluate the effectiveness of the program administered.

Observe and assist the Wellness Coordinator in individual sessions with employees such as health coaching and resource sharing.
Attend Healthy Sheboygan County Activity and Nutrition Coalition meetings and SASD wellness meetings.
Educate the employees on heart health.

Promotion and Marketing:

Under the supervision of the Wellness Coordinator, working with the printing department, and the budget, I will create a professional tri-fold with information on the SASD Wellness Program. Areas of information include but are not limited to nutrition, physical activity, stress management, etc.
Under the supervision of the Wellness Coordinator, I will create the monthly newsletter, for February (Heart Month), that is sent to all the employees. Providing evidence based information, helpful tips, and trivia.

I will also provide other information for the other month's newsletters

Organizational Experiences:

Visit SASD Interra Health on-site clinic to gain an understanding of the day to day operations & how this clinic saves health care dollars while encouraging employees the importance of preventative care.
Visit the SASD Interra Health on-site clinic to observe the roles of the health coach and personal trainer.
Accompany the SASD Wellness Coordinator on school visits to observe and experience the culture of SASD.
Attend the Healthy Sheboygan Well County Participant meeting.
Learn more about the SASD Employee Assistant Program.
Learn more about budgeting and marketing within the SASD wellness program.
On-site Supervisor
Jeri L. Dreikosen, RN, BSN, CWWPM
EAP and Wellness Coordinator
430 Virginia Ave
Sheboygan, WI 53081
jdreikosen@sasd.net
(920) 467-6713
Hours
Working no less than 25 hours a week for 16 weeks.
Stipend
$1000
UW-Stevens Point Students Who Completed Internship
Haleigh Kaiser, Spring 2017 (pictured above)
Celina Romenesko, Fall 2015