Reynolds presented 2020 WSHA President's Award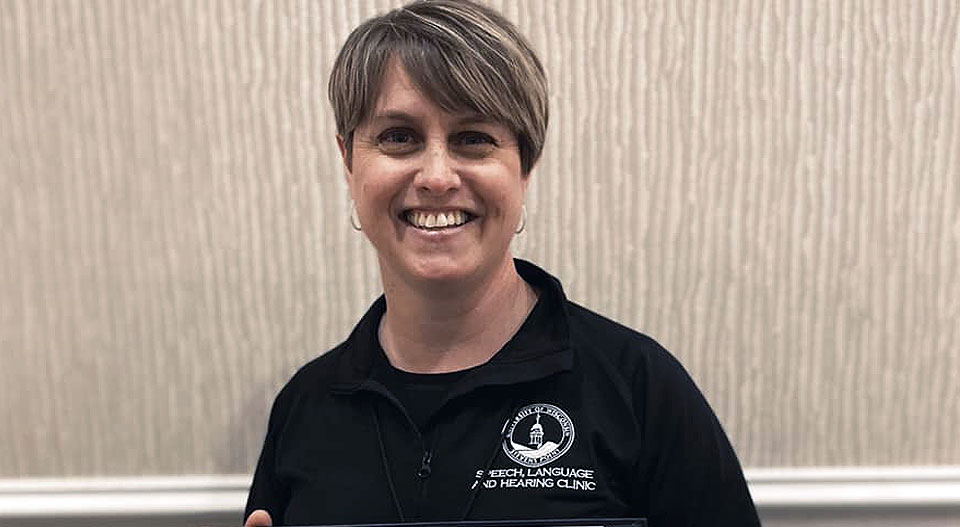 In honor of her extraordinary support, leadership and service, University of Wisconsin-Stevens Point Clinical Assistant Professor of Communication Sciences and Disorders Sondra Reynolds was presented the 2020 President's Award at the annual Wisconsin Speech-Language-Hearing Association (WSHA) Convention on Feb. 29 in Pewaukee.
Reynolds has been a part of the WSHA executive board for the past eight year, including a stint as WSHA's president from 2015-17. She currently is serving as past president and chair of the convention planning committee.
An alumna of UW-Stevens Point, Reynolds '96, '99 also serves as the coordinator of the undergrad program in the School of Communication Sciences and Disorders and the director of clinical services-speech and language pathology. She also served as
The mission of the Wisconsin Speech-Language Pathology and Audiology Association (WSHA) is to provide leadership and support for speech-language pathologists, audiologists and speech, language and hearing scientists in Wisconsin through advocacy, education and public awareness.