UWSP School of Business and Economics Internship Expo – Summer 2021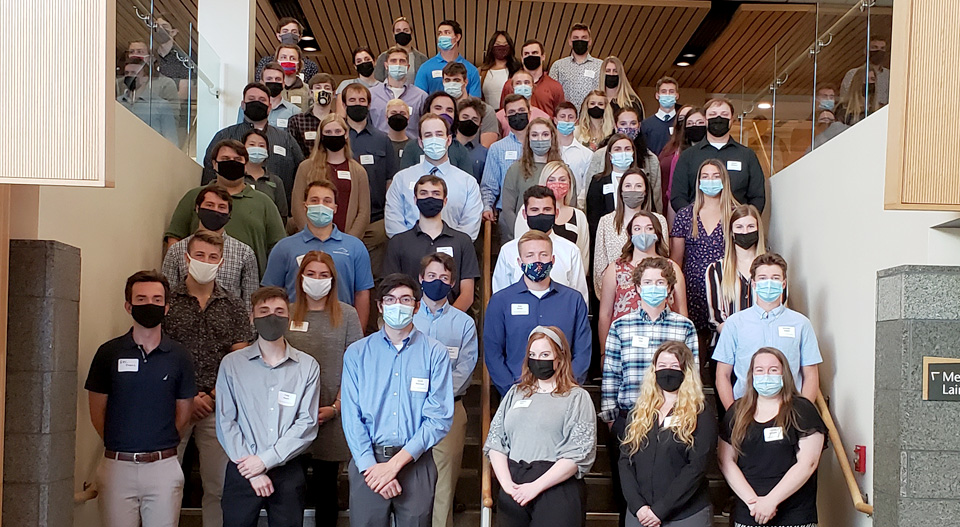 After a 21-month in-person hiatus, it was well worth the wait to return to the Laird Room for 65 summer interns from the UW-Stevens Point School of Business and Economics. The largest group in program history presented about their experiences during an in-person SBE Internship Expo on Sept. 29, 2021.
The last time the event was held in person was in December 2019, with two virtual expos since then being held since then.
The event is an effort from the Anderson Classroom to Career Center and made possible thanks in part to a $1 million gift from Keith '85 and Tammy Anderson. Keith joined the event via Zoom from Virginia to provide inspiration to all.
Interns shared about what their duties were, what they learned, how courses prepared them and more. Placement of internships ranged from small family-owned accounting firms to insurance corporate headquarters; some were remote while others attended in-person.
SBE students are required to complete an internship before graduation–many complete more than one. These experiences create opportunities for growth and the development of new skills, and over 65% of our interns are getting job offers are a result of their internships.
Photo Album | Flippingbook Program
SBE Internship Expo Program Summer 2021
Special thanks to our internship supervisors who help our students learn so much outside the classroom:
Antigo/Langlade County Chamber
Aqua Finance Inc
Assembly Shop
Associated Bank
AZ Sun Services
Bergstrom Automotive
Bethany Home Inc
Buckle
Camp Nashoba North
Church Mutual Insurance Company
Corporation for Advanced Application
Country Visions Cooperative
D&M Flooring America
D1 Training Stevens Point
Dave's Sheet Metal
Drexel Building Supply
Dunkin' Donuts
Eastern Living Real Estate
Elite Realty Tream
Elite Team Wisconsin BJJ
Endries International
Enterprise Rent-A-Car
Good News Project
Harbor City Charters
Holiday Shores Marina/Campground and Resort
IncredibleBank
Integrity Tax Service
Intercity State Bank
K/M Sales and Service
Kocourek Chevrolet
Marion Body Works
Menards
Metro Market
Milwaukee Milkmen
Northwestern Mutual
Omernik & Associates
Prevention Genetics
Redman Realty Group – JKP Real Estate
SACO AEI Polymers
Schneider National
Seagrave Fire Apparatus LLC
Sentry Insurance
Sheet Piling Services, LLC
Simplicity Credit Union
Ski's Meat Market
Skyward
Stevens Point Orthopedics
Storm Elite Allstars
Superior Block Co., Inc.
TDS
Tevera
The Baker House
UFP Janesville
Urbans Greenhouse
UWSP University Centers
Vancouver Whitecaps FC L.P.
Water Monkey Camp
Westphal Staffing
World Music Foundation