UWSP Science Education, local teachers team up with UWM WInSTEP Program to study earthworm movements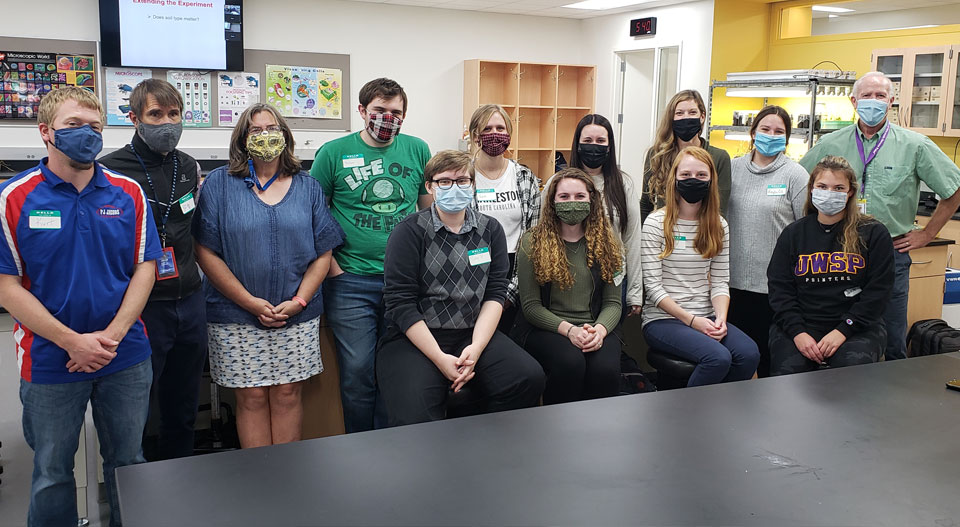 A group of 10 University of Wisconsin-Stevens Point pre-service teachers and three science teachers from Ben Franklin and PJ Jacobs junior high schools recently participated in a two-day training session alongside professors Perry Cook and Krista Slemmons as a part of the Wisconsin Inquiry-based Scientist-Teacher Education Partnership (WInSTEP) program with UW-Milwaukee. [View Photos]
Participants completed the first module of the WInSTEP program, "The Nerve and Muscular Basis of Earthworm Movements: Effects of Physical and Chemical Environmental Agents," where they studied controlled neuromuscular activity in earthworms, then made comparisons with worms exposed to various environmental agents.
This group will next have an opportunity to participate in a scientific conference this spring where over 400 high school and middle school students will present their research. The teacher participants will start implementing these modules in their classrooms this winter and our pre-service teachers will have an opportunity to assist them during their pre-clinical experience. Pre-service teachers who choose to continue to participate in the program will receive supplies, training and workshop opportunities to implement module with their students during their first year of teaching.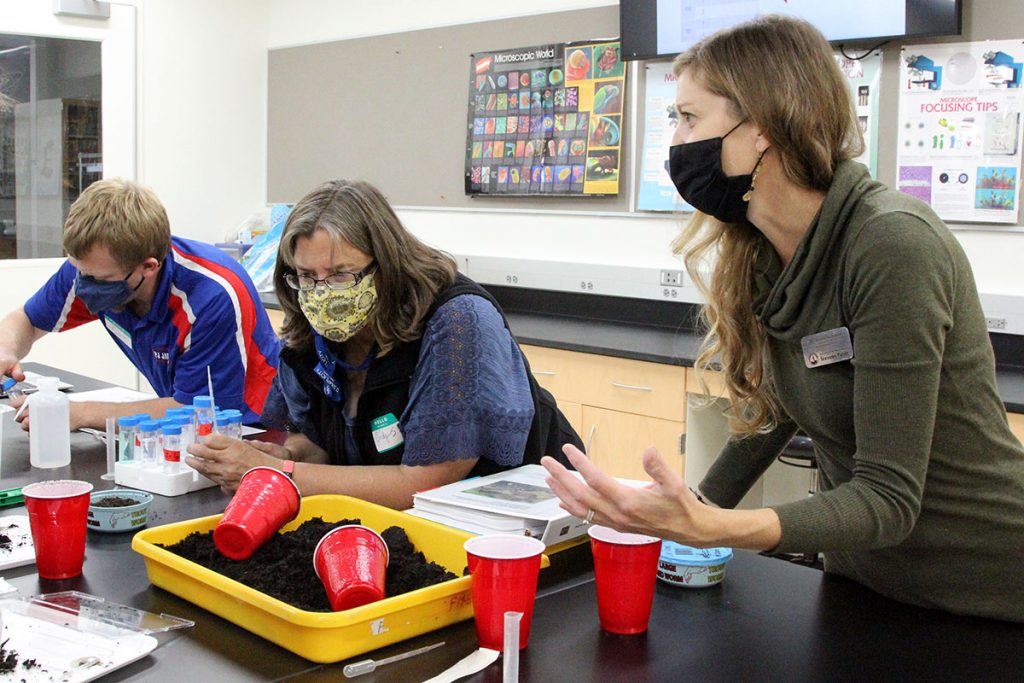 About the Experiment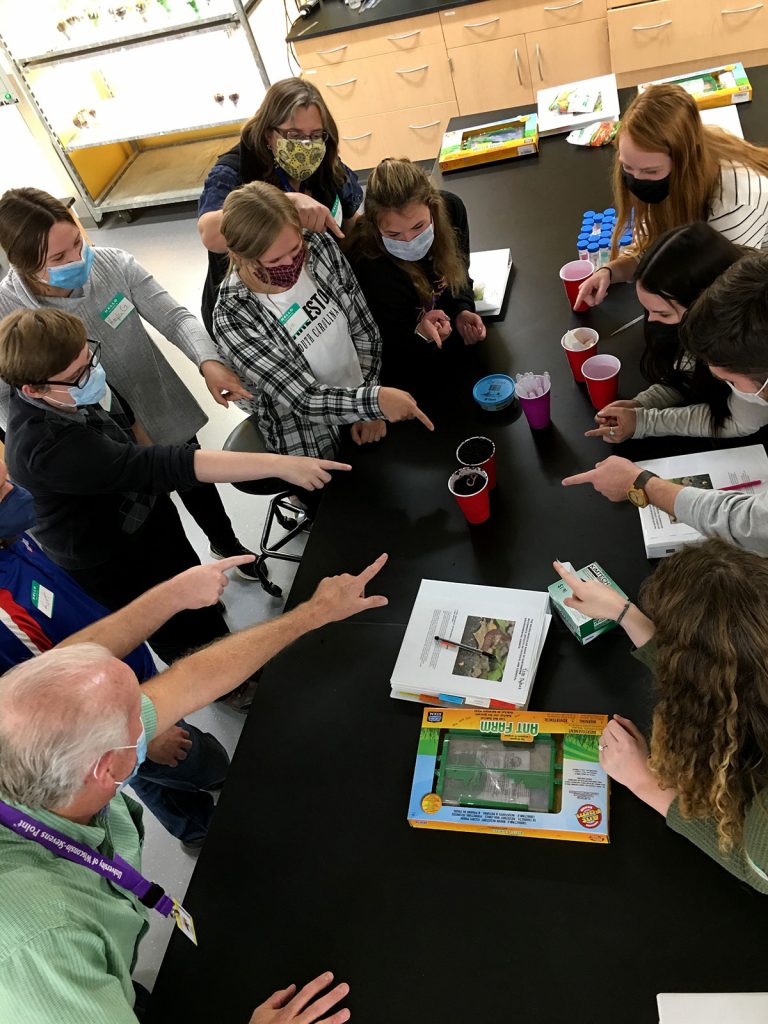 The Nerve and Muscular Basis of Earthworm Movements: Effects of Physical and Chemical Environmental Agents
This module provides students with the opportunity to study controlled neuromuscular activity in the earthworm, and then to make comparisons with worms exposed to various environmental agents. Through the study of simple reflexes in earthworms and the impact environmental agents have on these behaviors, students learn about concepts pertaining to living organisms including structure, function, regulation, behavior, science and technology. They use skills in scientific processes and reasoning as they generate and clarify questions, conduct investigations, analyze data, and make critical connections between evidence and explanation. They articulate their own questions about animal behaviors, and their susceptibility to environmental agents. Students interpret data to draw conclusions and generate explanations and propose hypotheses that link their personal health to environmental agents.
About WInSTEP at UW-Milwaukee
Known as the Wisconsin Inquiry-based Scientist-Teacher Education Partnership (WInSTEP) Program, which is part of the NIH Science Education Partnership Award (SEPA) Program, the focus of this effort is to help pre-service and middle and high school science teachers get more students involved in doing classroom-based research with an environmental health focus. Using inquiry-based modules developed by faculty David Petering and Craig Berg and their team, teachers and students study the effects of various environmental agents on the development and behavior of organisms such as fathead minnows, zebrafish, and earthworms – and then communicate their research via the scientific process of writing papers and creating scientific posters. The year-long program culminates with an annual spring Student Research Conference that highlights the innovative research done by the students.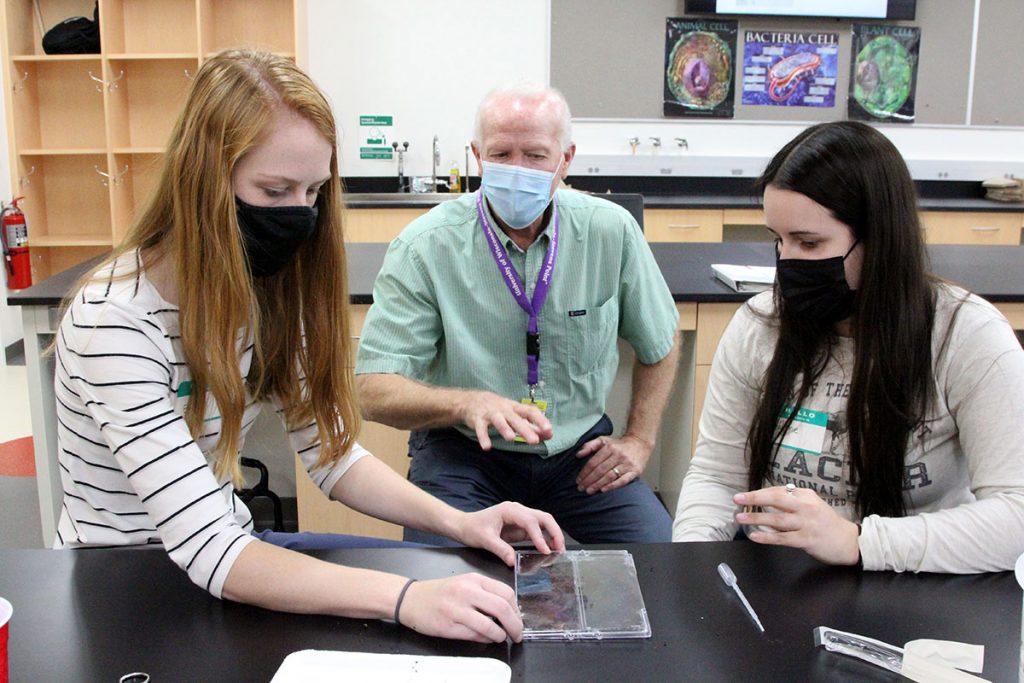 About Natural Science Education at UW-Stevens Point
The UW-Stevens Point School of Education offers a Natural Science for Science Teaching Certification program – one of the first within the University of Wisconsin System to address the new science grades 4-12 license program. Of critical importance, this program addresses the need for qualified science teachers in school districts across the state.

Students in the natural science major take course work from a core set of science courses, select a minor (chemistry, biology, physics or earth and space sciences) in one of those disciplines and a certificate (chemistry, biology, physics, earth and space sciences or environmental sciences) in an additional field of science. This broad array of science coursework provides ample knowledge to teach any science discipline but also allows students to focus on an area of emphasis.